Great Gulf Wilderness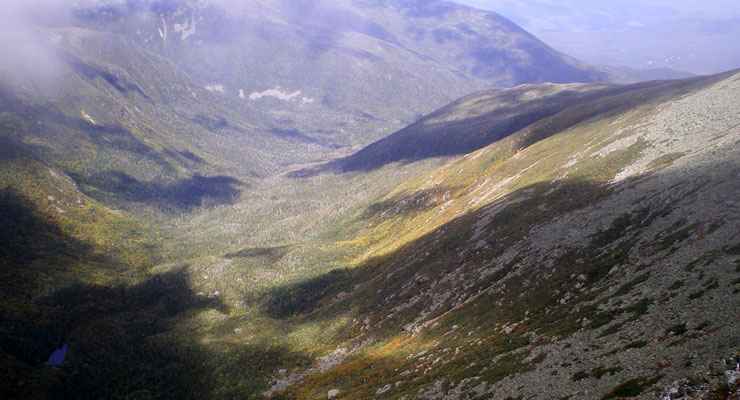 Great Gulf Wilderness
The Great Gulf Wilderness is essentially an ancient glacial cirque surrounded by Mount Washington, Mount Clay, Mount Jefferson, Mount Adams and Mount Madison in the heart of the Presidential Range of the White Mountains. The property was designated as wilderness in 1964 and contains only 5,552 acres. On the floor of the cirque is Spaulding Lake, which drains to east via the West Branch of the Peabody River. From Spaulding Lake, the headwall rises anywhere from 1,100' to 1,600' to the ridgeline. The southern boundary of Great Gulf Wilderness is just north of the Mount Washington Auto Road. Mount Adams is on the northwest and Mount Madison at the northern corner of the wilderness. From the ridgeline, the topography drops to the east for about 3.5 miles, steep and rugged, before it flattens out and continues to the east in more open country for another 1.5 miles to the eastern boundary.
This is an area famous for having the world's worst weather: it can and does snow in every month of the year. The ridgelines that define some of the boundaries of Great Gulf Wilderness see hurricane-force winds more than 100 days of the year. Hypothermia is a danger in every season.
The Appalachian National Scenic Trail runs along that ridgeline for 2.7 miles, with the Appalachian Mountain Club's Madison Spring Hut located in the col between Mt. Adams and Mt. Madison. The Great Gulf Trail begins about 1.5 miles east of the eastern boundary and cuts to the west right across the wilderness before heading up the hill to summit Mount Washington. Great Gulf Trail is the main artery but there are spur trails all through the area, adding up to about 22 miles of maintained hiking trails in the Great Gulf Wilderness.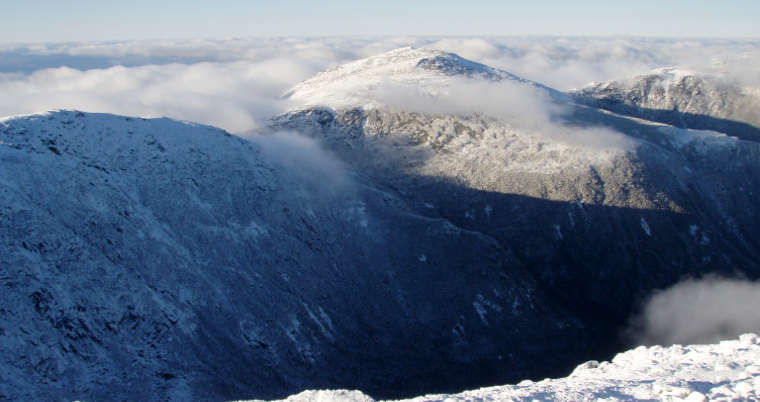 Mount Jefferson from the summit of Mount Washington with Great Gulf Wilderness in between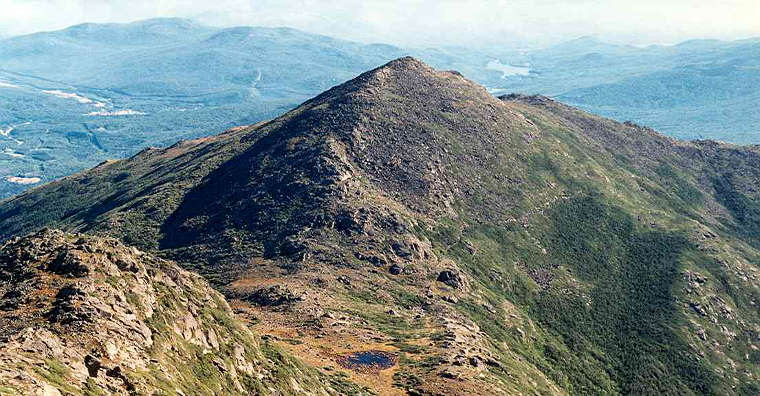 Mt. Madison from Mt. Adams, Great Gulf Wilderness drops from the right side of the ridge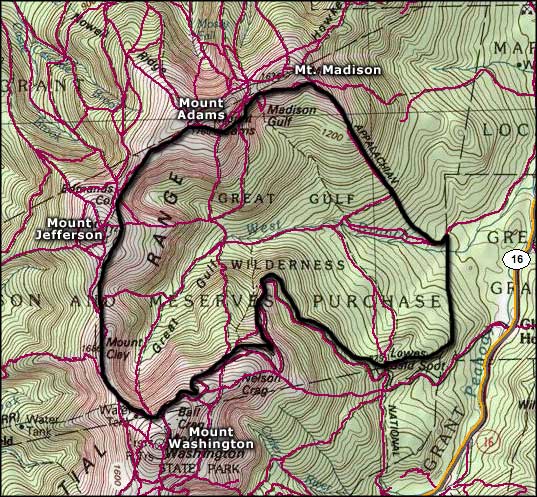 Great Gulf Wilderness
US Forest Service
Photos of the Great Gulf Wilderness courtesy of Wikipedia userid Paulbalegend,
CCA-by-SA 3.0 License
Photo of Mount Madison courtesy of Wikipedia userid Petersent
Map courtesy of National Geographic Topo!