Bighorn Mountain Wilderness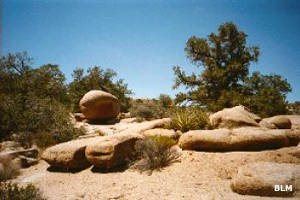 Bighorn Mountain Wilderness
Bighorn Mountain Wilderness is a 38,599-acre property located in the Bighorn Mountains, northeastern foothills of the San Bernardino Mountains of southern California. Jurisdiction of the wilderness is shared by San Bernardino National Forest (12,056 acres) and the Bureau of Land Management (26,543 acres). Part of the wilderness area has been incorporated into the Sand to Snow National Monument created in February, 2016.
The wilderness area begins on the floor of the Mojave Desert with yuccas and Joshua trees common across the landscape. The property rises to a high point of about 7,500' at the summit of Granite Peak, well up into the Jeffrey pines. Among the wildlife found in the Bighorn Mountains are mountain lion, mule deer, bobcat and golden eagles. The wilderness is bisected into distinct eastern and western regions by the intermittent water flow in Rattlesnake Canyon, an area frequented by resident and migratory birds, depending on the season and relative moisture. There is a third, smaller, non-contiguous section of the wilderness around Black Mountain, southeast of the other two sections near Rattlesnake Canyon.
Most folks access the wilderness via California Highway 247. Camping is allowed in the wilderness with a 14-day stay limit. Once the stay limit is reached, campers must relocate to a site at least 25 miles away.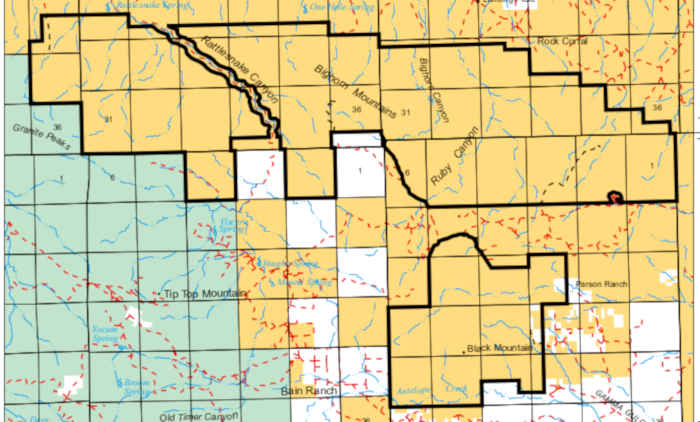 The BLM portion of Bighorn Mountain Wilderness
Bighorn Mountain Wilderness
Bureau of Land Management
Upper left photo and bottom map courtesy of the Bureau of Land Management