Little Picacho Wilderness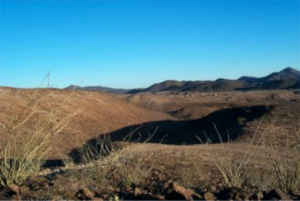 In Little Picacho Wilderness
Little Picacho Wilderness is a 38,214-acre property in the southern Cholocalte Mountains near the Colorado River. Imperial National Wildlife Refuge is immediately to the north. Most of the Chocolate Mountains are reserved as a military gunnery range.
Elevations in Little Picacho Wilderness vary from a low around 200 feet to a high around 1,500 feet. Picacho Peak is the high point in the northeastern part of the wilderness. The mountains around Picacho Peak are marked by steep ridges and dramatic jutting spires. The area is deeply eroded into steep ravines that slowly ease their angle and open out into broad washes on the bajadas surrounding the mountains. The slopes and plains are covered with angular cobbles, a form of desert pavement, while the bottoms of the washes are nearly white with sand and alkali.
The Picacho wild horse herd lives in a range in the northwestern part of the wilderness. There is also a herd of desert bighorn sheep and another of wild burros in the area. The landscape is also enjoyed by the endangered desert tortoise and by the spotted bat.
There are two main access routes to the wilderness. From the east, get off Interstate 8 at the Winterhaven/4th Ave exit. Go left on 4th Ave about 1/8 mile to State Route S-24. Turn on that and go 18 miles to Imperial Dam. Turn left at the Imperial Dam sign onto Ferguson Wash Road. The wilderness is set back from the west side of the road. From the west, follow S-24 until it becomes a dirt road and intersects with the All American Canal. Turn right, go 1/4 mile to Picacho Road (County A481). Turn left across the canal and go toward the Picacho State Recreation Area. The wilderness will be set back from the east side of the road. The set backs are 30 feet from a dirt road, 300 feet from a paved road.
Little Picacho Wilderness
Bureau of Land Management