Bucks Lake Wilderness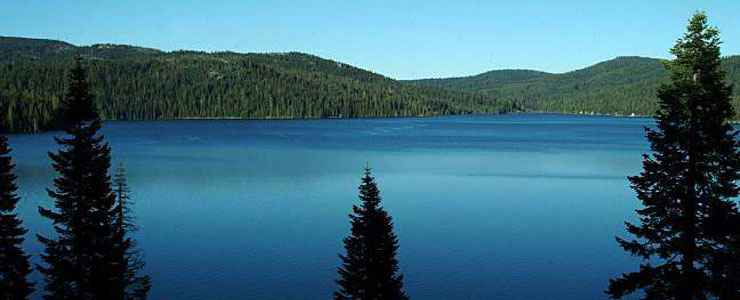 Bucks Lake, at the edge of Bucks Lake Wilderness
Bucks Lake Wilderness is a 23,958-acre property in the heart of Plumas National Forest. The wilderness area borders its namesake Bucks Lake on the northeast shore of the lake. This is the northernmost end of the Sierra Crest: north of Bucks Lake the crest is no longer discernible as a distinct landform.
The topography of Bucks Lake Wilderness is typical of the Sierra Nevada Range: gentle slopes on the west, steep slopes on the east. The upper areas show evidence of extensive glaciation with several glacial cirques and large expanses of bare granitic rock. The northern boundary of the wilderness runs along the North Fork Feather River canyon and the wilderness includes that 6-mile-long canyon wall.
Among the animal species found on Bucks Lake Wilderness are black bear, mountain lion, coyote, black-tailed deer and mule deer in addition to peregrine falcon, owls, eagles and the willow flycatcher. The highest elevations of the wilderness are covered with almost pure stands of red fir with lodgepole, sugar and Jeffrey pines in the lower areas. There are several streams and wet meadows on the wilderness, most lined with corn lilies, aspen, alder and montane chaparral.
Adjacent to Bucks Lake Wilderness are three units of roadless areas. Visitors to the wilderness do not need to obtain permits but there are registries available at every trailhead entering the property. When campfires are allowed, permits for those are required.

Upper Bucks Lake
Photos courtesy of the US Forest Service