Agassiz National Wildlife Refuge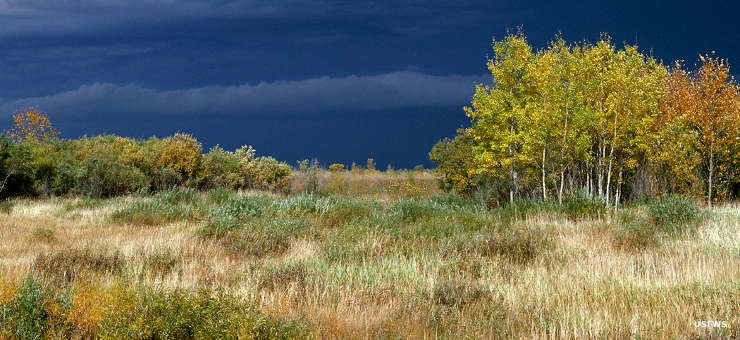 Weather approaching Agassiz National Wildlife Refuge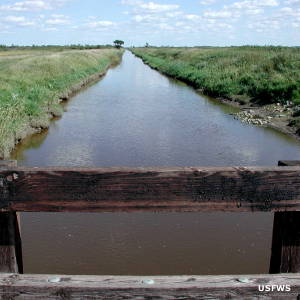 A refuge irrigation ditch
Agassiz National Wildlife Refuge is a 61,500-acre property in northern Minnesota. Contiguous to the refuge is another 22,400 acres of refuge area established and maintained by the Minnesota Department of Natural Resources as Wildlife Management Areas. Agassiz NWR straddles the line between the temperate conifer forests to the north and east and the tallgrass prairie to the west and south. Elevation on the property seems to vary up or down no more than 10 feet either way: the landscape is essentially flat. The area was once the bottom of Lake Agassiz, a large glacial meltwater pool that formed at the end of the last Ice Age. Before the glacier melted, the ice sheet covered an expanse larger than all five of the Great Lakes.
What is now Agassiz NWR was first established in 1937 as the Mud Lake Migratory Waterfowl Refuge. The name was changed in 1961. The refuge is situated in the aspen parkland area of northern Minnesota, an area also littered with glacial potholes. The refuge is composed of about 40,100 acres of wetlands, 10,000 acres of shrubs and small woody plants, 7,000 acres of forest, about 4,250 acres of grasslands and about 150 acres of cultivated cropland. The refuge offers an observation tower near the visitor center that is open to the public during office hours in snow-free months. There is also a 4-mile self-guided auto-tour along Lost Bay Habitat Drive. There is a quarter-mile hiking trail along the auto-tour route and another half-mile hiking trail at the visitor center. Roads and trails are open from May through October during daylight hours.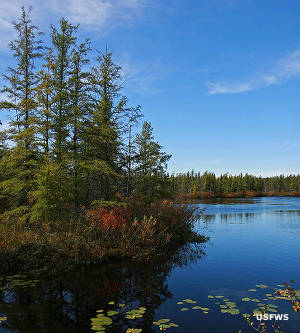 Whiskey Lake
In 1976, 4,000 acres of the refuge to the north of the Agassiz Pool were designated Agassiz National Wilderness. The wilderness area is somewhat boggy, one of the most-westerly extensions of black spruce-tamarack bog in Minnesota. Refuge roads give reasonably easy access to the wilderness area but the area can be quite wet... There are two boggy lakes in the wilderness area: Whiskey Lake and Kuriko Lake. Generally, access to the wilderness area is restricted to licensed deer and grouse hunters in season but if you decide to hike out there looking for moose the moose population at Agassiz has declined precipitously in recent years. Scientists don't know whether to blame parasites, human impacts or global warming for it. On the other hand, the Monarch butterfly population counted in 2015 wasn't near historic highs but was more than double the population counted the year before.
Agassiz National Wildlife Refuge is a day-use only property, open from dawn to dusk daily. The visitor center is open Mondays through Fridays, 7:30 am to 4 pm, except closed on Federal holidays. Primitive campsites are available for free on the adjacent State Wildlife Management Areas.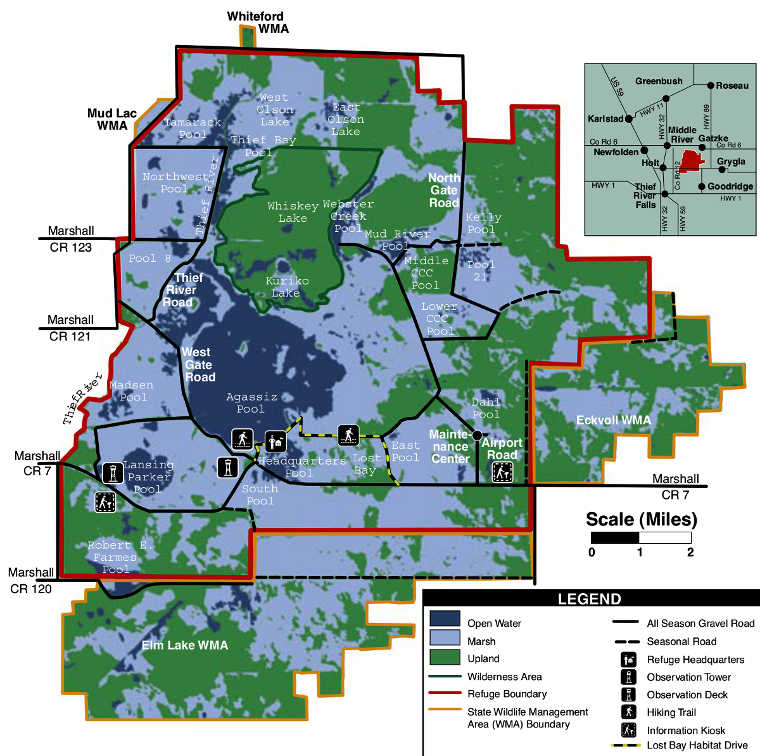 Agassiz National Wildlife Refuge
US Fish & Wildlife Service
22996 290th Street NE

,

Middle River

,

MN

56737-4115
218-449-4115

Lower right photo courtesy of Jeremy Maslowski, USFWS
Other photos and map courtesy of the US Fish & Wildlife Service