Lee Metcalf Wilderness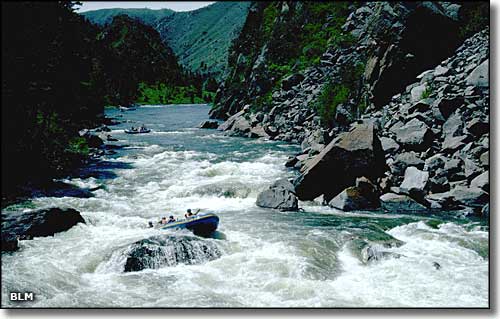 The Kitchen Sink Rapids on the Madison River in the Bear Trap Canyon Unit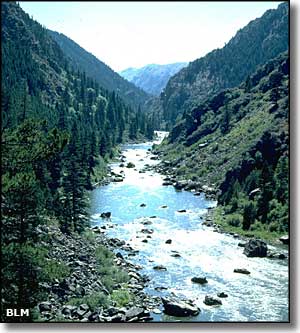 The Lee Metcalf Wilderness encompasses 254,288 acres divided into 4 separate units on the east side of Beaverhead-Deerlodge National Forest. One of those units, the Beartrap Canyon Unit, is managed by the BLM. The other three units are managed by the National Forest Service with 142,000 acres of the Lee Metcalf Wilderness within the Beaverhead-Deerlodge National Forest and another 30,000+ acres in Gallatin National Forest. Wilderness restrictions apply but camping permits are not required. Keep in mind that these mountains are full of elk, moose, deer, mountain lion, black bear and grizzly bear. On the other hand, the lakes and streams carry lots of rainbows, cutthroats, brookies and graylings.
The Bear Trap Canyon Unit is composed of 6,000 acres of wild and crazy canyon country along the Madison River. This rugged, deep canyon area sees a lot of kayakers and whitewater rafting enthusiasts passing through from the dam area upstream to the first road crossing downstream.
The Spanish Peaks Unit is 78,000 acres to the north of Big Sky Resort, split almost evenly between the Gallatin and Beaverhead-Deerlodge National Forests. This is an area of glacial cirques surrounded by rugged peaks rising sharply above 11,000'. This unit of the Lee Metcalf Wilderness sees a lot of human traffic because of the well-developed 110-mile-long trail system through the mountains.
The Taylor-Hilgard Unit runs along the backbone of the Madison Range to the south of Big Sky Resort. This is about 141,000 acres of high meadows and lakes surrounded by snowcapped peaks, several of which rise above 11,000'.
The Monument Mountain Unit is completely within Gallatin National Forest and abuts the northwest side of Yellowstone National Park, just south of US 191. This isolated unit carries lots of wildlife, including a good population of grizzly bear, but sees very little human traffic.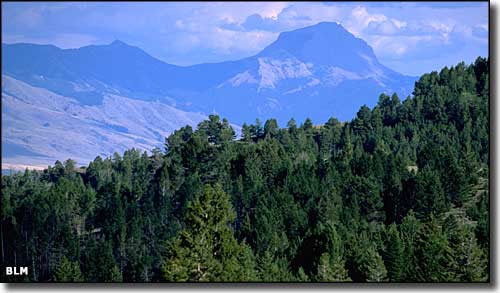 Sphinx Mountain in the Taylor-Hilgard Unit of the Lee Metcalf Wilderness
Photos of Bear Trap Canyon Wilderness and Sphinx Mountain are courtesy of the Bureau of Land Management
Map courtesy of National Geographic Topo!

Related Pages
Map courtesy of National Geographic Topo!