Lake Woodruff National Wildlife Refuge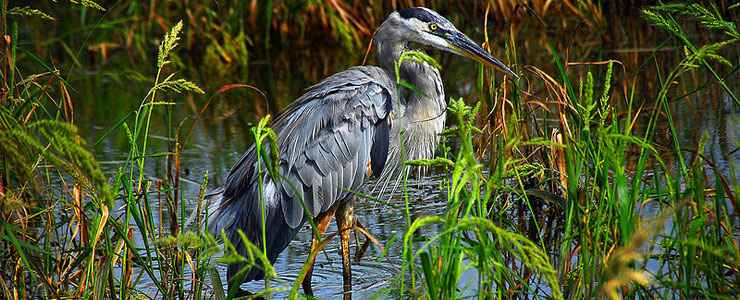 A Great Blue Heron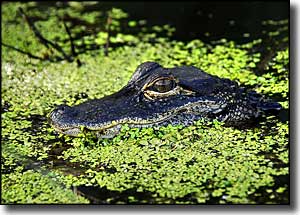 Lake Woodruff National Wildlife Refuge contains more than 21,000 acres of Cypress and mixed hardwood swamp, uplands, lakes, streams, canals and freshwater marshes in Volusia and Lake Counties in central Florida. The Refuge was established in 1964 to preserve and protect the excellent wildlife habitat surrounding Lake Woodruff and Lake Dexter in the upper drainage of the St. Johns River. There are also several pre-Columbian archaeological sites in the Refuge.
There are more than 50 miles of waterways on the Refuge and more than 23 miles of those waterways have been designated as manatee protection zones. Other endangered species on the Refuge include wood stork, snail kite, eastern indigo snake and American alligator. Providing nesting, stopover and wintering habitat for migratory birds, the biological diversity of the wetlands has attracted more than 210 species of neo-tropical songbirds, shorebirds, migratory waterfowl, raptors and wading birds to the area.
Lake Woodruff Wilderness Area contains 1,066 acres within the National Wildlife Refuge between Honey Creek and the St. Johns River along the western boundary of the Refuge. Directly across the St. Johns River is the Alexander Springs Wilderness.
Lake Woodruff National Wildlife Refuge is administered as part of the Merritt Island National Wildlife Refuge Complex. The headquarters office is located at 2045 Mud Lake Road in DeLeon Springs, FL 32130.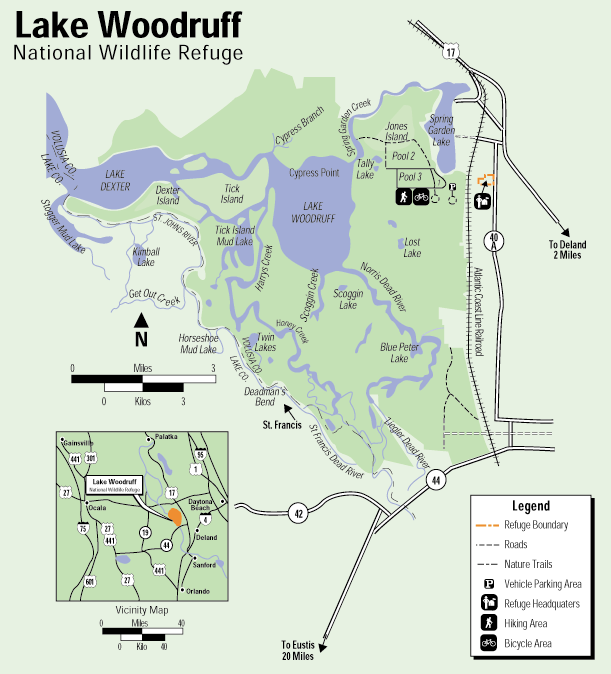 Photos courtesy of Andrea Pauline,
CCA-by-SA 2.0 License
Map of Lake Woodruff NWR courtesy of the US Fish & Wildlife Service