Trapper Creek Wilderness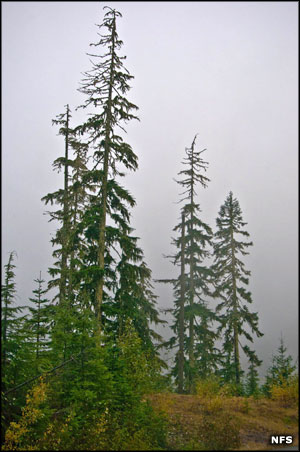 Trapper Creek Wilderness is a 5,970-acre property in Gifford Pinchot National Forest. The wilderness area contains nearly the entire Trapper Creek drainage, some of the last pristine anadromous fish habitat in southern Washington. One of the few remaining sizable blocks of low elevation old growth forest in southern Washington, Trapper Creek Wilderness is also a land of steep and rugged forested mountainsides with many streams and waterfalls. At the northwest corner of the wilderness is the Sister Rocks Research Natural Area, established in the 1950's to study a Pacific silver fir climax forest. Just south of that is an area overflowing with huckleberries, in season, of course.
Near the southwest corner of Trapper Creek Wilderness you'll find Soda Peaks Lake, hidden in a cirque beneath Soda Peaks. It's not far from there to the old fire lookout tower on Observation Peak. From the old tower you can catch views of Mount Hood, Mount St. Helens, Mount Rainier and Mount Adams. Of the 25-or-so miles of trail on Trapper Creek Wilderness, the trails to Soda Peaks and Observation Peak take up about half of them. These two trails are also maintained regularly by the US Forest Service. The other miles of trail offer the possibility of several loops through the lower areas and along Trapper Creek itself. However, these are primitive trails that have been maintained in a less-than-optimal state, are steep and are often challenging to follow.
Among the mammals found on Trapper Creek Wilderness are mule deer, Roosevelt elk, black bear, coyote, mountain lion, bobcat, badger and porcupine.
Everyone entering a wilderness area on Gifford Pinchot National Forest is required to register at the trailhead and obtain a (free) wilderness permit. Most trailheads will also require that you display a valid Northwest Forests Recreation Pass ($5 for the day, $30 for the year) on the dashboard of your vehicle.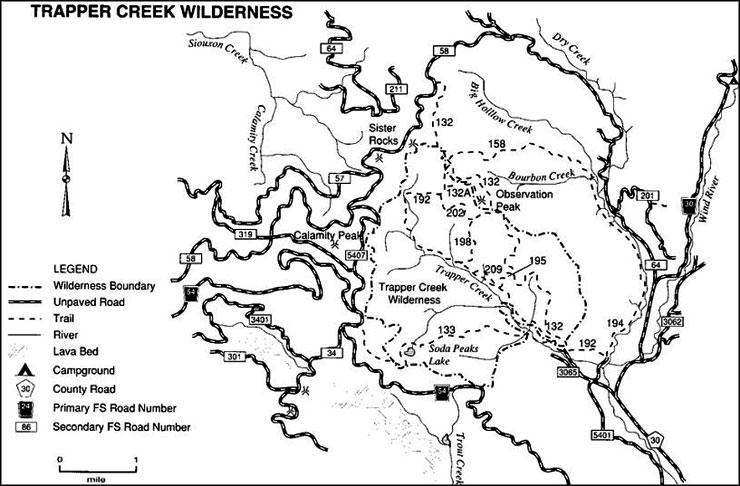 Hiking trails in the Trapper Creek Wilderness area
Upper photo courtesy of David Bakken, via Wilderness.net
Upper left photo and map courtesy of the US Forest Service