Pine Creek Wilderness

In Pine Creek Wilderness
Pine Creek Wilderness is a 13,261-acre property on the Descanso Ranger District of Cleveland National Forest. Hauser Wilderness is across a road corridor to the south.
Pine Creek Wilderness is mostly sloping gently from north to south, from about 4,000 feet in elevation to about 2,000 feet. The namesake Pine Creek drains the area, flowing from north to south and fed by many tribuaries along the way. Pine Creek itself is home to populations of rainbow trout and bass but most streams in the area are dry for a good part of the year.
The vegetation is mostly chamise chaparral and scrub oak with riparian and oak woodland along the stream bottoms and on some benches. There are several established trails in the wilderness.
For wildlife there is deer, mountain lion, gray fox, coyote and several species of owls, hawks, reptiles.
To enter the wilderness you'll need a free visitor permit, whether your visit is for a couple hours or for overnight. No shooting is allowed unless you are legally hunting game. No campfires, barbecues or hibachis. Propane and sterno stoves are sometimes allowed. Groups are limited to 15 people. That said, the wilderness sees little human visitation.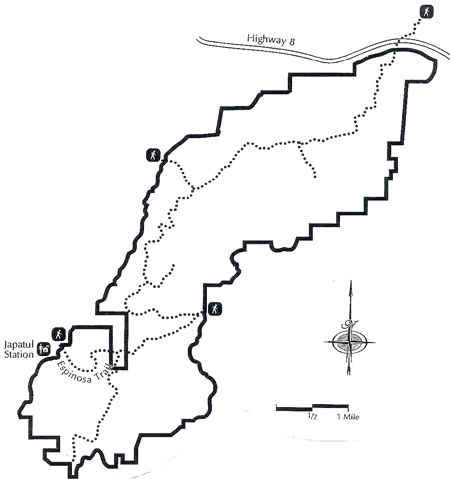 A rough map of hiking trails in Pine Creek Wilderness
Pine Creek Wilderness
Cleveland National Forest

- US Forest Service