West Potrillo Mountains Wilderness Study Area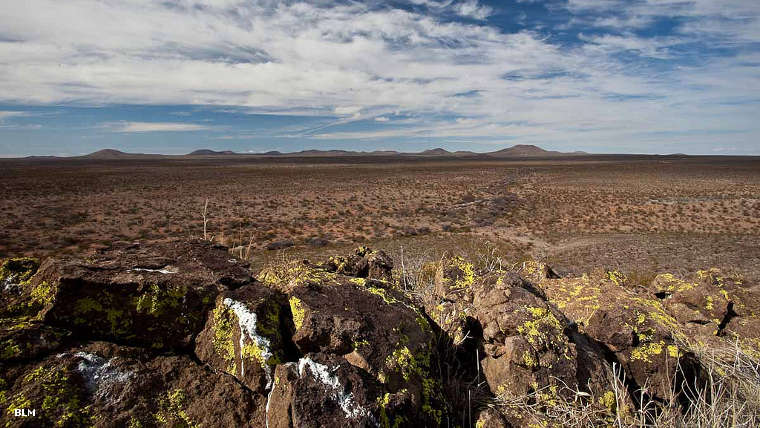 West Potrillo Mountains Wilderness Study Area
The West Potrillo Mountains Wilderness Study Area is a 148,697-acre property in southern New Mexico. In the Chihuahuan Desert about 30 miles southwest of Las Cruces, the West Potrillo Mountains WSA includes some 48 volcanic cinder cones plus the playas, lava fields and small sand dunes in between. The vegetation is a mix of desert grasses and thorny shrubs. At the southwest end of the West Potrillo Mountains is a natural depression that fills with water in the rainy season. That can attract a lot of ducks, depending on the water depth. As devoid of wildlife as the countryside may look there is a enough of a small mammal base to attract a lot of raptors in the winter.
To get there: Exit the I-10 about 8 miles south of Las Cruces at the Texas state line. Go west on TX 178/Artcraft Road for 9 miles to NM 9/Columbus Road. Follow NM 9 west for about 24 miles to County Road 005. Turn right there and go north about 1 mile to a gate on private land. Leave the gate as you found it and go another 1/2 mile to reach public land again. Between the private land and the intersection with CR 007 the road follows the southeastern boundary of the WSA for about 3 miles. At the intersection with CR 007 is the boundary of the Mount Riley Wilderness Study Area and that WSA is separated from the West Potrillo Mountains WSA by a 4WD road (what remains of CR 005).
Keep in mind the access road is usually drivable in a high clearance 2WD vehicle but if it's wet out there, you could be in trouble really fast. The WSA is relatively close to the Mexican border and that could be a problem in itself. There are also no marked trails on the property. Getting around is easy enough but you'll most likely want to have plenty of water, a good map, a compass, good hiking shoes and perhaps a good GPS device with you when you leave your vehicle.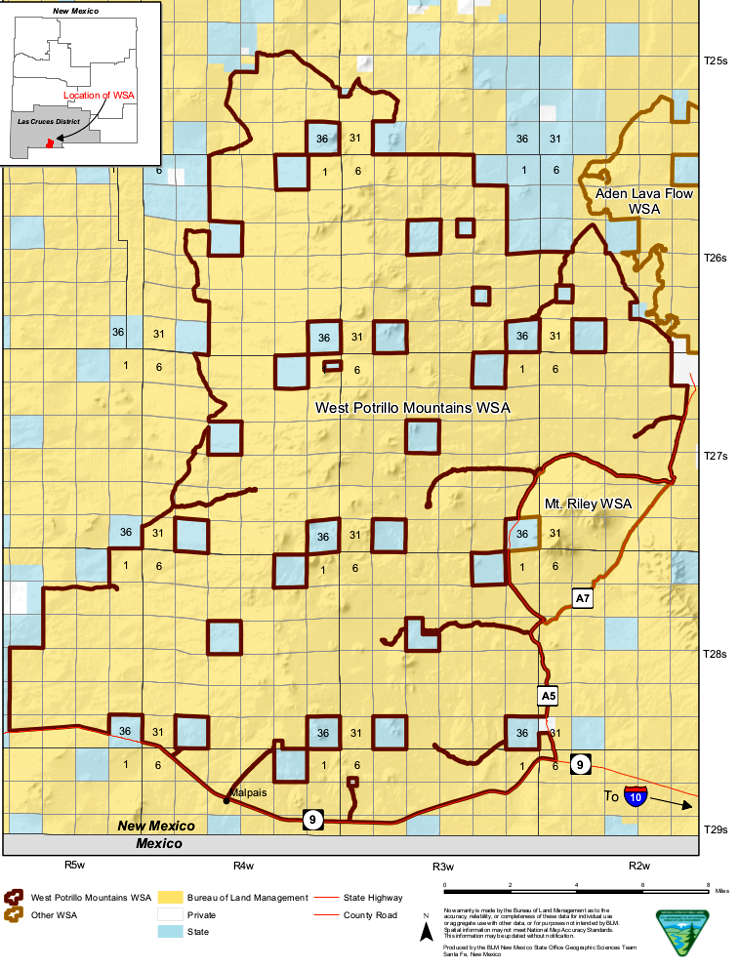 West Potrillo Mountains Wilderness Study Area
Bureau of Land Management

- Las Cruces Field Office
Photo and map courtesy of the Bureau of Land Management