Darwin Falls Wilderness

In the Darwin Falls Wilderness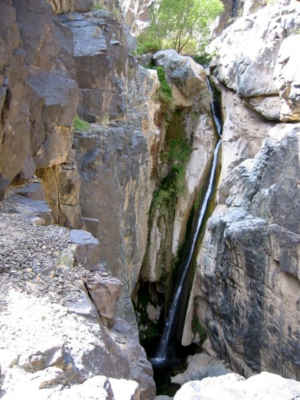 Upper Darwin Falls
Darwin Falls Wilderness is an 8,189-acre property against the southwest side of Death Valley National Park. Darwin Canyon feeds down out of Darwin Falls Wilderness into Death Valley National Park. Darwin Falls themselves, a pair of waterfalls that drop a total of about 80 feet, are located less than a mile inside Death Valley National Park. They are most easily accessed from the east, not from the west through Darwin Falls Wilderness. There is a relatively easy hiking trail from the highway to the lower falls. There are 2 other springs further south along the eastern boundary of the wilderness.
Elevations vary from a high of 5,699' in the Darwin Hills to a low of 3,129' in Darwin Canyon. The lower elevations are composed primarily of marine sedimentary and metasedimentary rock from the Permian Period. The higher elevations are composed of Tertiary volcanic rock.
The nearest town is Darwin (to the south) but most folks approach the wilderness from the north, off California Route 190 west of Panamint Springs.

The Darwin Hills from California State Route 190
Darwin Falls Wilderness
Bureau of Land Management