Coyote Mountains Wilderness

Coyote Mountains Wilderness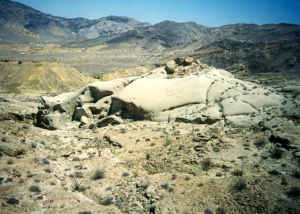 A sandstone formation
Coyote Mountains Wilderness is an 18,630-acre property surrounding the Coyote Mountains in southern California. The mountains themselves only cover about 40% of the wilderness area. The Carrizo Badlands are on the north side.
This is a region of mostly stark, low desert ridges. On the eastern side of the wilderness a road has been cherry-stemmed in along the Painted Gorge. A high point, Carrizo Mountain (734 feet) is contained in that intrusion. The entire wilderness area is within the boundaries of the Yuha Desert Recreation Area and Anza-Borrego Desert State Park is immediately to the north.
Other than the old track up through Painted Gorge, there are no discernable trails in the area. There are a lot of interesting sandstone formations around, many only about six million years old. This area of southern California may have been ocean floor back then.
Looking across the bajadas at the foot of the Coyote Mountains
Coyote Mountains Wilderness
Bureau of Land Management