Kaiser Wilderness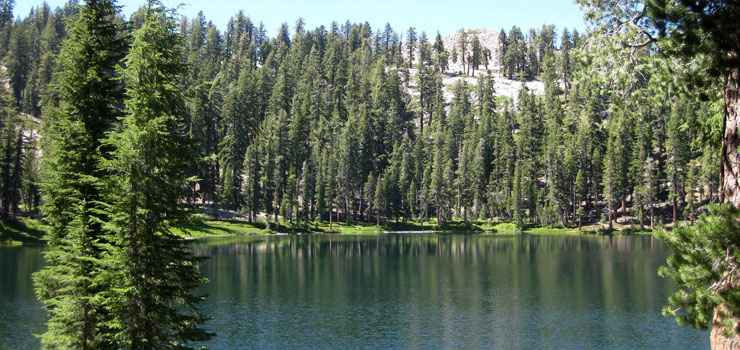 Nellie Lake, Kaiser Wilderness
Kaiser Wilderness is a 22,700-acre property that stretches north-south along a high ridge on the west side of the South Fork San Joaquin River in Sequoia National Forest. To the east of the river is the actual High Sierra. Ansel Adams Wilderness is to the northeast and John Muir Wilderness to the east. Immediately to the south is a resort development at Huntington Lake.
Elevations range from about 7,200 feet to 10,320 feet on the summit of Kaiser Peak. Kaiser Peak is the high point on an east-west ridge across the property dividing the two distinctly different areas of Kaiser Wilderness. The southern half of the wilderness rises gradually through thick forest to the alpine zone along the ridge. From the ridgeline there's a steep drop to the north but the forest is much more open. There are 18 small lakes on the north side of the ridge but most require some cross-country travel to reach. Because of those lakes, the north side of Kaiser Wilderness sees the most human use, although the steep and rugged northwest section of the wilderness sees the least human use.
The landscape is a mix of alpine peaks and granitic cliffs rising above glacier-scoured granite blocks and cirques. The forest is mostly Jeffrey pine, white fir, mountain hemlock, western white pine and red fir. There are stands of lodgepole pine on some of the high ridges and at treeline you'll find mats of krummholtz containing Sierra juniper and whitebark pine.
There are four main trailheads giving access to the northern area but the primary point of entry is at the Sample Meadow Campground. The trails to Nellie Lake, George Lake and Upper Twin Lake are popular but overnight campers will need a wilderness permit. There are also four trailheads giving access to the southern half of the wilderness with the trail from Upper Billy Creek Campground leading up onto the ridge and across Kaiser Peak being the most used.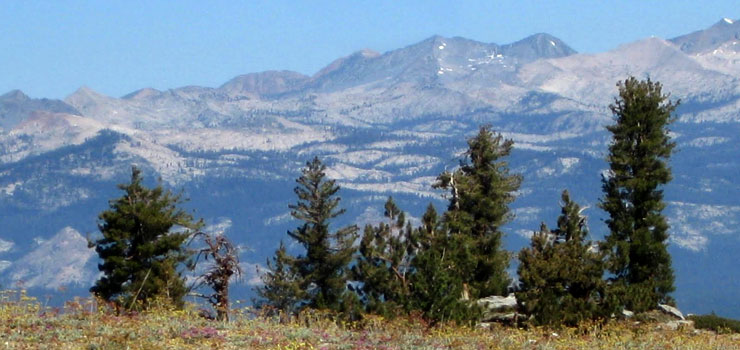 A view high in Kaiser Wilderness