Scenic, Historic and Backcountry Byways in Utah
The National Scenic Byways Office was defunded by Congress and closed in 2013. At that point, the FHWA took over Byways.org and moved the data for the America's Byways and National Scenic Byways onto the FHWA main site. All the data and photos for scenic byways that didn't fall into those two classifications was dropped and somewhere in that change, Utah decided to change the names of several of the state's scenic byways. Some roads were also delisted as "scenic byways" but were shifted to other urls/classifications (BLM Backcountry Byways among them). That has made updates a bit harder on my end but has also opened the door (on my end) to adding roads I find particularly scenic but that don't have that "official" designation... On the other hand, during a recent drive across southern Utah I came across numerous signs advertising Scenic Backways that are not on any "official" list I'm aware of. I drove a few of those Scenic Backways and really enjoyed them.
Note: In mid-May, 2013, I was on my way from Portland, OR to Trinidad, CO and thought I'd drive the Alpine Loop Scenic Byway along the way. So I drove across Suburbia in the early afternoon to the foot of the Wasatch, only to discover the road barricaded: mid-May and the road was still officially closed by snow... So I continued my journey south across more of Suburbia until I reached the Provo Canyon Scenic Byway and took that route across the mountains. Haven't been back in that area since.
Scenic, Historic and Backcountry Byways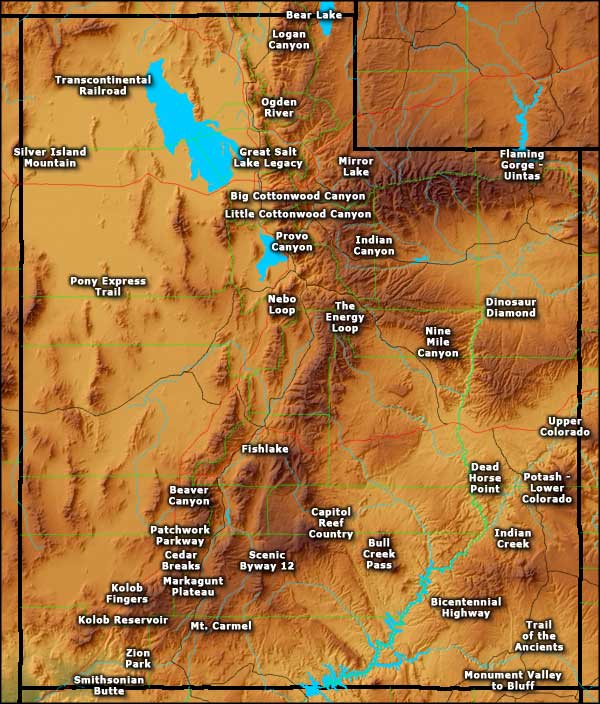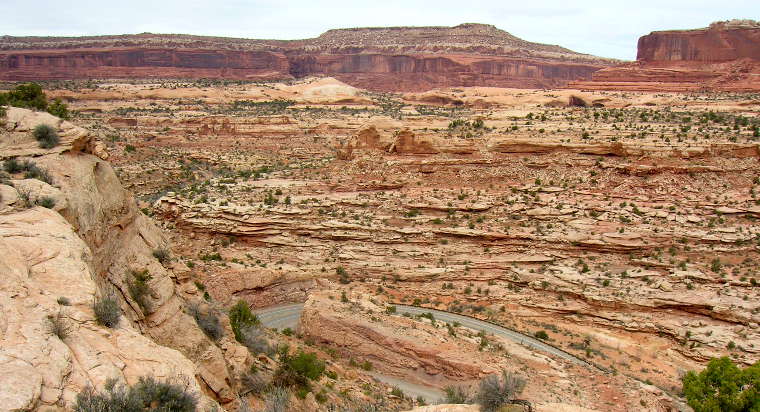 Along the Dead Horse Point Scenic Drive
Slideshow photos are a mix of US Forest Service, BLM, Byways.org and TheArmchairExplorer photos
Lower photos courtesy of TheArmchairExplorer,
CCA-by-SA 4.0 License
Map courtesy of Cartesia MapArt US Terrain