Little Cottonwood Canyon Scenic Drive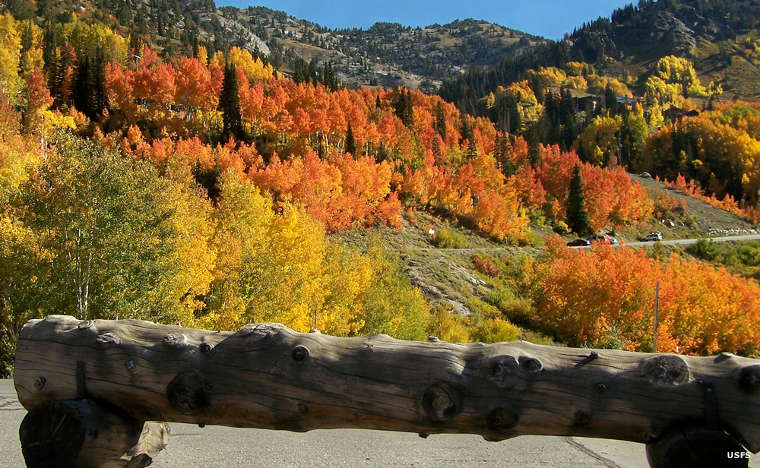 Fall colors along the Little Cottonwood Canyon Scenic Drive
Little Cottonwood Canyon Scenic Drive is an 8.6-mile route into the Uinta-Wasatch-Cache National Forest along the Wasatch Front just east of Metro Salt Lake City. To the north is Twin Peaks Wilderness and to the south Lone Peak Wilderness. At the upper end of the road are Alta and Snowbird Ski Resorts.
Between the bottom of the hill and the top you'll pass through several biological zones with vegetation changing from sagebrush, mountain mahogany, gambel oak and rocky mountain and bigtooth maple at the lower elevations to Ponderosa pine, subalpine fir, Douglas fir, Engelmann spruce and aspen in the middle to limber pine and bristlecone pine at the top. The name comes from the cottonwoods, willows and dogwood shrubs that line the canyon bottoms and follow the streams.
As the route is a Utah and National Forest Service Scenic Drive, you'll find campgrounds, picnic areas and trail heads all along the way. There is also an incredible overlook of Salt Lake City on the north side of the road about 1/3 of the way up. Near the beginning of the route you'll find a cluster of sheer granite walls, left after the granite was removed to build the big LDS Tabernacle in Salt Lake City.
The pavement ends in the gold rush town of Alta (first settled in 1869) but a dirt road continues for another couple miles to the Albion Basin Campground (9,500') with 21 campsites suitable for tents and RVs. Albion Basin in the summer is a sea of brightly colored wildflowers. The only way to get a better view is to take the tram at Snowbird to the summit of Hidden Peak (11,000'). The paved section of the Scenic Drive is open year-round but the dirt section is usually closed by snow from November into May.
A small silver strike was registered in Little Cottonwood Canyon in 1869. It never amounted to much (only a bit more than $3.8 million worth of silver) but at the peak of the frenzy, more than 8,000 people lived in the upper part of the canyon. Two smelters, hotels, stores, boarding houses, 138 homes and a railroad were built in the vicinity of Alta. Then the silver ran out, the canyon was depopulated and a few years later, everything they had built was destroyed in a series of snow avalanches.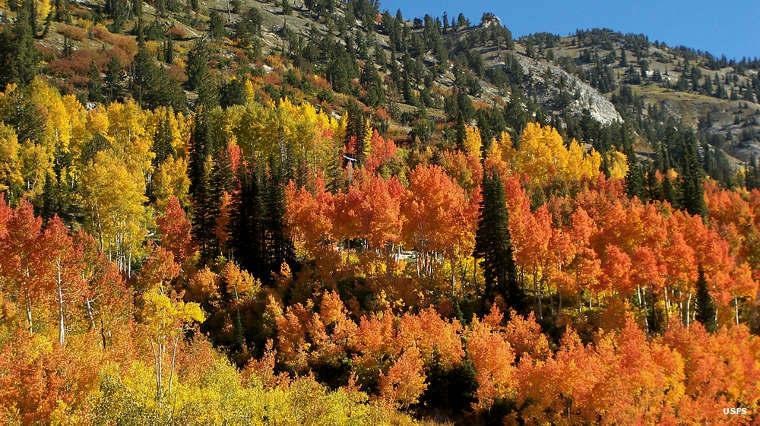 More autumn colors along the Little Cottonwood Canyon Scenic Drive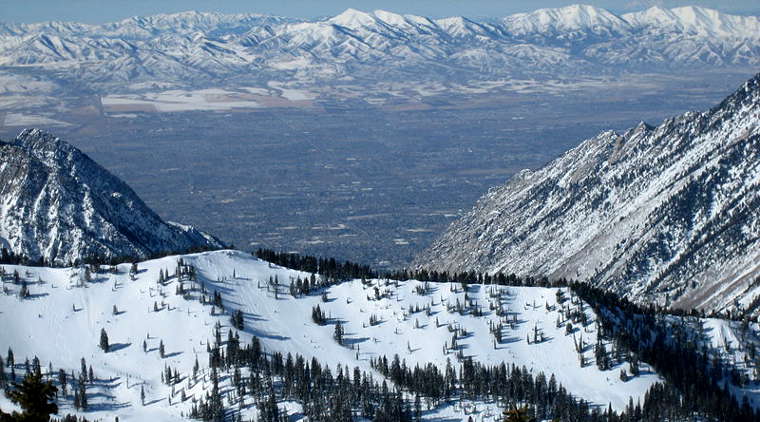 Looking over the Salt Lake Valley from the summit of Snowbird Resort
Upper photos courtesy of the US Forest Service
Lower photo courtesy of Scott Hughes,
CCA-by-SA 2.0 License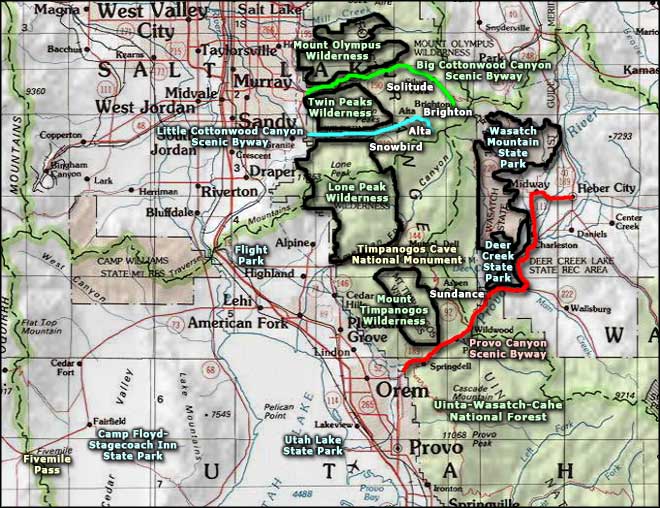 Related Pages
Map courtesy of National Geographic Topo!