Timpanogos Cave National Monument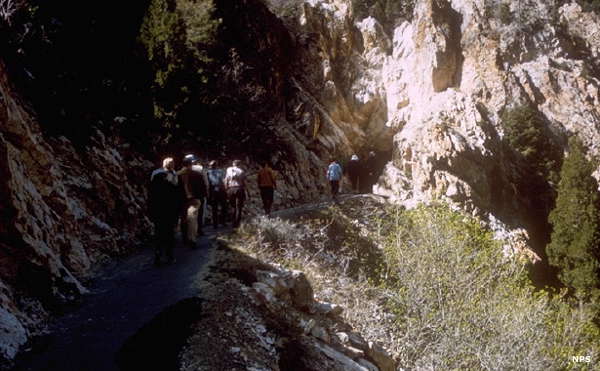 Heading for the entrance to Timpanogos Cave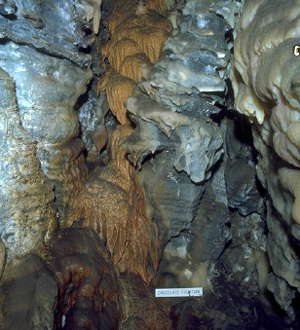 Located in the American Fork Canyon on the northern side of Mount Timpanogos, Timpanogos Cave National Monument preserves and protects a small cave system composed of three main chambers: Timpanogos Cave, Middle Cave and Hansen Cave. The wide, paved trail leading to the cave's entrance is about 1.5 miles long and relatively steep in spots as it gains about 1,160' between the parking area (elevation: 5,500') and the cave entrance (elevation: 6,700'). The cave is only open (and tours are available) when snow conditions allow: usually from May through September.
In October, 1887, Martin Hansen stumbled across the opening to Hansen Cave while tracking a cougar up the side of Mount Timpanogos. As pristine as the cave must been back then, it isn't now because it wasn't protected as a National Monument for many years and many of the formations inside were damaged or outright removed by "collectors."
In 1921, Vearl Manwill visited the area with the Payson Outdoors Club. After talking a tour of Hansen Cave, he headed up the hill looking for another cave that he'd heard rumors of. Not too far up, he came across a crack in the mountain that led into Timpanogos Cave. Later that fall, Martin Hansen's son and grandson were hunting on the northern side of American Fork Canyon and, with a pair of good binoculars, they spied yet another crack in the mountain, one that led into Middle Cave. By that time, the National Park Service was in a position to move in and protect the natural resources, once they were directed to by Congress.
Timpanogos Cave National Monument is 250 acres in size, mostly on the southern side of the very steep-walled American Fork Canyon. On that 250 acres, the elevation varies by 2,740' from one end to the other. The Wasatch Mountains in this area are buried in snow from October to May, and summers bring often violent thunderstorms. This is a place where you want to be sure you're prepared for whatever the weather may bring.
The primary resource at Timpanogos Cave National Monument is Timpanogos Cave itself. The cave is well-known for its abundance of helictites, the colorations in its rock formations and its showcasing of fault-controlled passages. Among the helictites are many straw-type formations, usually formed as water drips down the inside of the tube and then evaporates from its end, leaving a tiny bit of limestone behind that adds to the straw. Throw in the unique history of the cave and its alpine location and you have a spot definitely worth visiting.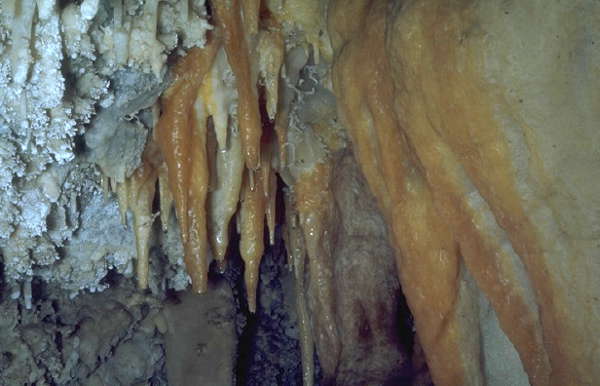 Formations in Timpanogos Cave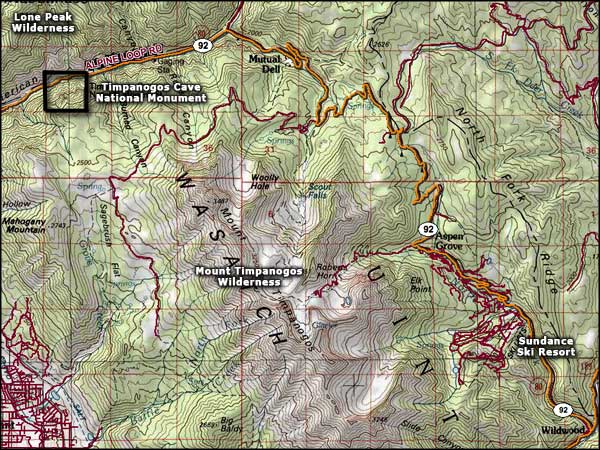 Timpanogos Cave National Monument
National Park Service
Photos are courtesy of the National Park Service
Map courtesy of National Geographic Topo!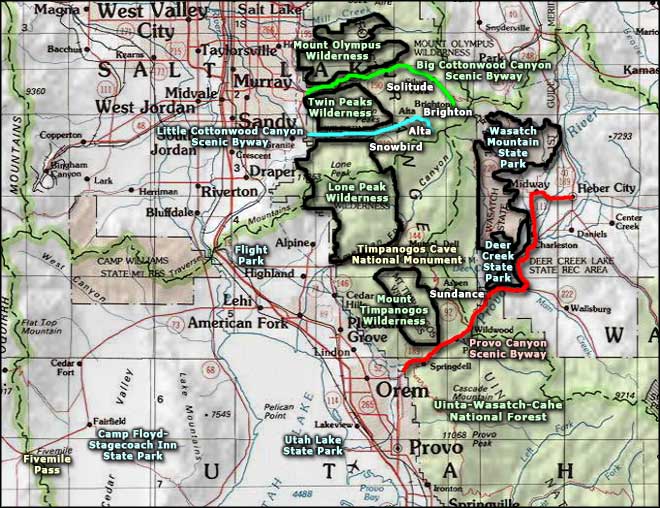 Related Pages
Map courtesy of National Geographic Topo!