Big Cottonwood Canyon Scenic Byway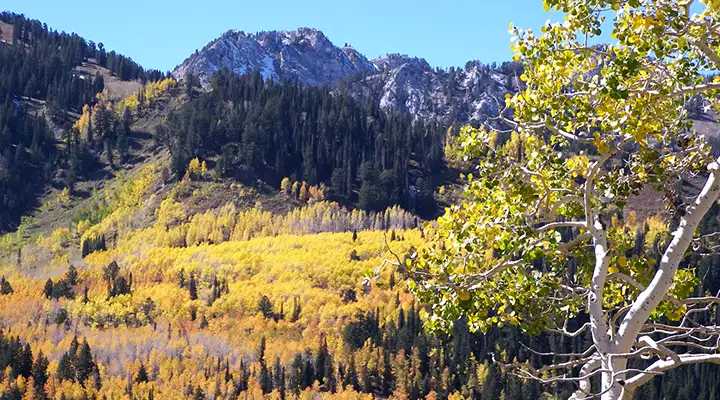 Aspens in fall colors along the Big Cottonwood Canyon Scenic Byway
Big Cottonwood Canyon Scenic Byway may be only 14.3 miles long but it drives into a spectacular canyon in the Wasatch Mountains with Mount Olympus Wilderness to the north and Twin Peaks Wilderness to the south. At the end of the route you'll find Brighton Ski Resort and Solitude Mountain Resort, two of Utah's finest. There's something about these mountains and their ability to capture between 20 and 50 feet of "champagne powder" snow every year that makes this area world-famous for the skiing.
The route rises around 2,500' between the base of the mountains and the terminus at Brighton Ski Resort so be prepared for a long uphill climb in a steep and narrow canyon.
Big Cottonwood Canyon Scenic Byway is a Utah and National Forest Service Scenic Byway. As it travels through Uinta-Wasatch-Cache National Forest, there are multiple trail heads, picnic areas and campgrounds. With all that wilderness around, there is also a lot of wildlife in the area. You might see elk, moose, mule deer, mountain lion, mountain goat, black bear, fox, coyote, badger, beaver, ferret, marmot and many other small mammals. The best time to see wildlife is at dawn and at dusk.
One thing about this road: the lower end is just blocks from the hustle and bustle of Interstate 215 and the suburbs of Salt Lake City. In a matter of minutes you can leave all those millions of people behind and bask in the peace and quiet of real nature. However, it's not like you can't look back and see all those folks down below...
The name comes from the size of the many cottonwoods that line the bottom of the canyon.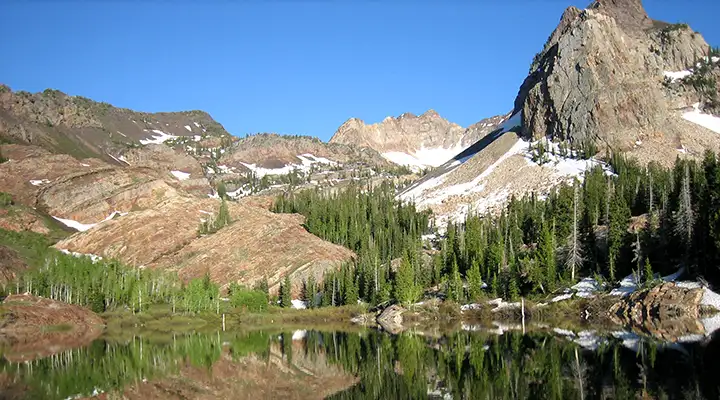 Sundial Peak rises above Lake Blanch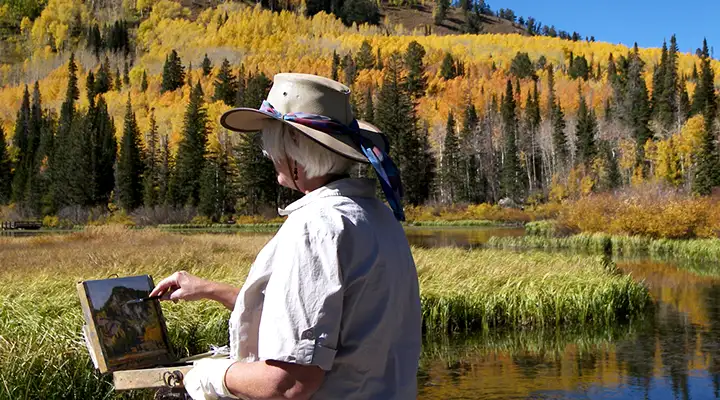 A landscape artist practicing her craft along the Big Cottonwood Canyon Scenic Byway
Photo of Sundial Peak courtesy of Kyle Cook
Other photos courtesy of the US Forest Service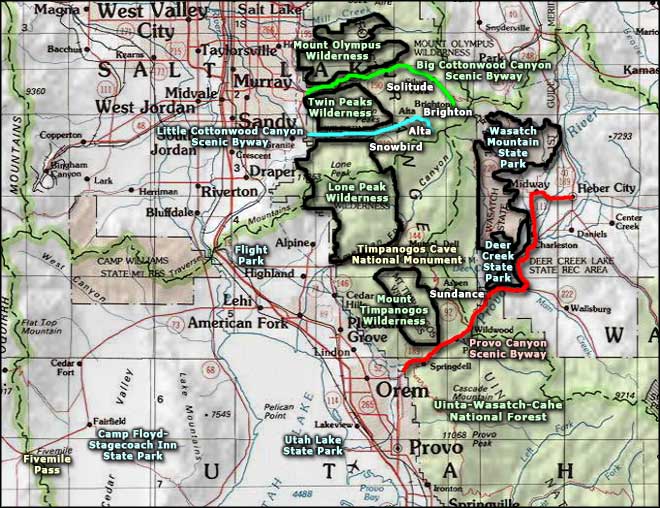 Related Pages
Map courtesy of National Geographic Topo!