Indian Creek Corridor Scenic Byway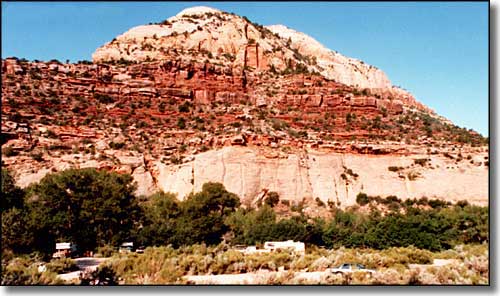 The campground at Newspaper Rock National Historic Site
Indian Creek Corridor Scenic Byway is a 35-mile route that connects US Highway 191 with the Needles District of Canyonlands National Park. This is a journey into red rock country that also passes by the Newspaper Rock National Historic Site. I drove this route in a small RV back in 1991. I fueled up in Monticello because once I left the main highway, there was nothing until I got back. Perhaps I should reword that a bit: there was drinking water available at the campground at the Needles but nothing else... except more and more and more red rock. It was late in the day when I headed in, too, so I ended up spending that first night in the campground at Newspaper Rock.
Newspaper Rock is a site where Ancestral Puebloans would leave messages for each other inscribed on the smooth surface of the varnished rock. As petroglyphs go, it was pretty incredible. Among the various designs on the rock are distinct patterns from the Fremont, Ute and Ancestral Pueblo peoples. Part of why everyone stopped by here is the perennial natural spring that flows near the rock.
Utah dropped Indian Creek Canyon from their list of scenic drives, perhaps because most of the route is on Federal land: Manti-La Sal National Forest and Canyonlands National Park.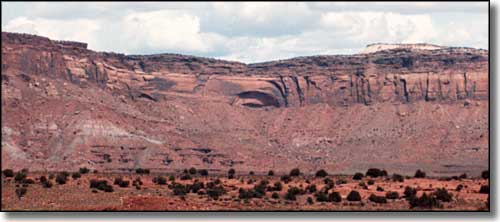 Typical view along Indian Creek Corridor Scenic Byway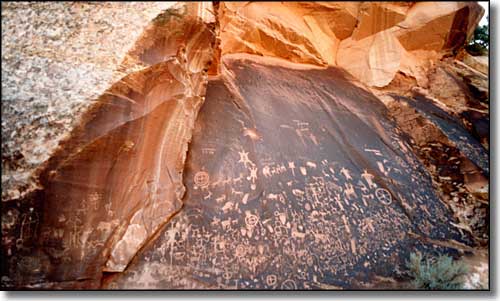 Newspaper Rock itself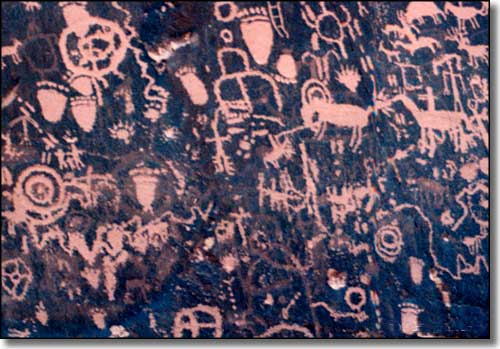 A closer view of Newspaper Rock
Clicking on one of the photos below will bring you a larger version of that photo:
Indian Creek Corridor Scenic Byway

Related Pages

Map courtesy of National Geographic Topo!