Monument Valley to Bluff Scenic Byway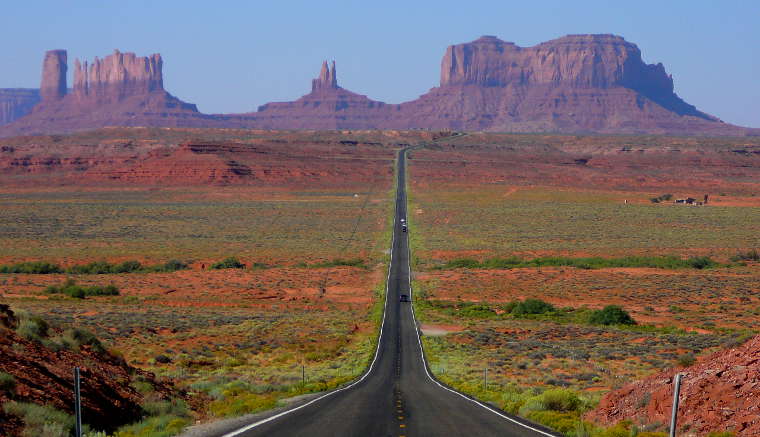 Heading down to Monument Valley from the north
The Monument Valley to Bluff Scenic Byway is a 45-mile stretch of US Highway 163 from the town of Bluff to the Arizona border at Monument Valley. This is some of the most famous countryside on Earth, made famous by a large number of classic Western movies... and more than a few modern classics. This scenic byway is also one of the legs of the Trail of the Ancients in Utah.
About half the scenic byway is on the Navajo Nation, passing through the northern parts of Monument Valley. You'll find the rock named "Mexican Hat" just above the crossing of the San Juan River at the town of Mexican Hat. This is an area of vast and colorful views with multitudes of red rock spires, knobs, formations, cliffs, buttes and mesas receding into the distance. Just north of the San Juan River crossing is the road leading to Goosenecks State Park, an area where you can rest your neck a bit by looking down into the Earth, down into deep canyons carved in the rock of the Colorado Plateau by the meandering San Juan River.
Throughout this area you might come across small ruins left behind by the Ancestral Puebloans 800 to 1,000 years ago. Back in those days, this area was more wet, more green, more inviting to life as we know it. But in the mid-1200's CE, a drought set in and the area has never recovered. The ancients moved on to greener, wetter pastures (mostly to the Rio Grande Pueblos of northern New Mexico). But they left behind cliff dwellings, stone towers, multi-story stone pueblos, kivas, pithouses and large amounts of pottery.
Then came a group of Mormon settlers in 1880. They fought their way across the Colorado River at Hole in the Rock and slowly headed east. About the time they came to the environs of what is now Bluff, they decided they'd had enough and stopped to set up shop.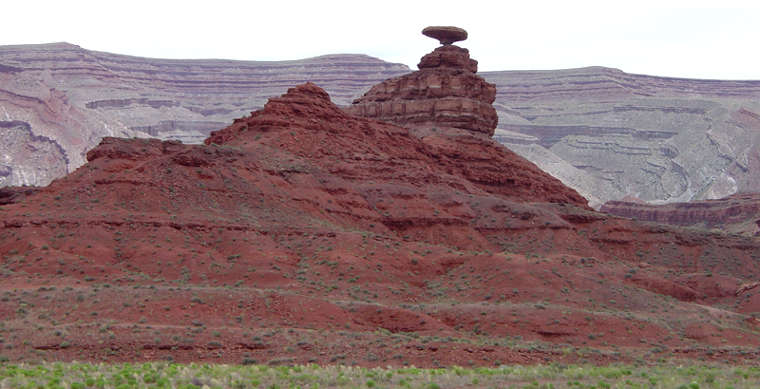 Mexican Hat, namesake of the nearby town along the Monument Valley to Bluff Scenic Byway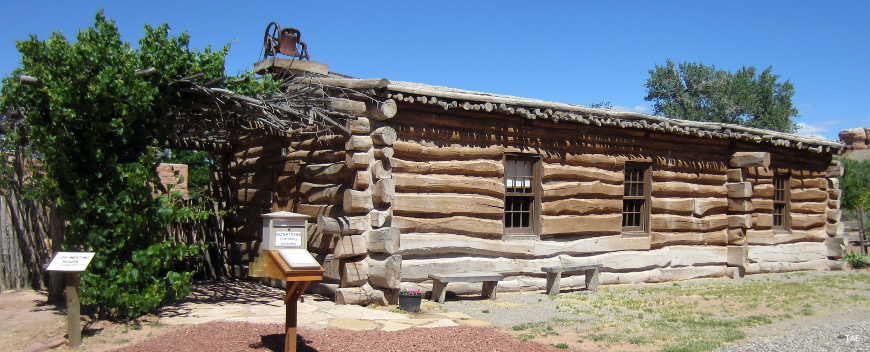 Replica of the original Bluff Meeting House

In Valley of the Gods
Monument Valley to Bluff Scenic Byway
Photo of Mexican Hat courtesy of Robert Reinhard, © 2003, via Byways.org
Photo of Monument Valley courtesy of Mark Averette,
CCA-by-SA 3.0 License
Other photos courtesy of TheArmchairExplorer,
CCA-by-SA 4.0 License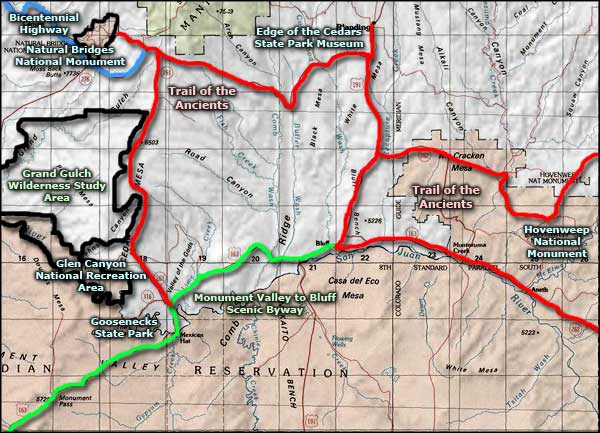 Related Pages
Map courtesy of National Geographic Topo!