Welaka State Forest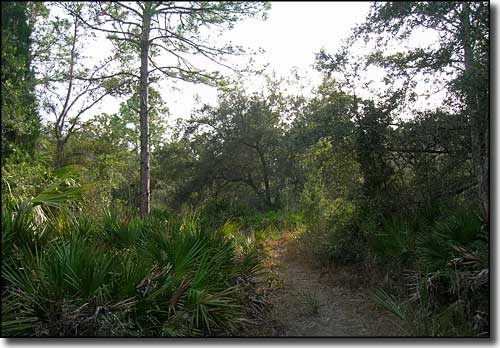 Typical view in Welaka State Forest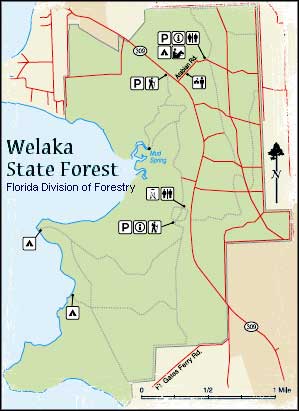 Welaka State Forest is a 2,287-acre property managed by the Florida Division of Forestry in Putnam County. The property lies against the eastern banks of the St. Johns River, part of a wildlife corridor about 100 miles long. Back in 1935, the Federal Government began the Welaka Forestry and Wildlife Conservation Project as part of the Federal Resettlement Administration. A few years later, the property was transferred to the University of Florida as the Florida Conservation Reserve, to be used for the study of outdoor wildlife and forestry. The management lease was transferred to the Division of Forestry in 1992 but research and development projects in the fields of botany, soils, forestry and wildlife ecology begun by the University in the 1940's are still under University control.
The countryside is a lush mix of bayheads, hammocks, sandhills, wetlands and flatwoods. A lot of the tree cover is slash pine, longleaf pine and pond pine with a palmetto understory. In the heart of the forest is Mud Spring, flowing 13,750 gallons of clear fresh water per hour into a half-mile spring run that empties into the St. Johns River.
Welaka State Forest offers hiking and horseback riding trails but no biking trails. There are also picnic sites, primitive campsites, picnic shelters, a dining hall and a 72-horse stable with training and show horse arenas.
Welaka State Forest is located along State Road 309 about 1 mile south of Welaka (between Palatka and Lake George). The western boundary of the property is along Mud Creek Cove of Little Lake George. West across the lake is Little Lake George Wilderness in Ocala National Forest.
Welaka State Forest
Latitude:

29.468733°N

Longitude:

81.659309°W
Upper photo courtesy of TheArmchairExplorer,
CCA-by-SA 3.0 License
Map courtesy of the Florida Division of Forestry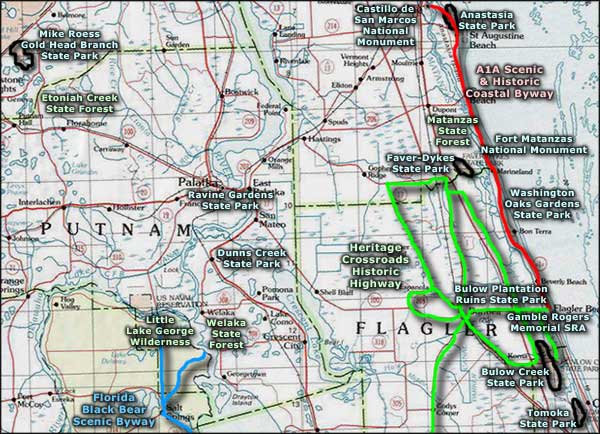 Related Pages
Area map courtesy of National Geographic Topo!