Gamble Rogers Memorial State Recreation Area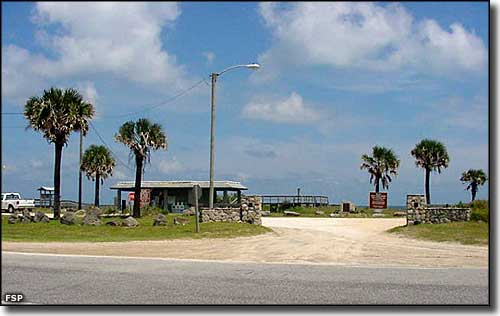 The beach campground entrance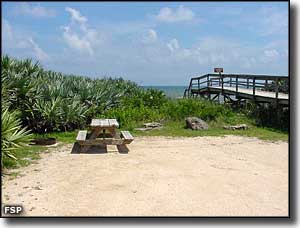 Gamble Rogers Memorial State Recreation Area is named for Florida folk singer Gamble Rogers. The park has the Atlantic Ocean on the east and the Intracoastal Waterway on the west. State Road A1A passes across the middle. Folks love the recreation area for the swimming, fishing, snorkeling, surfing, sunbathing and beachcombing opportunities. There are several boardwalks leading to the beach from the parking areas. One boardwalk is universally accessible. The park also offers a beach wheelchair for those who might need it. The day use area has restrooms, outdoor showers and several picnic areas.
The recreation area beach itself is only about one-half mile long. The primary bike trail is along the A1A but there is another trail along the Intracoastal Waterway. Hikers often enjoy the Joe Kenner Nature Trail, a 3/4 mile route through the coastal hammock forest to the edge of the Intracoastal Waterway. The route is a bit rugged in spots but offers sitting benches and interpretive panels. There are also interpretive exhibits and signs scattered throughout the park, including five interpretive kiosk panels and a commemorative plaque in the Day Use area dedicated to Gamble Rogers.
The full-facility campground is just above the beach in the dunes. There are 34 campsites for tents and RVs, each with water and electric hookups, fire ring and picnic table. Many sites overlook the ocean and the waves are only a short walk away. Several campsites are universally accessible, as are the common restrooms and shower facilities. Maximum RV length: 40 feet.
The boat ramp is on a channel that feeds into the Intracoastal Waterway. It can accommodate canoes, kayaks, personal watercraft and boats up to 25 feet long.
There are several picnic areas scattered around the park, all with picnic table, stand-up grill and water spigot. There are several picnic pavilions located along the water's edge.
Gamble Rogers Memorial State Recreation Area is open for day users from 8 am until sunset every day of the year. Campers who plan to arrive after sunset need to call the park on the day of arrival and get instructions and a gate combination. Gamble Rogers Memorial State Recreation Area is located along State Road A1A on the south side of Flagler Beach, about 1 mile north of the Flagler-Volusia County line.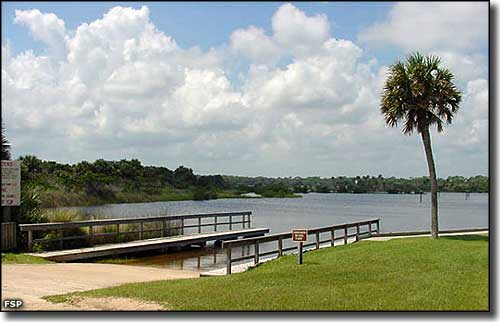 The boat ramp at Gamble Rogers Memorial State Recreation Area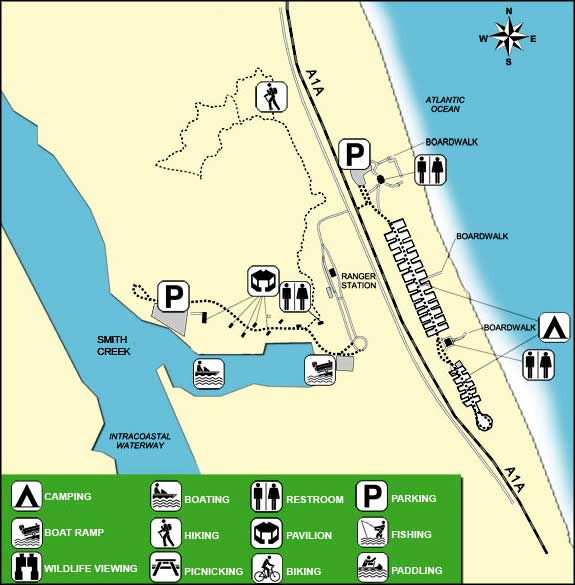 Gamble Rogers Memorial State Recreation Area
Photos courtesy of Florida State Parks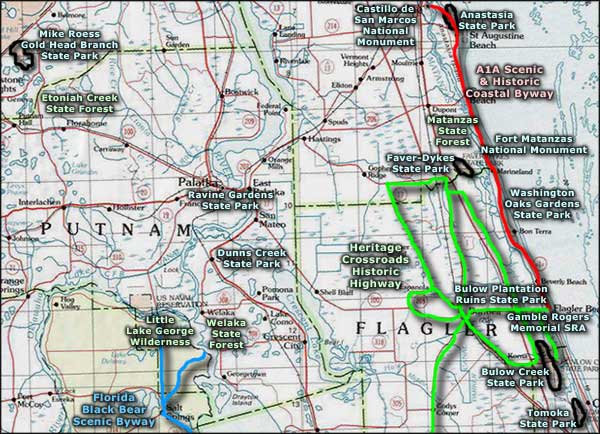 Related Pages
Area map courtesy of National Geographic Topo!