Bulow Plantation Ruins Historic State Park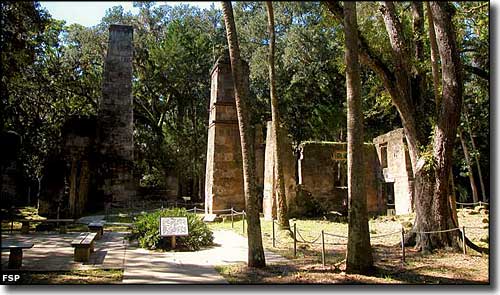 The Sugar Mill ruins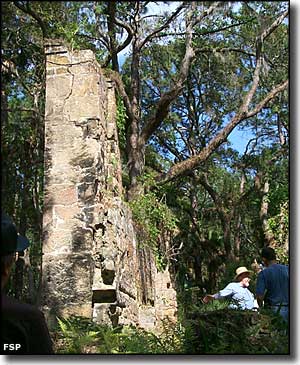 Back in 1821, Major Charles Wilhelm Bulow came into possession of some 4,675 acres of wilderness against the edge of a tidal creek. Over the years, the creek became known as Bulow Creek and the area is now Bulow Creek State Park. Bulow used slaves to clear about 2,200 acres of the forest, then he died and his son took over the farm. The son planted sugar cane and built a sugar mill, one of the largest sugar mills in the United States at that time. His operation was very prosperous and he built a mansion. John James Audubon came to visit and he wrote highly of the younger Bulow, his hospitality and his good relations with the local Native Americans. But over time, those relations soured because of actions of the US military in the area.
The plantation was most prosperous in the early 1830's, then came the Second Seminole War. In spite of their reasonably good relations with the Bulow family, the Seminoles burned the property on the morning of January 11, 1836. The Bulows left the area and never returned. These days, all that remains of that once proud factory and mansion are a few stone walls and chimneys. Most of the planted fields have been completely reclaimed by the forest.
Bulow Plantation Ruins Historic State Park is comprised of about 150 acres around the old ruins. There's an interpretive trail around the property with plaques that tell the history of the place and that bygone era. There's a small boat ramp on Bulow Creek, too, giving access to the Bulow Creek Canoe Trail. The ruins are at one end of the Bulow Woods Trail, a 6.8-mile trail that connects to the Fairchild Oak area in Bulow Creek State Park. The hiking trail is open for public use from 8:30 am to sunset every day of the year. There are restrooms at the picnic area and near the interpretive exhibits.
Bulow Plantation Ruins Historic State Park is open for day use only from 9 am to 5 pm Thursdays through Mondays all year round. To get there: Bulow Plantation Ruins Historic State Park is located on County Road 2001 about three miles west of Flagler Beach between the Old Dixie Highway and State Road 100. Administration of the park is done by the park personnel at Tomoka State Park.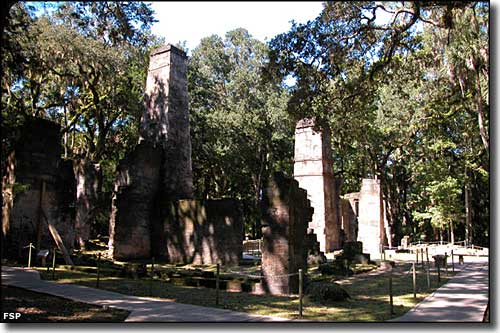 Another view of the sugar mill ruins
Bulow Plantation Ruins Historic State Park
Photos courtesy of Florida State Parks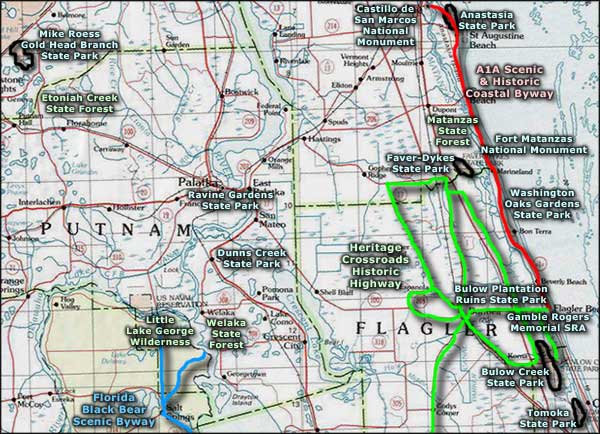 Related Pages
Area map courtesy of National Geographic Topo!