Ocala National Forest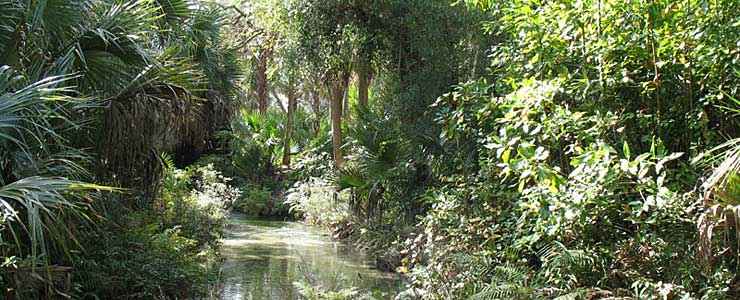 The headwaters area of Juniper Springs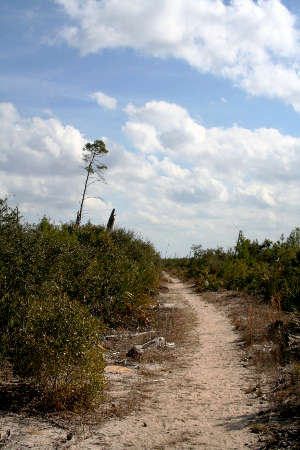 Ocala National Forest covers about 388,000 acres in central Florida, between the St. Johns River and the Ocklawaha River southeast of Gainesville and east of Ocala. There are more than 600 lakes and ponds on Ocala National Forest, in addition to the wet "prairies" and slow-moving rivers.
Ocala National Forest is home to the Juniper Prairie Wilderness, the Yearling Trail and Juniper Springs. Little Lake George, Billie's Bay and Alexander Springs Wilderness are also contained on this property.
Ocala National Forest is the place in Florida where you'll find the highest concentration of Florida black bears. You'll also find more than a few American alligators, wild boar and white-tailed deer. For smaller mammals there's gray fox, coyote, Virginia opossum, red fox, raccoon, bobcat, striped skunk, river otter, pocket gopher and armadillo. There's also a few gopher tortoises in this area.
One thing to look out for: the US Navy uses the Pinecastle Bombing Range in the heart of the Forest to drop thousands of bombs every year during training exercises. Some of these fallen bombs are duds... or at least they didn't explode on impact. The 5,760-acre practice range is fenced and, technically, they only drop live stuff on the middle 450 acres.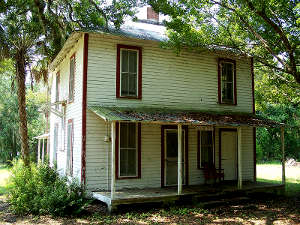 Campsites are available at: Juniper Springs, Lake Delancy, Halfmoon Lake, Alexander Springs, Buck Lake, Clearwater Lake, Big Scrub, Big Bass Lake, Salt Springs and Doe Lake. The Boy Scouts also have Camp La-No-Che, a 1,400-acre site near Paisley on the southern side of the Forest.
On County Road 316, just west of State Road 19 (and surrounded on all sides by Ocala National Forest), you'll find the privately-held ghost town of Kerr City. Kerr City was platted in 1884 and flourished until the winter freezes of 1894-95 destroyed most of the citrus trees in the area. Most folks left soon after but the post office stayed in operation up until 1942. At this point, most of the old town is owned by Arthur Brennan, a descendant of certain of the original homesteaders. He has renovated most of the old homes and some of them are now on the National Register of Historic Places. Brennan does offer most of the homes for rent. A Texaco gas station started operations in Kerr City in 1925 (as the first Texaco station in Florida) and is still in operation, although they pump unleaded now.
Ocala National Forest is headquartered in Tallahassee but there are local ranger district offices in Umatilla and Silver Springs with Visitor Centers in Salt Springs, Silver Springs and Altoona.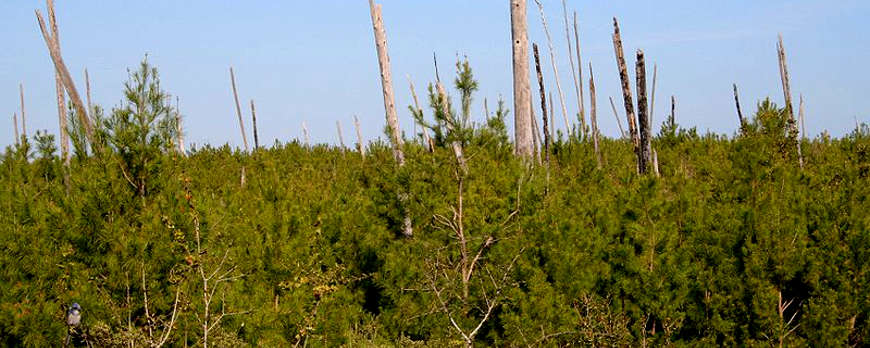 Regrowth after a fire on Juniper Prairie Wilderness

Alexander Springs Creek
Ocala National Forest
Forest Supervisor's Office -

US Forest Service
325 John Knox Road, Suite F-100

,

Tallahassee

,

FL

32303
850-523-8500
Photo of Juniper Springs courtesy of Michael Messina
Photos of the Yearling Trail and Juniper Prairie Wilderness courtesy of Rolf Müller,
CCA-by-SA 3.0 License
Photo of the Kerr City Post Office courtesy of Wikipedia userid Ebyabe,
CCA-by-SA 3.0 License
Some photos courtesy of TheArmchairExplorer,
CCA-by-SA 4.0 License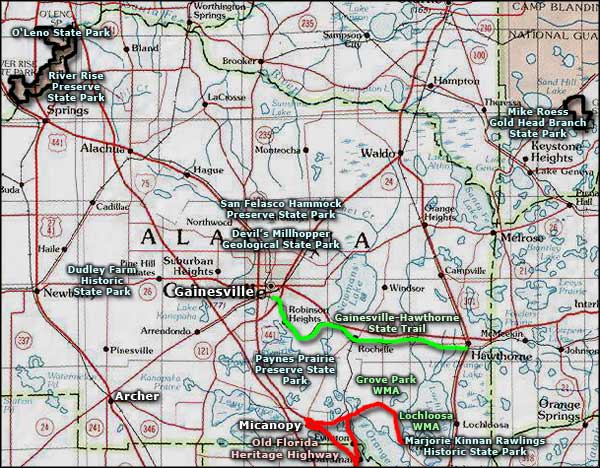 Related Pages
Map courtesy of National Geographic Topo!