Heritage Crossroads: Miles of History Heritage Highway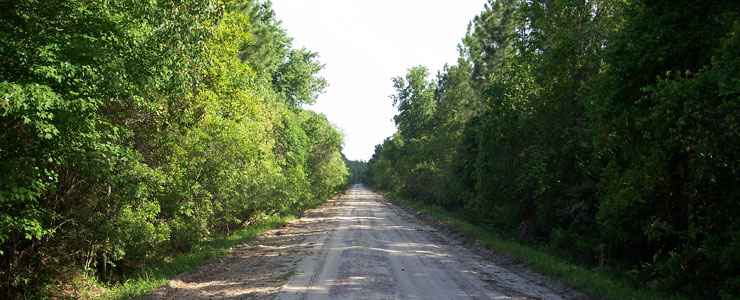 The Old Brick Road - part of the Old Dixie Highway
For hundreds of years, travelers in East Florida used certain trails to reach destinations further north and south along the Atlantic Coast. Heritage Crossroads is a network of those ancient trails in Flagler County, translated into modern times.
British engineers built Old Kings Road in 1767, following trails that Native Americans coming from Georgia and the Florida Panhandle had used for years. The Spanish and English armies used these routes for moving troops and supplies back and forth in this area. Eventually, colonists arrived and began converting the old marching roads into thoroughfares suitable for wagons, carriages and stagecoaches. In 1916, a 66-mile stretch of the Old Dixie Highway (which ran from Sault Sainte Marie, Michigan to Miami Beach) was widened and rebuilt, using hand-laid bricks (and that part of this "modern" road is now listed on the National Register of Historic Places as the "Old Brick Road"). The Old Brick Road in Flagler County is an eleven mile piece of County Road 13 running north from Espanola.
So when you travel this route, what you'll be seeing and passing through is what remains of "Old Florida," from the days before modern agriculture and land developers started to remake the countryside into what so much of it is today.
This is a 92-mile partial-braided loop route centered around Bunnell in Flagler County. Portions of it spill over into St. Johns and Volusia Counties. Along Heritage Crossroads you'll find the 7,100 acres of Pellicer Creek Aquatic Preserve: an Outstanding Florida Water and State Canoe Trail composed of undisturbed marsh, waterway and upland. Along the Old Brick Road you'll see the Florida Agricultural Museum (a collection of preserved buildings representative of late 19th and early 20th century Florida) and the Princess Place Preserve. Off Old King's Road you'll find Bulow Plantation Ruins State Park, a reminder from the early days of large scale sugar cane planting in Florida. The route also travels through the historic district of Bunnell, bringing you face-to-face with some of the oldest and most grand constructions in this part of the state.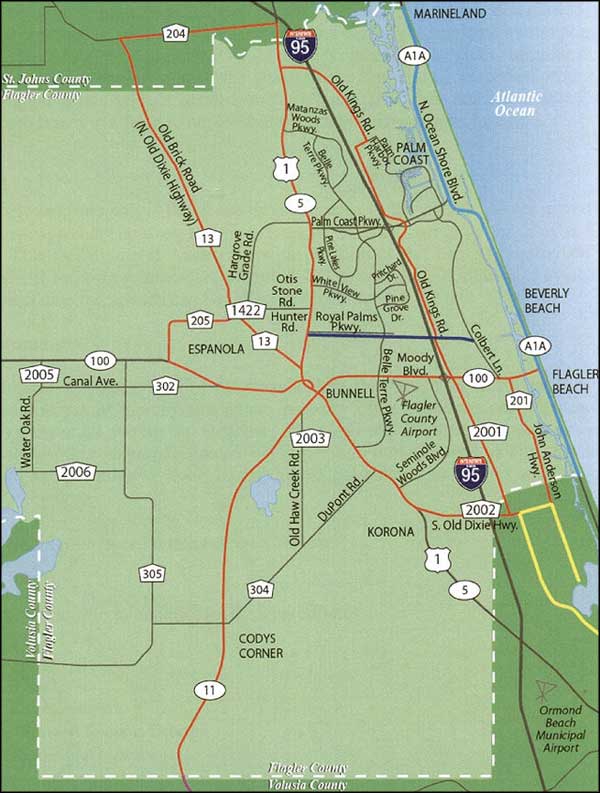 Heritage Crossroads area map
- The byway is the route in red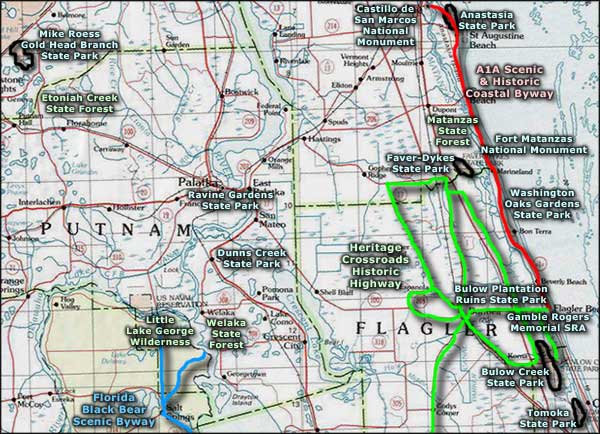 Related Pages
Area map courtesy of National Geographic Topo!