Dunns Creek State Park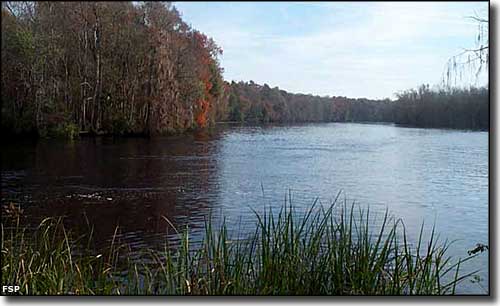 Dunns Creek flows into the St. Johns River at Dunns Creek State Park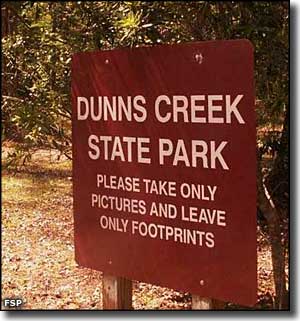 Dunns Creek State Park is a 6,200-acre property with Dunns Creek itself defining the northern and eastern boundaries. The property is a mix of sand pine scrub, mesic flatwoods, baygalls, seepage slope and sandhills along the eastern banks of the St. Johns River. Most of the area is classed as wilderness and motorized vehicles are not allowed on the property.
The primary trailhead for Dunns Creek State Park is found at the Blue Pond Picnic Area. The Yellow Trail starts there and connects to all three of the other marked trails on the property. The trails are all open for use by hikers, bicyclists and horseback riders. All horse owners are required to have on their person the results of a negative Coggins test for all their horses before unloading them on state property. Riders under the age of 16 must always wear a helmet when mounted on a horse on public land. Same for bicycle riders under the age of 16.
The stabilized parking area at Blue Pond Picnic Area can accommodate up to ten vehicles. There are several picnic tables, a shelter, fire grill, waterless restroom and informational kiosk at the site.
Dunns Creek State Park is open for day use from 8 am until sunset every day of the year. There are no entry fees for the park. To get there: go about 15 miles south of Palatka on US Highway 17 to the Blue Pond Picnic and Hiking Area (between Pomona Park and Satsuma).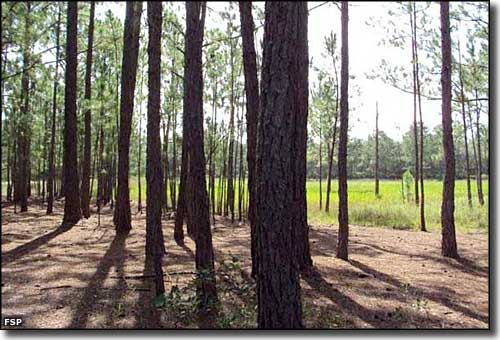 Loblolly Pines at Dunns Creek State Park
Photos courtesy of Florida State Parks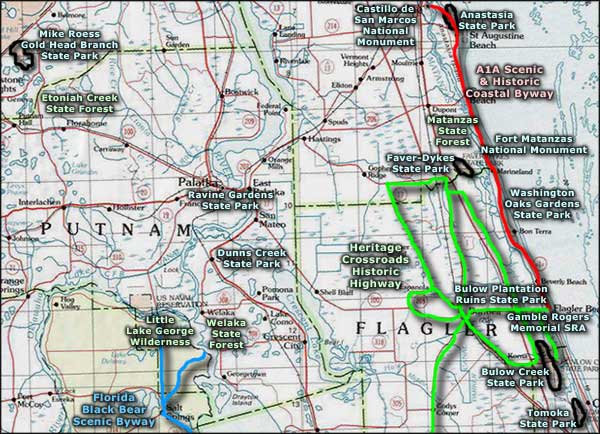 Related Pages
Area map courtesy of National Geographic Topo!