Fort Matanzas National Monument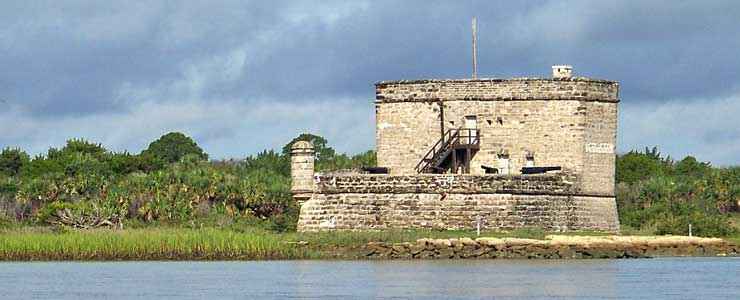 Fort Matanzas from the ferry
The 100 acres of Fort Matanzas National Monument are comprised mostly of barrier islands and salt marsh along the Matanzas River, but the centerpiece of the property is what remains of Fort Matanzas, a Spanish fort constructed in 1740. Fort Matanzas was built to guard the back door to St. Augustine on Matanzas Inlet. The Spanish built here because James Oglethorpe, Governor of Georgia, used the inlet to sneak past the defenses at Castillo de San Marcos and lay siege to St. Augustine. The Spanish then imported slaves, convicts and troops from Cuba and spent the next two years building Fort Matanzas.
They built the fort using quarried coquina, a local rock composed of cemented seashells that is similar to limestone. They used pine pilings to stabilize the marshy terrain and built the fort on that. Then Oglethorpe reappeared with a British fleet in 1742. They approached the inlet but cannon fire from the fort drove them off and the British left without firing a shot. That was the only time the guns of Fort Matanzas were fired on an enemy.
By the time the United States finally took control of Florida, the fort was unusable. Restoration began on the badly deteriorated ruin in 1916 and the National Monument status arrived in 1924. The War Department transferred the property to the National Park Service in 1933. In 1966, Fort Matanzas was listed on the National Register of Historic Places.
As Fort Matanzas is actually built on Rattlesnake Island, it is accessible only via guided boat tours.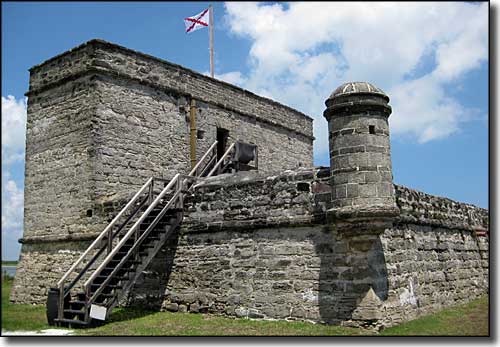 Fort Matanzas National Monument from the land side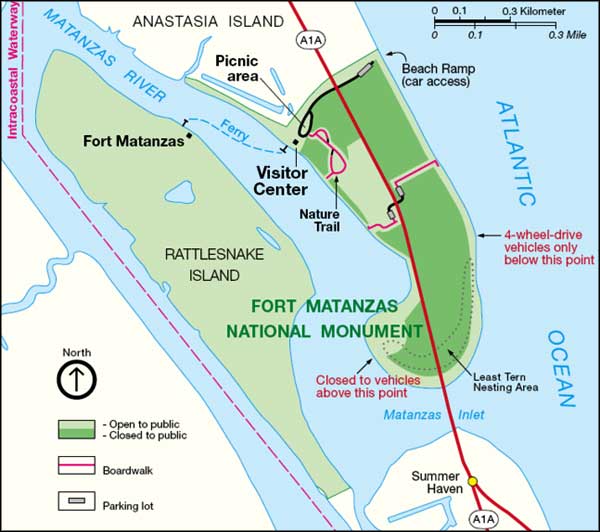 Fort Matanzas National Monument
Upper photo courtesy of Wikipedia userid Saginaw66,
CCA-by-SA 3.0 License
Lower photo courtesy of Wikipedia userid Integalacticz9,
CCA-by-SA 3.0 License
Map of Fort Matanzas National Monument courtesy of the National Park Service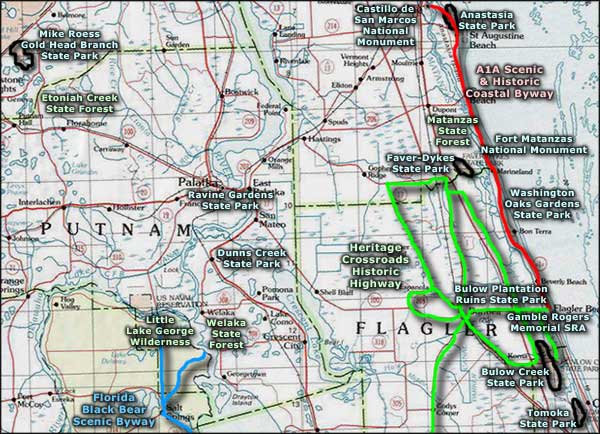 Related Pages
Area map courtesy of National Geographic Topo!