Washington Oaks Gardens State Park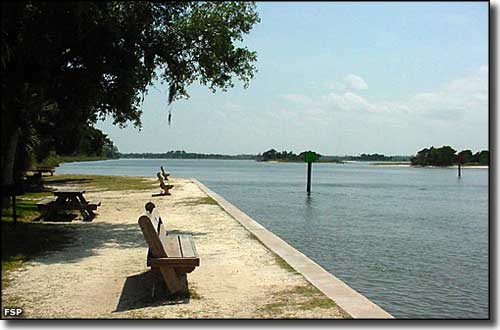 Picnic table and sitting benchs along the Matanzas River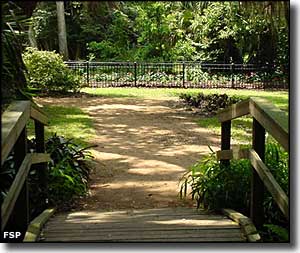 At Washington Oaks Gardens State Park you'll only find a few acres of ornamental gardens. The rest of the property is composed mostly of maritime hardwood hammock and coquina beach. Coquina is a type of sedimentary rock that is filled with the remains of seashells. In the ground coquina is somewhat soft but once exposed to the atmosphere, coquina dries and gets very hard. That doesn't make for much of a swimming beach. But Washington Oaks Gardens State Park spans the barrier island between the Atlantic Ocean and the Matanzas River.
Louise and Owen Young bought this property in 1936 and built a winter home on it. Then they began to establish the gardens using mostly camellias, azaleas, roses, bird of paradise and other exotic species from around the world to populate the small area surrounded by the oak hammock. The name comes from the fact that a distant relative of George Washington owned the property many years before. The Young family donated most of the property to the state in 1965.
Washington Oaks Gardens State Park offers several miles of trails for hikers and bikers. Some of the trails connect to longer trails that run along the length of the barrier island while others explore the coastal hardwood hammock area or the ecozone between the Matanzas River estuarine tidal marsh and the hardwood hammock.
The primary picnic facilities are located under the canopy of the large oaks. There is a covered pavilion with several tables and grills located nearby. Restrooms and a children's playground are also easily accessed from the picnic area. The picnic area is close to the main trailhead and some sites offer views overlooking the Matanzas River. Universally accessible restrooms may be found in the picnic area and at the Visitor Center.
Washington Oaks Gardens State Park is open for day use only from 8 am until sunset every day of the year. To get there: Washington Oaks Gardens State Park is located on State Road A1A about 2 miles south of Marineland.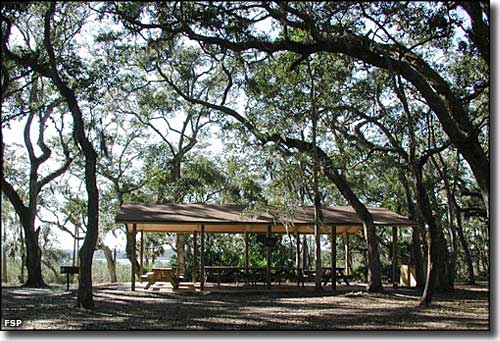 One of the picnic pavilions at Washington Oaks Gardens State Park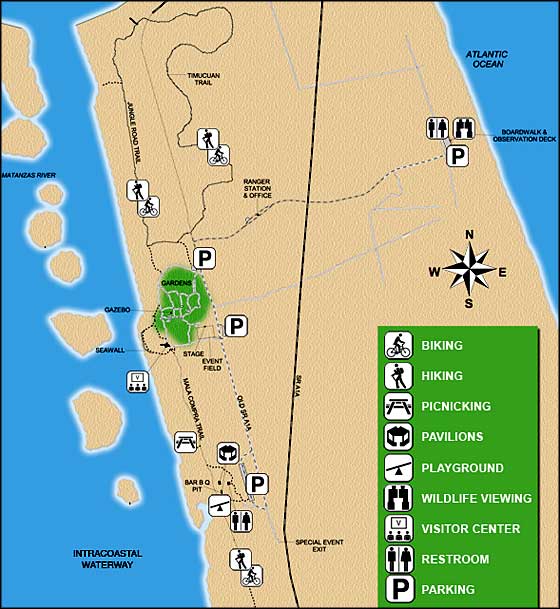 Washington Oaks Gardens State Park
6400 N Oceanshore Boulevard

,

Palm Coast

,

FL

32137
386-446-6780
Photos and park map are courtesy of Florida State Parks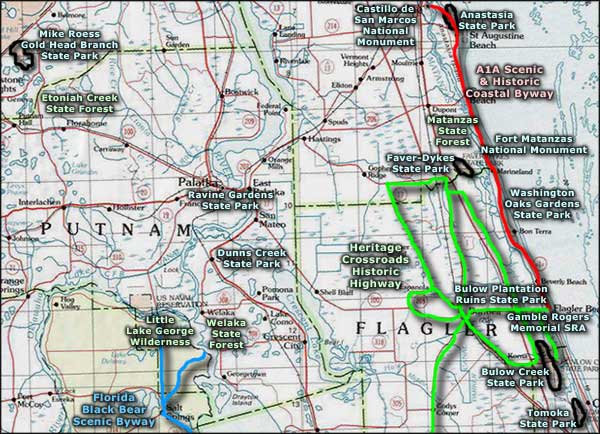 Related Pages
Area map courtesy of National Geographic Topo!