Mound Key Archaeological State Park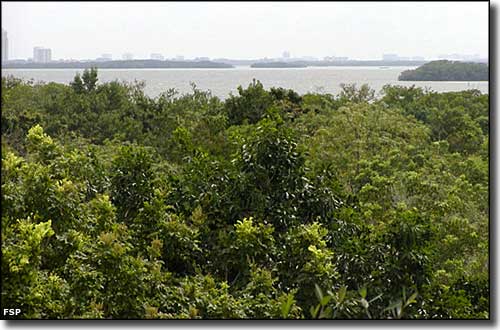 Looking east across Estero Bay from the top of one of the mounds on Mound Key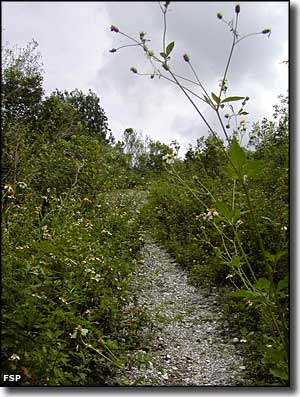 Mound Key is an island located in Estero Bay on the Gulf Coast of Florida. Mound Key Archaeological State Park contains about 113 acres of that 125-acre island, the rest still being in private hands. For almost 2,000 years, Mound Key served as the ceremonial center for the Calusa Indians. When the Calusa first came to Mound Key, it was probably a mangrove-lined oyster bar that barely stuck out above the waves in the center of the Estero Bay Estuary. As their population grew on the island, their discarded shells and village refuse slowly piled up to create several shell middens, with their homes and ceremonial centers built on top.
Many researchers think the Calusa capital city, Calos, was on Mound Key. However, the Calusa were done in by the arrival of the Spanish. In 1566, the Spanish Governor of Florida built a fort and a settlement on the island, then the Church built a mission (San Antonio de Carlos). The Calusa didn't like it and kept attacking the Spanish. The Spanish finally gave up on that project and moved on in 1569. However, the diseases they left behind pretty much finished off the Calusa as a force in Florida. By 1750, virtually every Calusa descendant was dead.
Over the years since then, the island has served as a landing spot for pirates, fishermen and various American pioneers. The Koreshan Unity arrived in the area in 1894 and Mound Key was among the acreage they bought to establish their utopian community on. In 1961, the remaining four followers of the faith donated a large chunk of their real estate holdings to the State of Florida. Most of Mound Key was part of that donation.
Mound Key Archaeological State Park is accessible only by boat from either Koreshan State Historic Site or from Lovers Key/Carl E. Johnson State Park (both located on the mainland side of Estero Bay). Mound Key has a few interpretive exhibits and offers boating, fishing and wildlife observation but there are no other amenities on the island, no restrooms. Nature trails and information kiosks are still being developed. There is a half-mile trail across the island with boat landings at both ends of the trail. Mound Key Archaeological State Park is open for day use only from 8 am to sunset, every day of the year.
The Mound Key Site (a series of ancient shell middens built by the Calusa over hundreds of years) was listed on the National Register of Historic Places in 1970.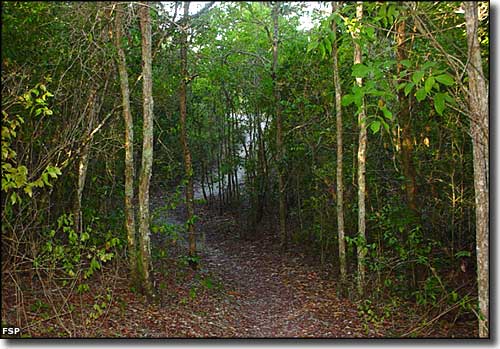 The trail across the middle of Mound Key
Mound Key Archaeological State Park
Photo of the Mound Key Trail courtesy of Stephen Giguere, Florida State Parks
Other photos courtesy of Florida State Parks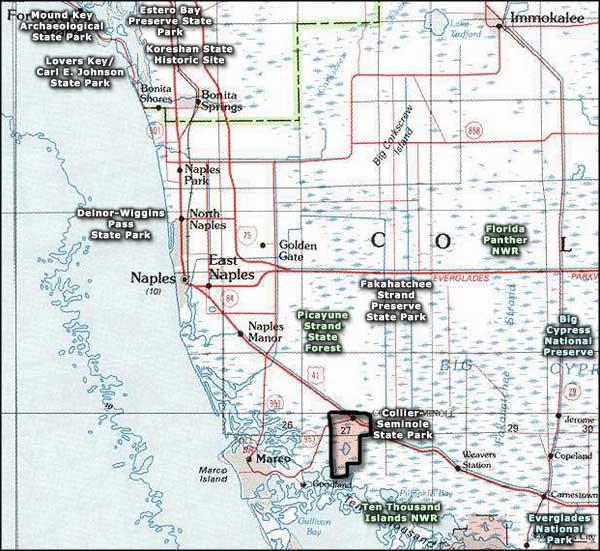 Related Pages
Area map courtesy of National Geographic Topo!