Delnor-Wiggins Pass State Park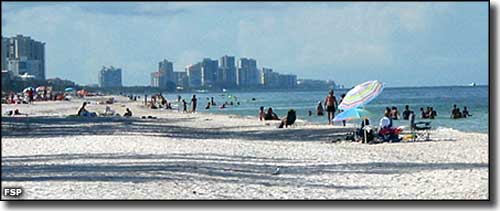 The view south at Delnor-Wiggins Pass State Park
Delnor-Wiggins Pass State Park is essentially 166 aces of white sugar sand stretched out along a mile of Gulf of Mexico coastline in Naples. This is a popular spot for sunbathing, beachcombing, snorkeling, swimming and picnicking. The inland side of the beach is against Wiggins Pass, and fishing is allowed there but not swimming. Folks use the boat ramps to launch vehicles for either traveling on the Gulf or up the Cocohatchee River. One route offers saltwater fishing, the other freshwater fishing. Kayaks and canoes put in there for exploring the estuaries, while scuba divers and snorkelers put in on the Gulf side and explore the hard bottom reef. A walk to the north end of the beach will bring you to the observation tower. Climb it and you'll get a bird's-eye view of the area.
Delnor-Wiggins Pass State Park allows pets (under full control, on leashes no longer than 6 feet) but not on the beaches. In the coastal hammock at the north end of the parking area is a picnic pavilion big enough to hold 10 picnic tables and 100 people. To reserve it call the park at 239-597-6196. Between each parking lot and the beach you'll find picnic tables at the end of short boardwalks. Each one is shaded in the coastal hammock area and each has its own table and grill. There are six universally accessible restrooms at the state park, and freshwater rinse showers are available, too. Each restroom has an interpretive feature nearby, and each feature is about a different subject. Rangers give guided beach tours on Wednesday's during turtle season, and they offer tours on Friday's during most of the rest of the year about things like native plants, mangroves, barrier islands, castnetting and bird watching.
Delnor-Wiggins Pass State Park is open from 8 am to sunset, every day of the year. However, winter can get really busy and if there are too many people on the beach, the gates are closed.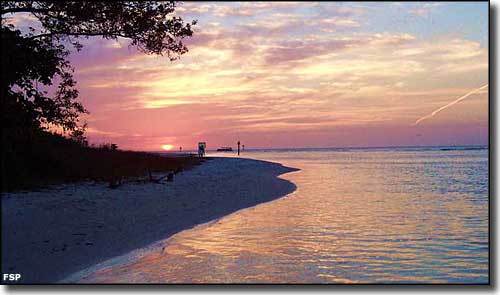 Sunset at Delnor-Wiggins Pass State Park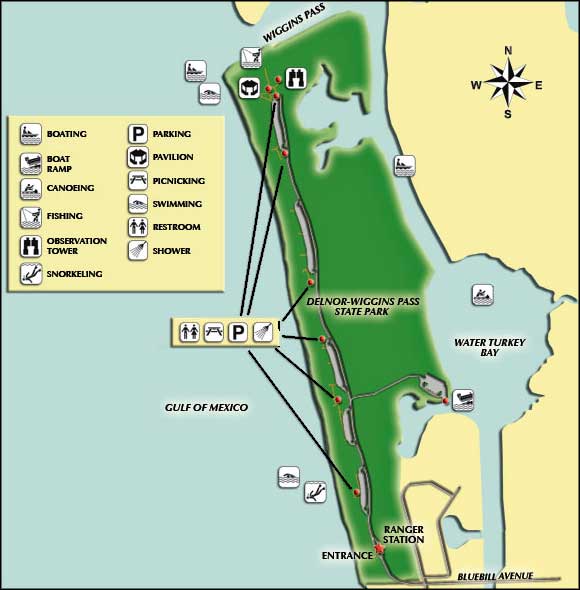 Delnor-Wiggins Pass State Park
Photos and map courtesy of Florida State Parks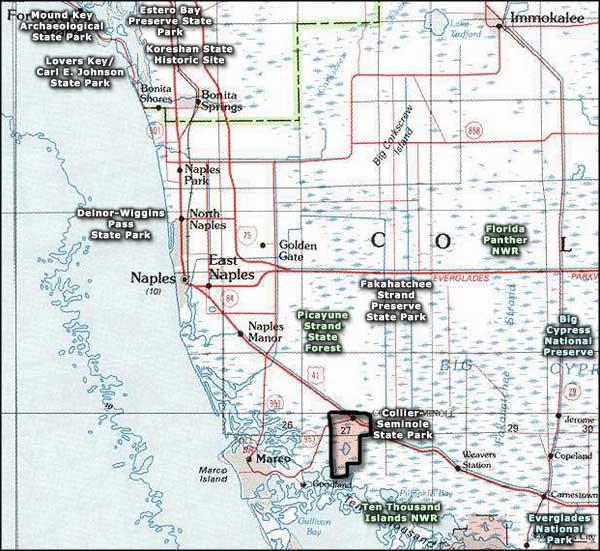 Related Pages
Area map courtesy of National Geographic Topo!