Coronado State Historic Site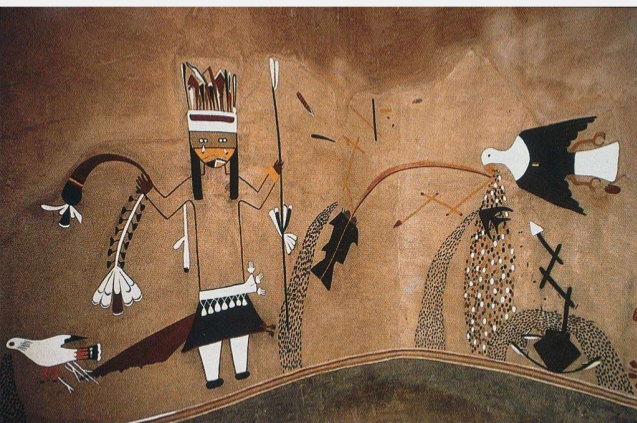 A kiva wall mural unearthed at Kuaua
Coronado State Historic Site was previously New Mexico's first state monument, dedicated on May 29, 1940 during the 400 year commemoration festivities marking the entry of Francisco Vasquez de Coronado into what is now New Mexico. Coronado did travel extensively in the area and records show he camped here several times in his journeys between 1540 and 1542. However, the only real sign of his presence is more the presence of the ancient Kuaua pueblo near where he usually camped.
Kuaua was a Tiwa pueblo first built around 1300 CE and abandoned toward the end of the 1500's, most likely as an indirect result of the Tiguex War of 1541. In the Tiguex War, Coronado and his men fought against twelve of the Tiwa pueblos in this part of the Rio Grande Valley, killing many natives but worse, spreading European diseases the natives had no immunity to. Those diseases soon decimated the native population.
The ruins of Kuaua were excavated in the 1930's and one of the square kivas found on the property yielded a series of pre-Columbian murals that represent some of the finest early Native American art in existence. In the visitor center you can see 15 of those murals on display. The visitor center also contains exhibits of many prehistoric and historic Native American and Spanish colonial artifacts. Several of these exhibits have hands-on components. The state historic site also offers an interpretive trail through the ruins and a walk along the west bank of the Rio Grande.
To get there: Get off Interstate 25 at exit 242 on Highway 550 and go 1.7 miles west to Kuaua Road. Turn north and follow the signs. Hours: 8:30 am to 5 pm, Wednesdays through Mondays. Closed Tuesdays.
Coronado State Historic Site
Kuaua Road

,

Bernalillo

,

NM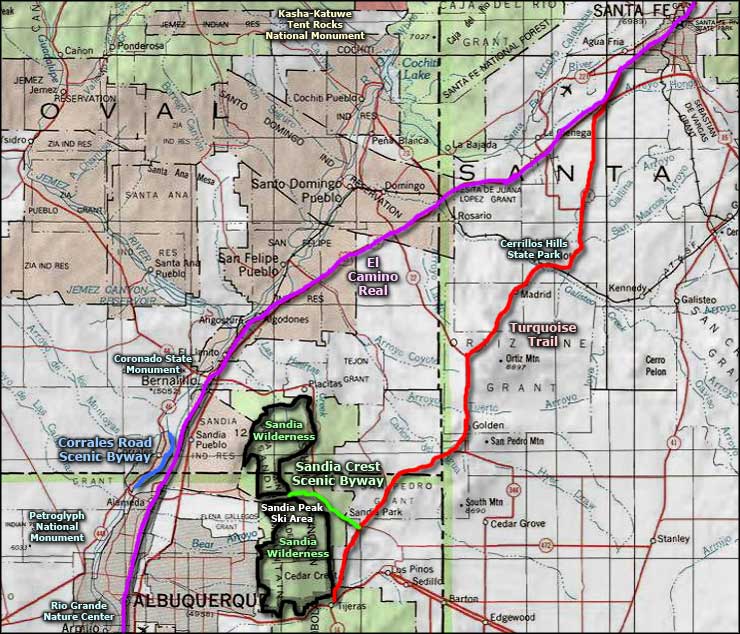 Related Pages
Map courtesy of National Geographic Topo!