Spring Valley State Park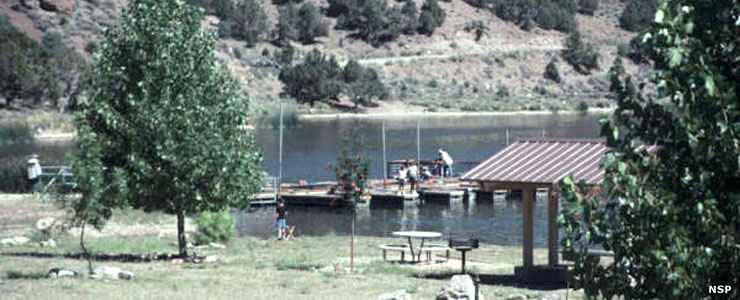 Spring Valley State Park
Facilities & Amenities
Camping
RV Dump Station
Group Camping
Flush Restrooms
Showers
Picnicking
Group Picnicking
Boat Launch
Trails
Historic Sites
Nature Study
Swimming
Fishing
Fish Cleaning Station
Max. RV size: 35'
Pets allowed
Spring Valley State Park is located about 18 miles northeast of Pioche on State Route 322, around the shores of the Eagle Valley Reservoir. The State Park offers camping, picnicking, boating, fishing, and hiking. Spring Valley is located in the upper end of Meadow Valley Wash, a name that designates a loose grouping of valleys that trend north-south through Lincoln and Clark Counties, eventually dumping their contents into the Muddy River near Moapa and reaching Lake Mead near Overton. Upstream of the reservoir, the landscape gives evidence of ages of volcanic activity. Around the reservoir and downstream, the landscape gives testament to the days when this whole area of the southwestern United States was covered by a large, wind-blown desert with sand dunes hundreds of feet thick. Today, the environment is typical Great Basin desert with riparian life zones following the wetter stream beds. Tree cover tends to be Utah juniper, pinyon pine and big sagebrush. The flood plains support big sagebrush, rabbit brush and several strains of grass. In the riparian zones you'll find sedges, grasses and cattails. Among the wildlife are cottontails, jackrabbits, squirrels, skunks, deer, coyotes and a few bobcats. Slithering about on the ground are several species of snakes and lizards. The canyons and valley attract ravens, road runners, songbirds, hawks and eagles. The reservoir itself attracts many species of waterfowl and shore birds, including avocets, teals, herons, mallards and the occasional trumpeter swan.
This part of Nevada was first settled in 1864 by a group of Mormon pioneers. In Eagle Valley, they established the Millet Ranch, Rice Ranch and several other good-sized ranch holdings. The Park Headquarters are in the refurbished Millet Ranch homestead and some of the other pioneer constructions are preserved as examples of their workmanship. The Park occupies 1,281 acres, of which 59 acres is covered by the Eagle Valley Reservoir. The reservoir is stocked with rainbow trout by the Nevada Division of Wildlife. The reason for building the dam and reservoir was to provide a more steady source of irrigation water for farms and ranches downstream.
There are 2 campgrounds in Spring Valley State Park. The main one, Horsethief Gulch Campground, is just west of the reservoir. Its 37 campsites each have a shade ramada, picnic table and fire grill. There are water hydrants and three restrooms in the campground, one of which has showers. Ranch Campground is 2 miles north of Horsethief Gulch. It offers 7 campsites (tables and grills only) with a water hydrant and primitive restrooms.
The main picnic area is right beside the reservoir's boat launch ramp. The area has 12 picnic sites (each with a table and fire grill). There is also a restroom and fish cleaning station.
Camping is allowed only in the designated campsites, first come, first served. Fires are allowed only in designated fire rings and grills, bring your own firewood.
Spring Valley State Park
Nevada State Parks
Photo courtesy of Nevada State Parks
Related Pages
Map courtesy of National Geographic Topo!