Beaver Dam State Park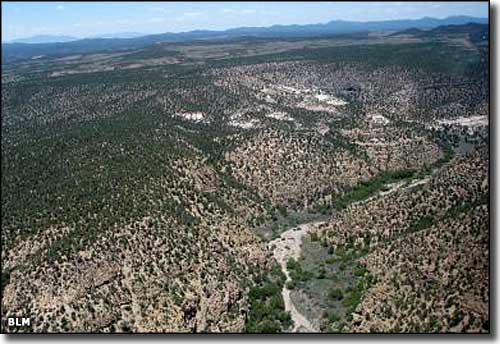 Beaver Dam State Park
Facilities & Amenities
Camping
Group Camping
Picnicking
Group Picnicking
Hiking Trails
Nature Study
Fishing
Pets Allowed
Max. RV Space: 28'
Eastern Nevada's most remote state park, Beaver Dam State Park is very popular with folks who enjoy the rustic and primitive character of these deep canyons and pinon and juniper forests. This 2,393-acre park is located against the Utah border, about 34 miles east of Caliente (that means 6 miles north of town on paved US 93, then 28 miles east on a graded gravel road). This gravel road has a few good switchbacks in it so vehicles and trailers more than 25' long are not recommended. And while the Park is officially open year-round, winter can make this gravel road impassable, something about heavy snowfalls and temperatures dropping below zero... This area often sees heavy thunderstorm activity in July and August, too.
From the photo below, you can see that the area is filled with canyons cut deep into volcanic rock. These streams flow year-round and many of them sport beaver dams for natural flood control. The Nevada Division of Wildlife even stocks the length of Beaver Dam Wash with rainbow trout.
Tunnel Spring Wilderness wraps around the northern sides of Beaver Dam State Park, although the best access to Tunnel Spring is via the Pine Park Campground in Dixie National Forest on the Utah side of the border. Also on the Utah side of the border are the Cougar Canyon and Docs Pass Wilderness Areas.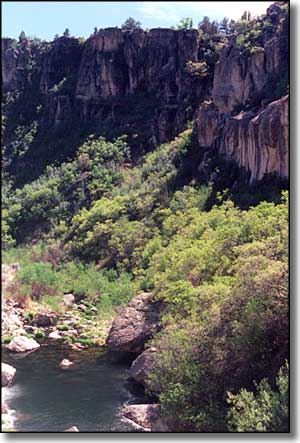 A group of migrating pioneers stumbled across this valley back in 1849, probably on their way to California. Because of the steep cliffs and difficult countryside, they left behind a couple of their wagons and most of their names carved in the rock. The first real settlers came along a few years later. Among them were the Hamblins, who built a small house, a blacksmith shop and a one-room schoolhouse. A few other folks settled nearby and a small town was built. But the weather was fickle and the settlement didn't last long, remnants of the buildings can still be see at the northern end of Beaver Dam State Park. In 1917 some improvements were made to the Alcoma-Shem "highway," the nearby wagon road leading across the mountains and into Utah. Traffic along that road brought folks into the valley for a day or two at a time and interest grew in regard to making the area into a park. Beaver Dam became one of Nevada's first state parks in 1935. The Civilian Conservation Corps had already been working in the area and built quite a few structures and improvement between 1934 and 1936. Then flash floods in the late 1930's wiped almost all of it out. New camping and picnic facilities were built in 1961. That's also when the dam was built creating Schroeder Reservoir... but flash floods in 2005 damaged the dam and the reservoir was finally drained in 2009.
Beaver Dam State Park offers campgrounds, a group use area and a picnic/day use area. There are also several excellent hiking trails, some with interpretive signs along the way. The Nevada Department of Wildlife regularly stocks the stream below the day-use area with rainbow trout.
There are 2 developed campgrounds, offering a total of 33 campsites, each with a fire pit, picnic table and camping pad. The largest sites can accommodate trailers up to 20' in length. Water hydrants (water flows only from May to October) and vault toilets are scattered through the camping areas. Due to the remoteness of the area, forget other hookups and phones. Firewood is available for a small donation, camping is allowed only in designated areas and: Pack it in, Pack it out (there is no trash collection at Beaver Dam State Park).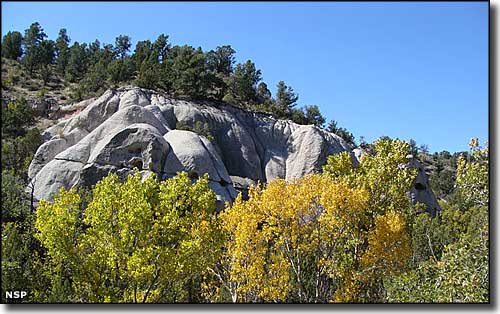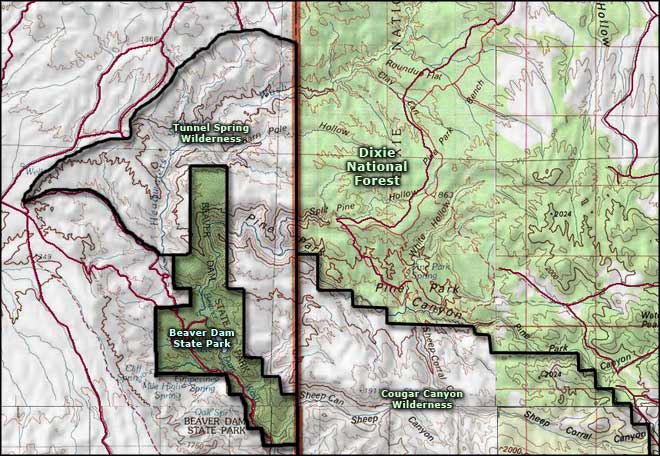 Beaver Dam State Park area map
Beaver Dam State Park
Nevada State Parks
Upper photo courtesy of the Bureau of Land Management
Other photos courtesy of Nevada State Parks
Map courtesy of National Geographic Topo!
Related Pages
Map courtesy of National Geographic Topo!