Matlacha Pass National Wildlife Refuge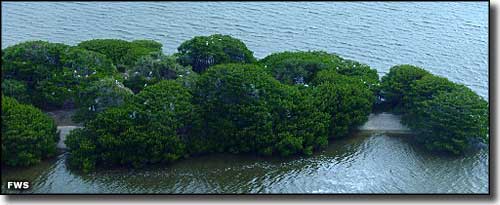 One of the islands in the Matlacha Pass National Wildlife Refuge
On September 26, 1908, President Theodore Roosevelt signed Executive Order #943 establishing 3 small islands in the Charlotte Harbor estuary as Matlacha Pass National Wildlife Refuge. Since that time, Matlacha Pass NWR has expanded to 512 acres that now include some 23 islands.
The majority of the habitat is mangrove swamps and upland sand ridges. Among the vegetation covering these islands you'll find cabbage palm, buttonwood, seagrape, Florida strangler fig, gumbo limbo and red, white and black mangrove. All the islands of Matlacha Pass NWR lie between Pine Island and Cape Coral.
Once upon a time, one of the largest islands in the group (Fisherman Key) had permanent residents and fish camps on it, but most of the islands have been used only by migratory birds since time immemorial. This is prime osprey habitat, although the property is also a preserve providing protected habitat for wood storks, bald eagles, manatees and sea turtles.
Access to the waters around the islands is by boat only, but the islands themselves are closed to the public. With numerous oyster bars, fragile seagrass beds and shallow back bay waters, safe navigation in the area is quite difficult.
Matlacha Pass NWR is administered as part of the J.N. "Ding" Darling National Wildlife Refuge Complex.

Skimmer Island, part of Matlacha Pass NWR
Photos of Matlacha Pass NWR courtesy of Kendra Pednault-Willett, US Fish & Wildlife Service
Photo of Red-shouldered Hawk courtesy of Theresa T. Baldwin, US Fish & Wildlife Service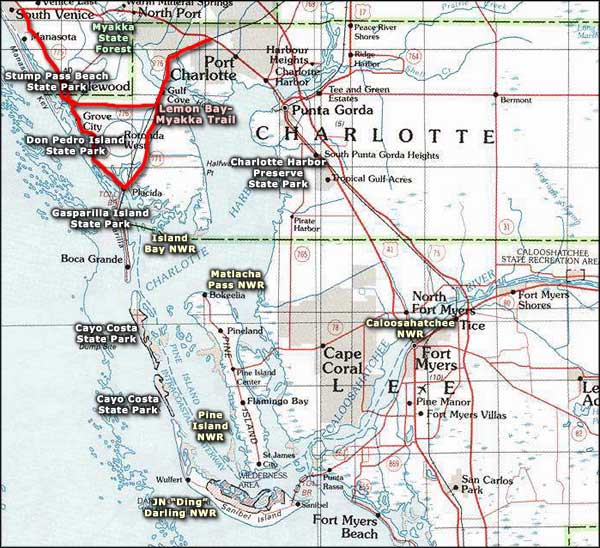 Related Pages
Area map courtesy of National Geographic Topo!