Wheeler National Wildlife Refuge

A common sight at Wheeler National Wildlife Refuge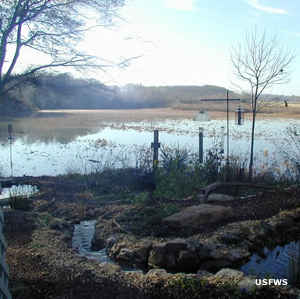 Named after Major General Joseph Wheeler, Wheeler National Wildlife Refuge is a 35,000-acre property in north central Alabama between Huntsville and Decatur. The property straddles the Tennessee River and includes about 4,000 acres of Redstone Arsenal (part of NASA's Marshall Space Flight Center).
The Refuge was established through an Executive Order signed by President Franklin D. Roosevelt in 1938. At that time, the property was part of a buffer strip around the Wheeler Reservoir owned by the Tennessee Valley Authority. To reduce the mosquito population, the TVA had impounded large areas of shallow backwaters around the reservoir and was pumping them dry in the spring and summer. This made fertile ground for the growth of sedges, smartweed, wild millet and other seed-bearing grasses that attracted large numbers of migratory waterfowl when the areas were inundated again in the fall and winter. This is where you'll find the largest concentration of ducks in the state of Alabama, in season.
Straddling the Wheeler Reservoir as it does, about 16,000 acres of the refuge is water surface, the rest being land. The land is a mix of forested wetlands, upland hardwoods, shallow water impoundments and agricultural fields. On about 10,000 acres of the land area, the main tree species are poplar, ash, red and white oak, hickory and tupelo gum. Then there's about 3,000 acres of pines. The farmlands cover between 4,000 and 5,000 acres. The rest of the property is split among rocket test ranges, open shelves and other mixed vegetation areas.
Wheeler National Wildlife Refuge offers 5 hiking trails varying in length from 1/8 mile to 4 miles. There are also six concrete boat launches to provide access to the Tennessee River. The fishing for sunfish, crappie, bass, catfish and sauger is excellent. Above the Beaverdam Peninsula on the north side of the refuge is a wildlife observation tower (probably of great interest to the bird watchers who flock here in the winter). There are several other stations for those who use spotting scopes scattered around the refuge. The refuge also allows (in season and with appropriate licensing) public hunting on about 18,000 acres.
The Wheeler National Wildlife Refuge Complex administers the Sauta Cave, Watercress Darter, Fern Cave and Key Cave National Wildlife Refuges.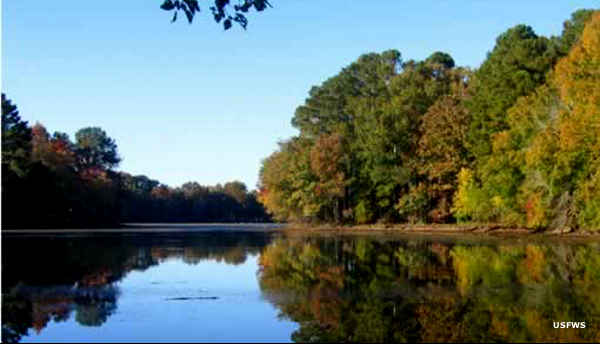 The Tennessee River at Wheeler National Wildlife Refuge
Wheeler National Wildlife Refuge
US Fish & Wildlife Service
2700 Refuge Headquarters Road

,

Decatur

,

AL

35603
256-353-7243
Upper left photo courtesy of Kevin Lee McIver, USFWS
Other photos and maps courtesy of the US Fish & Wildlife Service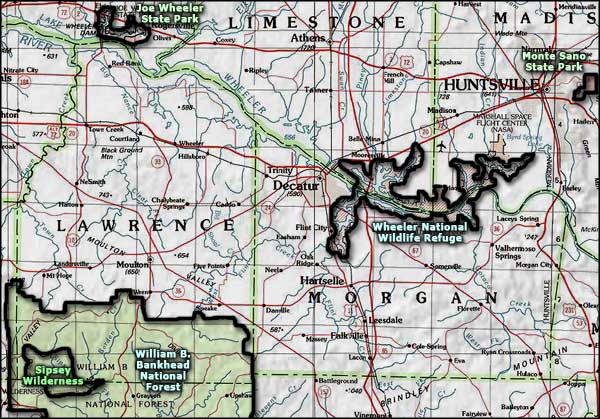 Related Pages
Area map courtesy of National Geographic Topo!