Fern Cave National Wildlife Refuge

A waterfall above Fern Cave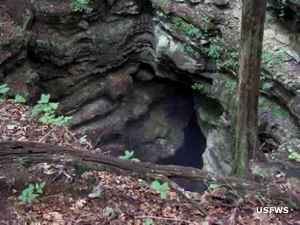 A cave entrance
Fern Cave National Wildlife Refuge is a 199-acre property purchased by the US Fish & Wildlife Service in 1987 to help preserve and protect endangered gray and Indiana bats. Fern Cave is a massive cavern underlying a forested hillside. Of the five known entrances to Fern Cave, four are on the refuge. About one million gray bats may be using the cave for their winter hibernation. There may be another million Indiana bats using the cave, too.
Fern Cave is also home to the endangered Hart's-tongue fern, hence the name. Twenty years ago there twenty of these very rare ferns on the property but plant collectors have reduced that population to maybe two.
Elevations on the property range from a high around 1,500' to a low of about 590' at the edge of the Paint Rock River. The lower areas are forested with bottomland hardwoods (maple, beech, oak and basswood) while the upper areas are forested with pine, oak and hickory. In addition to the endangered bats in the cave, more than 200 species of mammals, fish, birds, reptiles and amphibians can be found on this property.
Early explorers in Fern Cave described the cave as being a complete vertical and horizontal maze with more than 12 levels inside. The cave drops as much as 450' in spots and extends more than 15 miles back into the mountain. Fern Cave is famous among spelunkers because of old stories of important archaeological and paleontological finds, diverse cave fauna and spectacular cave formations. Getting into the cave, though, is extremely difficult.
Land acquisition is a continuing priority as there is still one cave entrance that is not federally controlled. Because of that one entrance, the primary governmental activity at Fern Cave National Wildlife Refuge is law enforcement/resource protection aimed at protecting the critical bat habitat by keeping people out of the cave interior.
To get there: Take Highway 72 east from Huntsville to just east of Gurley. Cross the Paint Rock River (east of Gurley) and turn east on County Road 500. Go to the road closure at the gate. Foot traffic beyond the gate is allowed so follow the road as it parallels the Paint Rock River around the southwestern foot of Nat Mountain. Sooner or later you'll come to the National Wildlife Refuge signs. The bat habitat inside Fern Cave itself is considered to be so sensitive that the cave is closed to the public.
Fern Cave National Wildlife Refuge is administered by staff at the Wheeler National Wildlife Refuge Complex.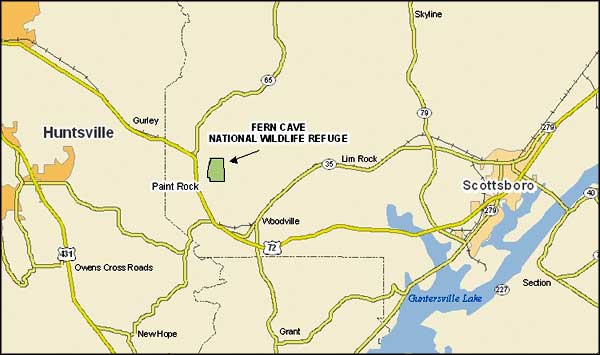 Fern Cave National Wildlife Refuge
US Fish & Wildlife Service
2700 Refuge Headquarters Road

,

Decatur

,

AL

35603
256-340-9728
Photos and map courtesy of the US Fish & Wildlife Service