Sauta Cave National Wildlife Refuge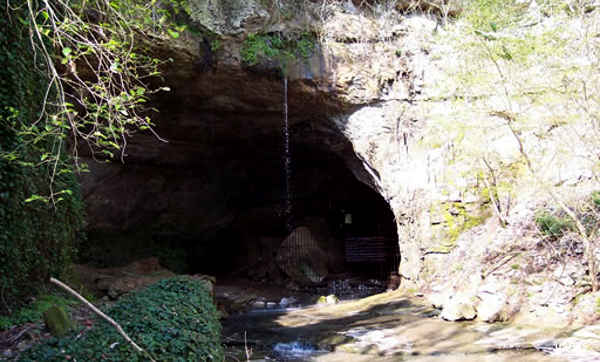 One of the entrances to Sauta Cave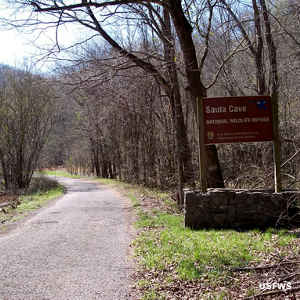 Prior to 1999, the 264-acre Sauta Cave National Wildlife Refuge was known as the Blowing Wind Cave National Wildlife Refuge. The property was acquired in 1978 to preserve and protect habitat critical to the survival of the gray bat and the Indiana bat. Summer sees between 200,000 and 300,000 gray bats hanging out here while winter brings about the same number of Indiana bats into the neighborhood for hibernation. Both known entrances to the cave are contained on the refuge and both are closed to the public, although limited entry for scientific research is allowed.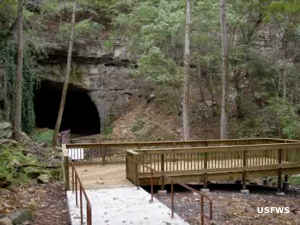 From the late 1700's up into the Civil War, Sauta Cave was used as a saltpeter mine. In 1819-1820, Sauta Cave served as the county courthouse for Jackson County. Then it was used as a part of a nightclub from 1919 until 1956 and then as a radioactive fallout shelter in the 1960's.
These days, the big thing is coming out to the viewing platform to watch the bats emerging from the cave around dusk in the summertime. Probably the only time you'll see Fish & Wildlife Service personnel on the property is when they're running a patrol through to make sure no people are disturbing the bats inside the cave...
To get there: Sauta Cave National Wildlife Refuge is located just above Sauty Creek Bay on the north side of Guntersville Reservoir, about 7 miles west of Scottsboro. The property is just off US Highway 72.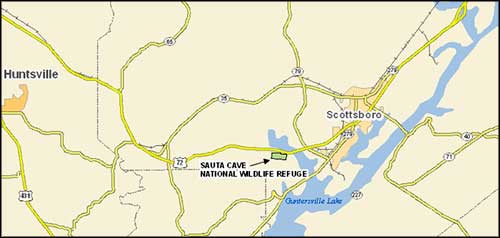 Sauta Cave National Wildlife Refuge
US Fish & Wildlife Service
2700 Refuge Headquarters Road

,

Decatur

,

AL

35603
256-353-7243
Map and photos courtesy of the US Fish & Wildlife Service