Lignumvitae Key Botanical State Park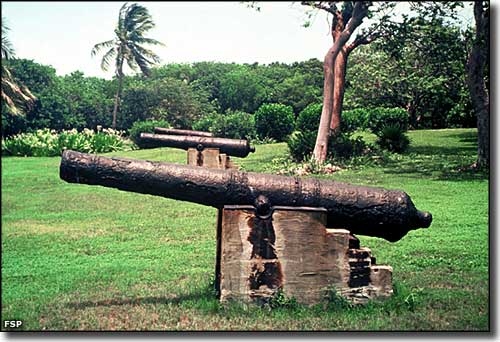 Cannons from a shipwreck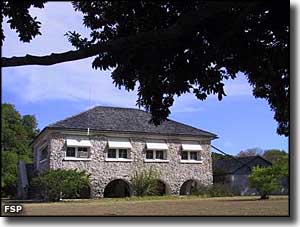 Lignumvitae Key Botanical State Park is accessible only by boat. The island was bought by William J. Matheson in 1919 and he built a caretaker's home on it. Drinking water came from a cistern, power from a windmill. He didn't touch the virgin tropical hardwood hammock that was thriving on the island and that also survives intact today while virtually all the other tropical hardwood hammock that existed in the upper Keys back in those days has been removed by developers and replaced with residential and commercial development. This is a place where you can see what the Florida Keys were like before the big explosion in Florida's population.
Fishing is allowed but not within 100 feet of any dock. A saltwater fishing license may be required. Some of the local marinas offer Eco-tours that stop near the island and out on the reef for snorkeling excursions.
Lignumvitae Key Botanical State Park is open to the public from 9 am to 5 pm, Thursdays through Mondays. The visitor center in the Matheson House is open from 9 am to 5 pm, Fridays through Sundays. Guided tours of the Matheson House and the grounds are available at 10 am and 2 pm Fridays through Sundays. There is no entrance fee charged but the guided tours cost $1 per person ages 6 and up. Most of the tour operators schedule their tour boats to leave their docks for the island about 30 minutes before each scheduled tour begins. Fees quoted are subject to change.
To get there: Lignumvitae Key is located about 1 mile west of US Highway 1 at mile marker 78.5. Operators in the nearby marinas offers tours and charter boats to get there. The island can also be reached by canoe and kayak.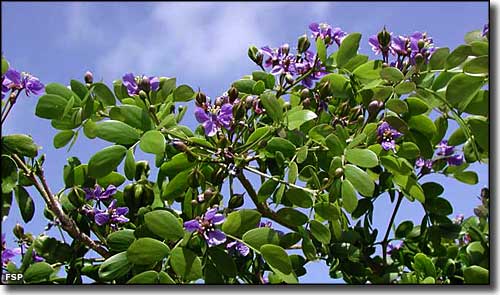 Blossoms at Lignumvitae Key Botanical State Park
Lignumvitae Key Botanical State Park
Offshore Island - MM 78.5 Oceanside

,

Islamadora

,

FL

33036
305-664-2540
Photos are courtesy of Florida State Parks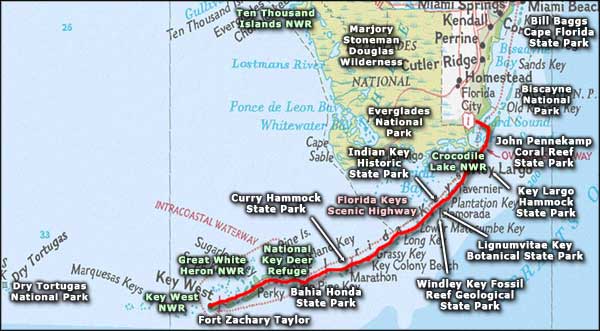 Related Pages
Area map courtesy of National Geographic Topo!