National Forests in Florida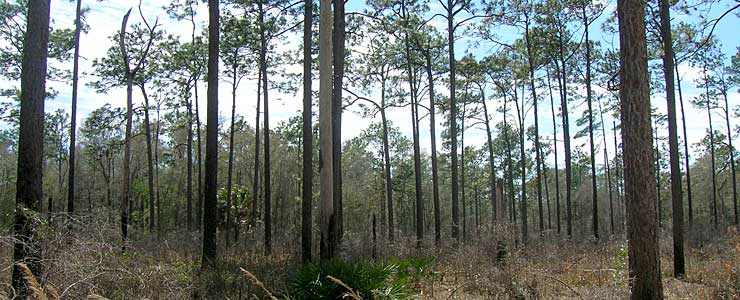 Pine flatwoods on Apalachicola National Forest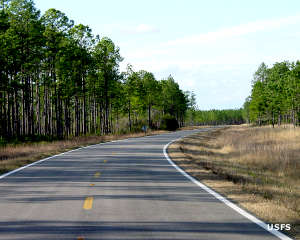 Florida offers three National Forests: Apalachicola, Ocala and Osceola, with a combined total of more than 1.2 million acres of protected property. The Florida National Scenic Trail, a 1,400-mile hiking trail, is also managed out of the USDA Forest Supervisor's office in Tallahassee.
The Apalachicola National Forest is located in Florida's panhandle with the Suwannee River to the east, the Apalachicola River to the west and inland with the Gulf of Mexico to the south. Contained within the boundaries of the Apalachicola National Forest are the Bradwell Bay and Mud Swamp/New River Wilderness Areas.
The Ocala National Forest is located in north central Florida with the St. Johns River on the east and the Ockawaha River to the west. Ocala National Forest can be explored via the Florida Black Bear Scenic Byway, a National Scenic Byway. Ocala National Forest also protects the largest contiguous area of sand scrub on Earth. You might find the rare endangered Florida sand skink and the Florida scrub jay hanging out in this region, too. Contained within the Ocala National Forest are the Billies Bay, Juniper Prairie, Little Lake George and Alexander Springs Wilderness Areas.
The Osceola National Forest is located between Jacksonville and Lake City in north Florida. Interstate 10 cuts right across the middle of the Forest. On the northern side of the Forest is the Pinhook Swamp, a connector to the huge Okefenokee Swamp of southern Georgia. On the Forest is the Civil War battlefield at Olustee. Contained within the Osceola National Forest is the Big Gum Swamp Wilderness Area.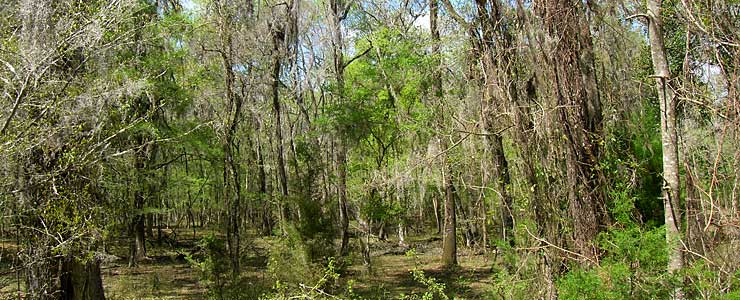 In the dense growth around Alexander Springs Wilderness, Ocala National Forest
Florida used to have another National Forest: the Choctawhatchee, in the Pensacola area of the Florida panhandle. However, around the time of World War II, that 340,890-acre property was transferred to the War Department and has existed ever since as Eglin Air Force Base. There was a stipulation in the original transfer documents that the property revert to National Forest status when the military was done with using the land but that hasn't occurred yet. About 1,110 acres of the land has been transferred back to the Forest Service (and is administered as part of the Apalachicola National Forest) but the properties have been changed considerably, are not contiguous and are to be used in the future for making "trades" (or sold outright) with/to (most likely) land developers to procure privately-held tracts within the boundaries of other National Forests in Florida.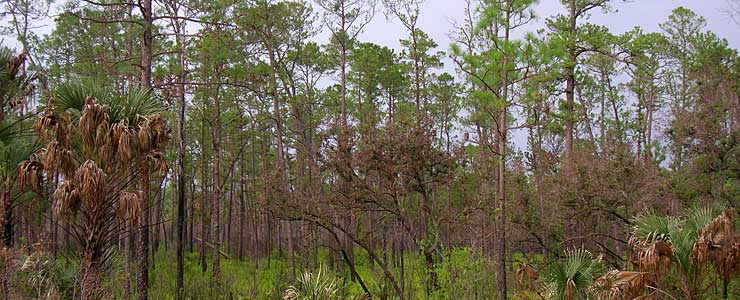 Pines and palmettos at Osceola National Forest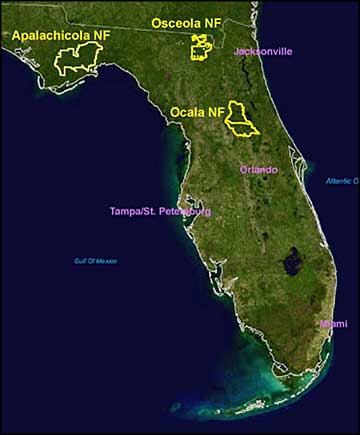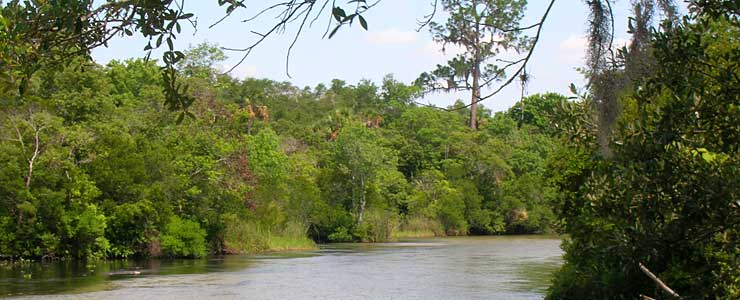 Jupiter Creek, Ocala National Forest
Forest Supervisor's Office
US Forest Service
325 John Knox Road, Suite F-100

,

Tallahassee

,

FL

32303
850-523-8500
Upper left photo and map are courtesy of the US Forest Service
Other photos courtesy of TheArmchairExplorer,
CCA-by-SA 3.0 License