Iowa - The Hawkeye State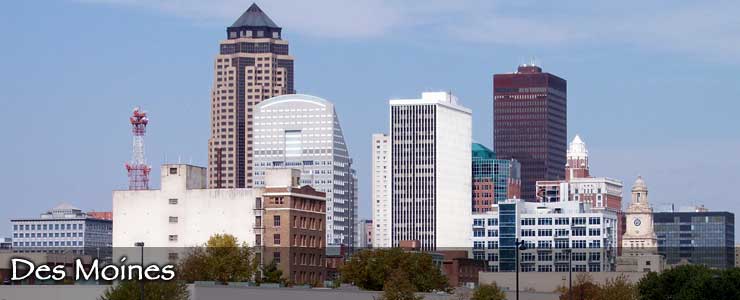 Louis Jolliet and Jacques Marquette were the first Europeans to document their travels in Iowa, and they basically just made their way up the Mississippi River. That was in 1673. They claimed the property for France and France held it until the treaty ending the Seven Years War (the French and Indian War) gave most of the Louisiana Territory west of the Mississippi River to Spain. Spain never really took military possession but they did grant trading licenses to various British and French traders who established posts along the Mississippi to trade, primarily with the Meskwaki and Sauk tribes. Prior to 1808, at least five trading posts were built along the Missouri River, too.
France was given control over the whole Louisiana Territory again in 1800 (although that treaty was kept secret for two years and the French never did assert any kind of military control). At the time of the land transfer that we now call the Louisiana Purchase, two charades were carried out to make the transfer "legit." In both New Orleans and St. Louis, the Spanish made a public display of taking their flags down so the French representatives could then raise theirs. Then the French returned the next day and took their flags down so the Americans could raise theirs. Then the French went back to Europe and made plans to start another war with the British, a war financed with the money they got from the sale of Louisiana.
In 1805, Zebulon Pike made a tour of the Iowa Territory, mapping everything as he went. It was in 1806 that Pike went to Colorado and discovered the mountain that still bears his name. The American military didn't arrive until 1808. The Native Americans in Iowa didn't like the way the Americans did business, so they allied themselves with the British during the War of 1812. Even though the British won every engagement they fought in the America's during that war (the Americans won the Battle of New Orleans but it was fought after the treaty was signed ending the war), when the war was over they gave control of everything south of the Canadian border and east of the Rocky Mountains to the United States. In 1832, the United States started forcibly removing the Native American tribes from Iowa, a process that wasn't "complete" until the late 1850's.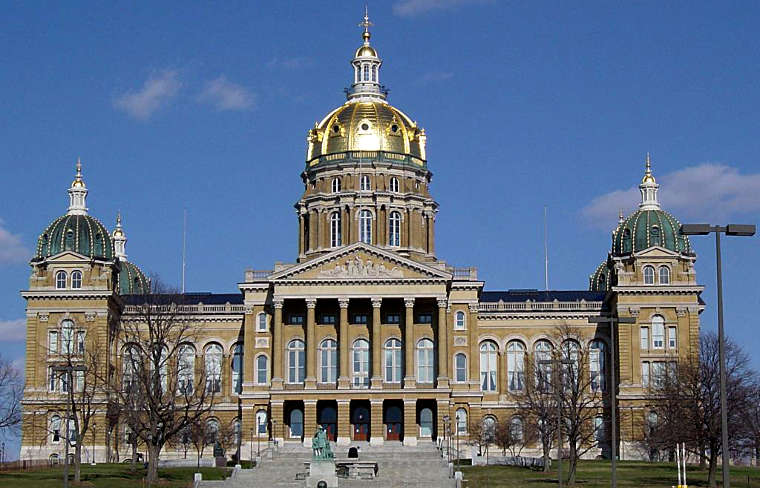 Iowa State Capitol in Des Moines
Fast Facts about
Iowa
Capital: Des Moines
Largest City: Des Moines
Became a State: December 28, 1846 : 29th

Area: 56,272 square miles : 26th
Highest Point: Hawkeye Point : 1,670'
Lowest Point: Mississippi River: 480'
2010 Iowa Population Demographics
Total Population
3,046,355
Hispanic or Latino
151,544
Non Hispanic or Latino
2,894,811
Hawaiian or Pacific Islander
2,003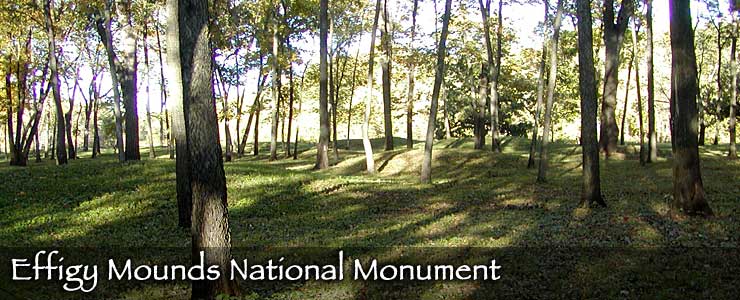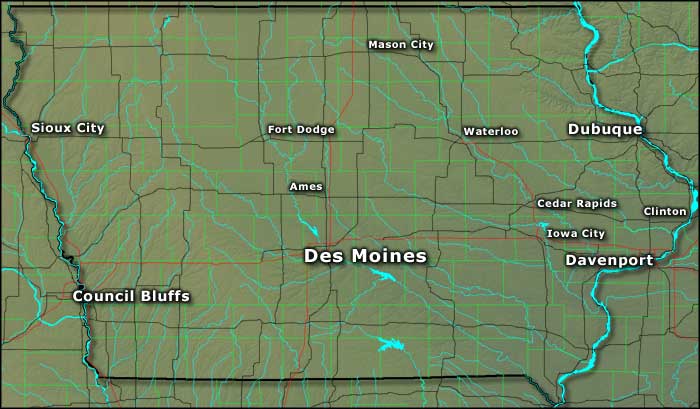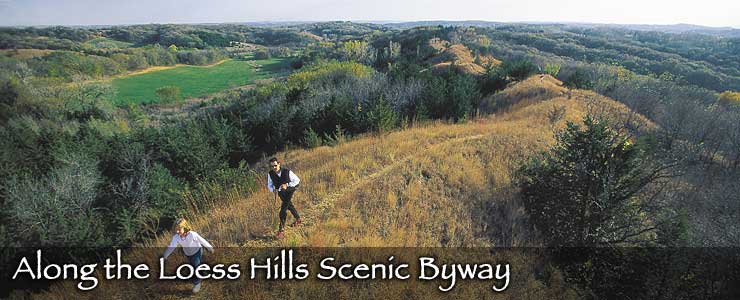 Photo of the Des Moines skyline courtesy of Tim Kiser,
CCA-by-SA 2.5 License
Photo of Loess Hills Scenic Byway courtesy of Iowa Tourism Office via Byways.org
Photo of the Iowa State Capitol courtesy of Colin Burnett,
CCA-by-SA 3.0 License
Effigy Mounds photo courtesy of Bill Whittaker,
CCA-by-SA 3.0 License
Map courtesy of Cartesia MapArt US Terrain