Virginia - Old Dominion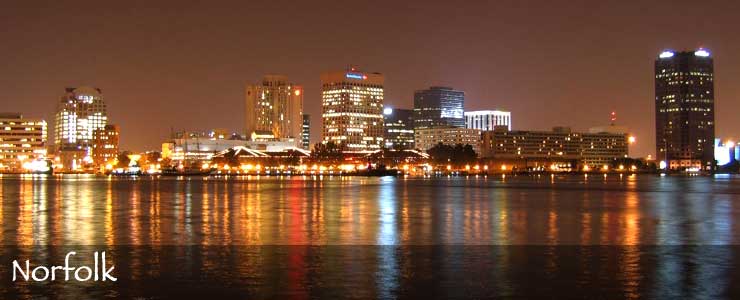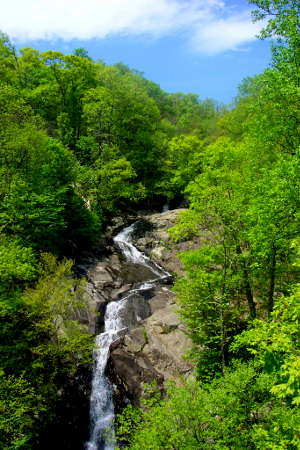 The big English invasion of the Americas began with the historic landing of the Virginia Company of London at Jamestown in 1607. With land stolen from Native American tribes and the labor of thousands of imported slaves and indentured servants, Virginia built itself into an economic and political powerhouse between 1607 and 1861, when Virginia seceded from the United States and Richmond, the state capital, became the capital of the Confederate States of America. Virginia was significantly larger in those days as West Virginia didn't secede from Virginia and become a state of its own until 1863.
Virginia declared its independence from Great Britain on May 15, 1776, with a Virginia Declaration of Independence written by George Mason. Thomas Jefferson used Mason's opus as the basis for the National Declaration of Independence that was signed and published six weeks later. Several battles of the Revolutionary War were fought in Virginia, the largest and most important being the Siege of Yorktown which essentially ended the war. Virginia ratified the United States Constitution in 1788, then the Bill of Rights in 1789.
Virginia seceded from the Union on April 17, 1861 and joined the Confederate States of America a week later. The Confederates chose Richmond as their capital. After many horrific battles in Virginia, Richmond burned itself before surrendering the city to Union forces on April 3, 1865. The surrender of General Robert E. Lee to General U.S. Grant at Appomattox Court House on April 9 ended the Civil War. (My focus on Colonial, Revolutionary War and Civil War events is because so many of the National Park Service Sites in Virginia revolve around these three time periods.)
And when you get to the bottom of it, Virginia is the "Commonwealth of Virginia" and technically not a "state."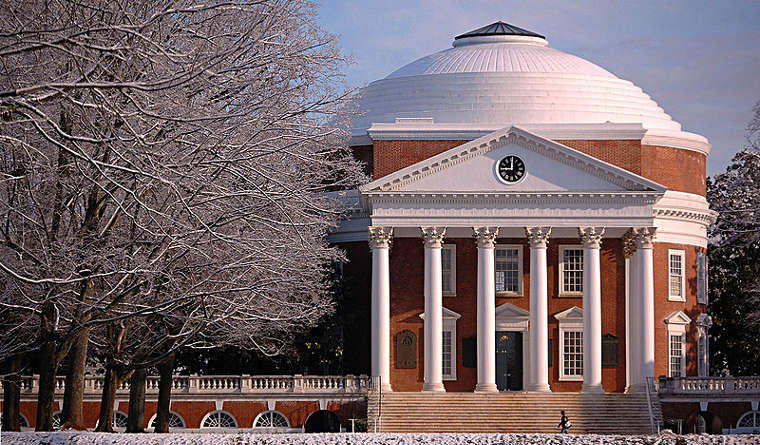 The Thomas Jefferson Rotunda at the University of Virginia
Fast Facts about Virginia
Capital: Richmond
Largest City: Virginia Beach
Became a State: June 15, 1788: 10th

Area: 42,774 square miles : 35th
Highest Point: Mount Rogers : 5,729'
Lowest Point: Atlantic Ocean : 0'

2010 Virginia Population Demographics
Total Population
8,001,024
Hispanic or Latino
631,825
Non Hispanic or Latino
7,369,199
African-American
1,551,399
Hawaiian or Pacific Islander
5,980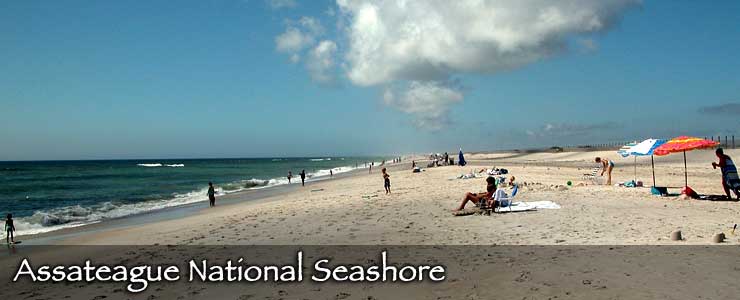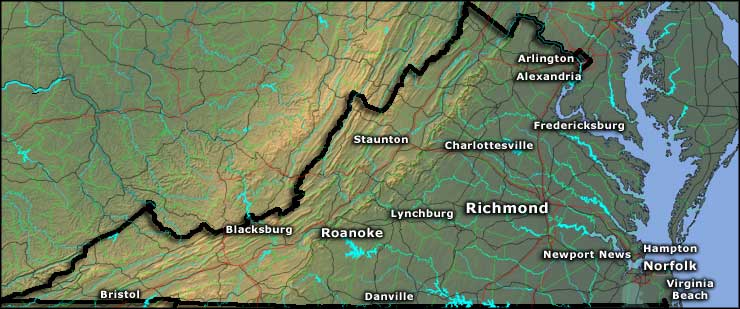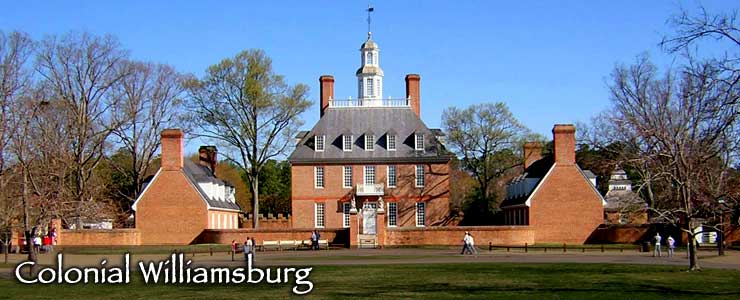 Photo of the Norfolk skyline courtesy of Michael Murphy,
CCA 2.0 License
Photo of the Jefferson Rotunda at the University of Virginia courtesy of Flickr userid gargola87,
CCA 3.0 License
Photo of the Governor's Palace at Williamsburg courtesy of Larry Pieniazek,
CCA 3.0 License
Upper left photo courtesy of Gspatter,
CCA-by-SA 3.0 License
Map courtesy of Cartesia MapArt US Terrain