Alabama - The Heart of Dixie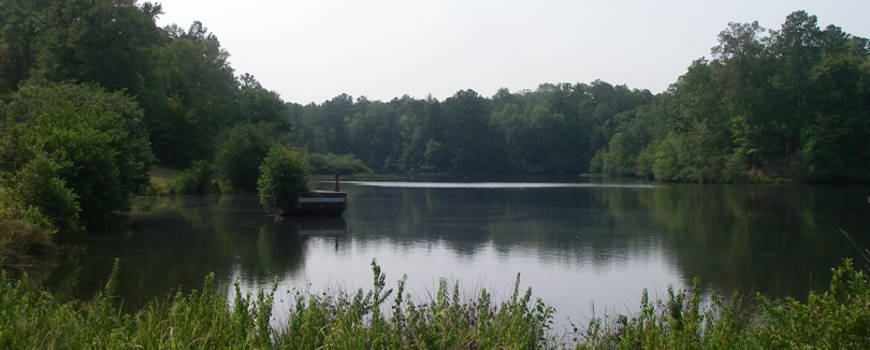 Geological History
During the mid-Ordovician Period, the formerly passive margin along (what is now) the east coast of the Laurentia craton became active as the plate beneath the Iapetus Ocean collided with Laurentia and began to subduct. That subduction along the continental margin led to volcanic activity that stretched from northeastern Alabama to Newfoundland and Scotland. That was the beginning of the buildup of the Appalachian Mountains. However, the real beginning of the Appalachian/Alleghenian orogeny didn't happen until about 325 million years ago when Africa began to approach what is now the southeast coast of North America. At that time, North America was part of the Euramerica minor supercontinent while Africa was part of the Gondwana minor supercontinent. At least five major deformation events occurred during the Carboniferous and Permian Periods, eventually creating a long mountain chain that was most likely as high as today's Alps and Rocky Mountains. That occurred during the height of the creation of the supercontinent Pangaea and when Pangaea broke up about 200 million years ago, a portion of that mountain chain separated from North America and is now seen as part of the Atlas Mountains of Morocco and the western Sahara.
That tectonic collision pushed rock from the Permian and Carboniferous Eras up to 200 miles inland from the previous continental margin as the surface was folded and faulted.
Modern History
The first modern era settlement in Alabama was the French colony at Mobile, founded in 1702. Then from 1702 to 1763, southern Alabama was held by Spain, then it was part of British West Florida until 1780 when it became part of Spanish West Florida. Spain held the territory until 1814 when it was transferred to the United States with the capture of Mobile by Andrew Jackson during the War of 1812. Central and North Alabama had been part of the British colony of Georgia since 1763 and became part of American Mississippi with the signing of the Treaty of Versailles in 1783.
Alabama seceded from the United States in 1861 and joined the Confederate States of America. Few battles were fought in Alabama during the Civil War but, being on the losing side, Alabama wasn't allowed back into the Union until 1868.
For many years, the economy of Alabama was based on agriculture and the state suffered severe economic hardship because of that. However, since World War II the economy has diversified with interests in mineral extraction, aerospace, heavy manufacturing, technology, health care, banking and education. That said, in 2011 Jefferson County (home to about 1/4 of Alabama's population) filed the largest government bankruptcy in US history.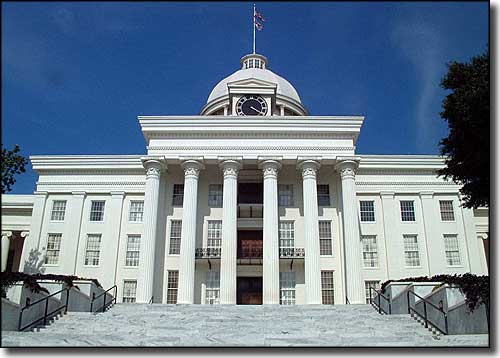 Alabama State Capitol in Montgomery
Fast Facts about
Alabama
Capital: Montgomery
Largest City: Birmingham
Became a State: December 14, 1819 : 22nd
Area: 52,419 square miles : 30th
Highest Point: Mount Cheaha : 2,413'
Lowest Point: Gulf of Mexico : 0'
2010 Alabama Population Demographics
Total Population
4,779,736
Hispanic or Latino
185,602
Non Hispanic or Latino
4,594,134
African-American
1,251,311
Hawaiian or Pacific Islander
3,057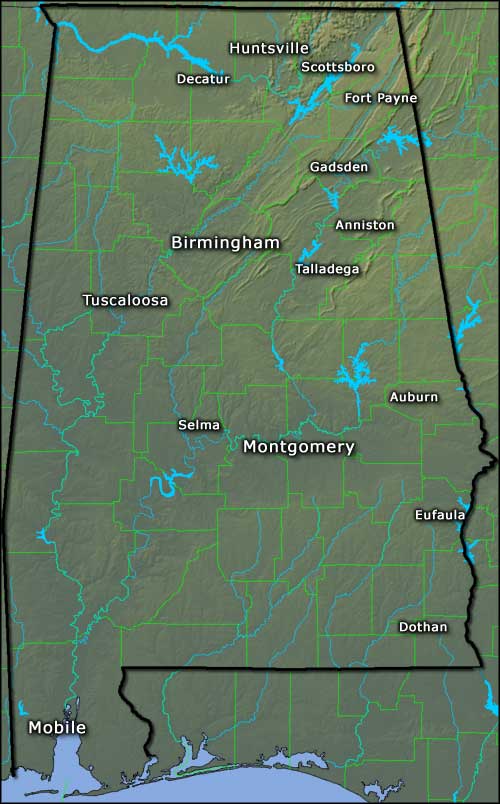 Photo of Alabama State Capitol courtesy of Jim Bowen,
CCA 2.0 License
Map courtesy of Cartesia MapArt US Terrain