Ten Thousand Islands National Wildlife Refuge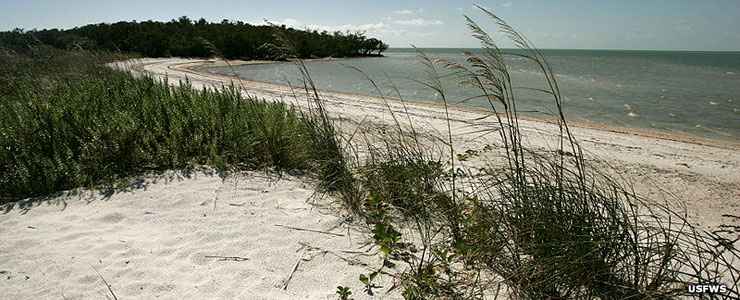 A typical beach scene at Ten Thousand Islands National Wildlife Refuge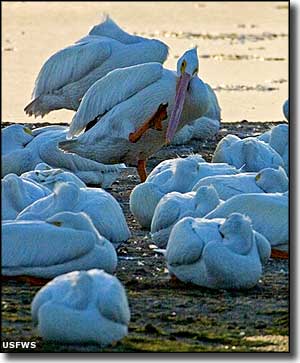 In spite of the name, Ten Thousand Islands National Wildlife Refuge only contains several hundred islands and islets. The 35,000-acre refuge was established in 1996 to protect one of the last undeveloped areas between Marco Island and Everglades National Park.
Mangrove forest (red mangrove, black mangrove, Jamaican dogwood, gumbo limbo, sea grape) covers most of the southern 2/3 of the refuge while the northern 1/3 is a mix of small coastal hardwood hammocks (cabbage palm, live oak, gumbo limbo, slash pine), interspersed ponds and brackish marshlands.
During the year, more than 180 species of birds use the refuge. About 200 different species of fish have been documented in the area, mostly taking advantage of the submerged nutrient-rich seagrass beds and mangrove bottoms. Among the mammals found on the property are bottle-nosed dolphin, raccoon and river otter. Kemp's Ridley, green and Atlantic loggerhead sea turtles, bald eagles, peregrine falcons, wood storks and West Indian manatees (about 10% of Florida's population of manatees) are among the threatened and endangered species that also frequent the refuge. Birding enthusiasts will find lots of osprey, herons, egrets, rosette spoonbills, rails and other wading, shorebirds and waterfowl feeding and nesting at Ten Thousand Islands.
The property runs inland from the coast south of the Tamiami Trail and spans most of the area between Everglades City and Marco Island. Access is best achieved via boat. The two most often used boating access points are at Port-of-the-Islands and Goodland (the town of Goodland is surrounded by the Refuge). Most of the islands in the area are too small for overnight visits but some fit the US Fish & Wildlife Service guidelines for camping on. The biggest problem: wind, weather and the lack of fresh water. There is a 1-mile hiking trail available, just off US Highway 41 (the Tamiami Trail) that leads into the northern marshes. The best time to walk the trail is in winter when the water levels have dropped in the area. On cold days you might come across 100-200 manatees holed up in the pools in the warm wetlands near the trail, just be careful of the alligators...
Ten Thousand Islands NWR is administered as part of the Florida Panther National Wildlife Refuge Complex.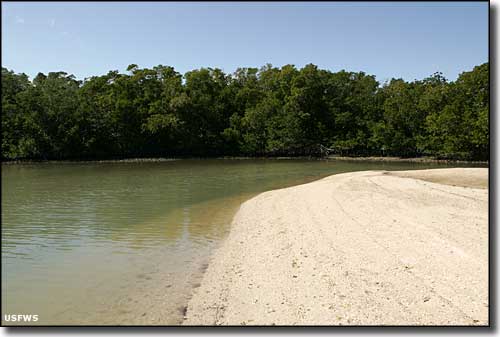 A typical sandy beach at Ten Thousand Islands NWR
Florida Panther National Wildlife Refuge Complex
US Fish & Wildlife Service
Photos courtesy of the US Fish & Wildlife Service
Area map courtesy of National Geographic Topo!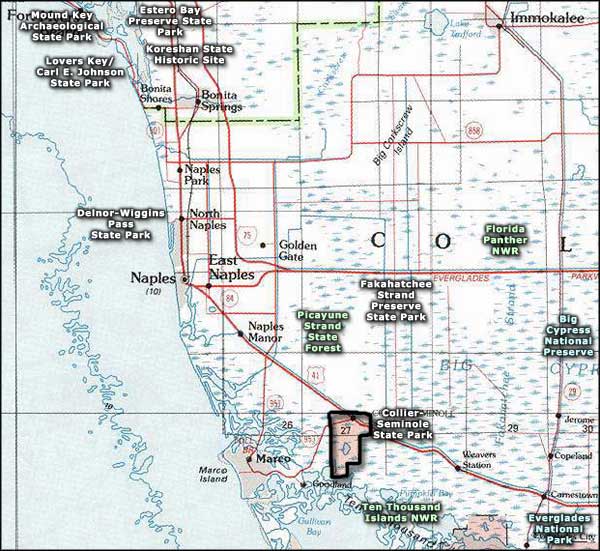 Related Pages
Area map courtesy of National Geographic Topo!