Bahia Honda State Park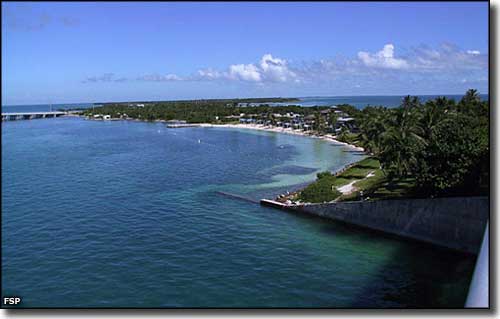 Calusa Beach at Bahia Honda State Park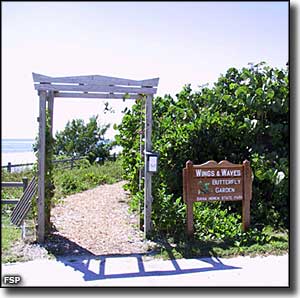 After Henry Flagler built his railroad line through to Key West, Bahia Honda Key became a tropical destination for folks coming from the north to escape winter. Bahia Honda State Park is still known for its beautiful beaches, sunsets, birds and water sports.
Bahia Honda State Park offers three beaches: Calusa, Loggerhead and Sandspur. Sandspur is on the southeast side of the island and is the largest. Loggerhead Beach is on the south side of the island and is the shallowest beach with a large sand bar located just a few feet offshore. Calusa Beach is the smallest beach, located on the northwest side of the island. The ocean side of the island is also littered with shallow sand flats that attract a lot of wading birds and shorebirds in season. The only place that often sees strong currents: near the Bahia Honda Channel.
The park's main marina offers two boat ramps and nineteen boat slips. Use of the boat ramp costs $10 (plus tax) but camping in the boat slips: that runs $2 per foot with a $30 minimum. Reservations are highly recommended.
Bahia Honda State Park offers three duplex cabins with central heating and air conditioning for nightly rentals. Five of the cabins are two bedroom, one bath, living room with sofa bed and kitchen/dining room. They will accommodate up to six people each. The other cabin is ADA accessible with the same amenities except for only one bedroom. The cabins have a two-night minimum stay requirement on most weekends and holidays.
The park has three separate campgrounds for a total of 80 sites, not all with water and/or electric. All campgrounds do offer a central restroom with showers. Sites #1 through #48 are the ones it is easiest to get an RV into and they all offer water, electric, picnic table and barbecue grill. Max RV size: 40 feet. Sites #49 through #72 are designed more for tents, small pop-ups and small RVs (14 feet in length or less). All sites have barbecue grills, picnic tables and water, sites #57 through #72 offer electric. Sites #73 through #80 are located in the smallest campground and the property has a vehicle height restriction of 6'8". These sites have picnic tables, grills and water. The only electrical outlet is in the restroom.
The concession stand offers snacks, sandwiches, souvenirs, t-shirts and snorkeling and kayak equipment rentals. The grocery and marine supply selection is limited.
Bahia Honda State Park offers three short nature trails. One is through the Wings and Waves Butterfly Garden. A second goes from Calusa Beach up onto the old Bahia Honda Bridge (where you can look down and see large rays, fish and sometimes sea turtles beneath the water's surface). The third is the Silver Palm Trail near Sandspur Beach. For bicyclists, the park offers 3.5 miles of park roads.
Picnickers will find picnic pavilions in the Calusa and Sandspur day use areas. They'll also find restrooms and cold outdoor showers in the same areas. The beaches all offer shallow water: you need to be well offshore before it reaches six feet in depth. This makes for excellent snorkeling and for beginner scuba diving. In the summer the water temperature is usually in the mid to upper 80's (°F), and in the winter from the mid to lower 70's (°F).
For day users, Bahia Honda State Park is open from 8 am until sunset, every day of the year.
Entry Fees: Monroe County charges an extra $0.50 per person as a surcharge on the state entry fees. $8 per vehicle with two-to-eight passengers; $4 per single occupant vehicle; $2 each for pedestrians, bicyclists and extra passengers. Boat Ramp Fee: $10 per boat. Camping Fees: $36 per site per night (plus tax), includes water and electric. Cabin Rentals: $120 per night (plus tax) from May 1 to October 31, $160 per night (plus tax) from November 1 to April 30. Picnic Pavilions: $50 (plus tax) for all day; $30 (plus tax) for half day (pavilion rental does not include park entry fees nor does it guarantee parking space). All fees quoted are subject to change.
To get there: Bahia Honda State Park is located on US Highway 1 about 12 miles south of Marathon in the Florida Keys. The mile marker is 36.8.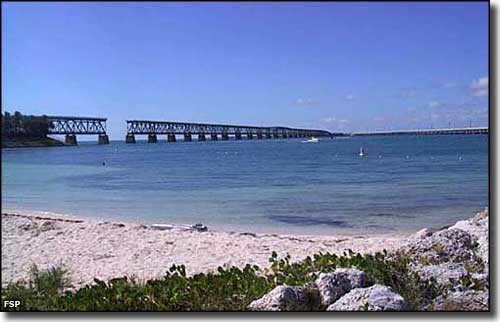 A view of the old bridge from Calusa Beach
Photos courtesy of Florida State Parks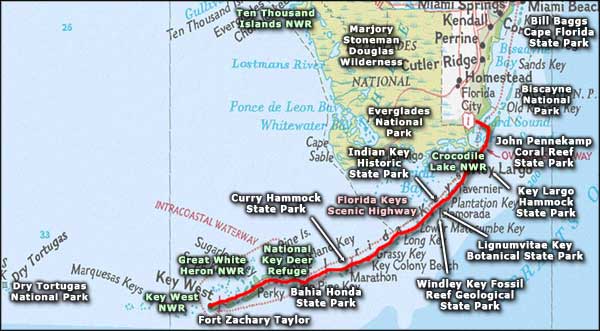 Related Pages
Area map courtesy of National Geographic Topo!