Fort Zachary Taylor Historic State Park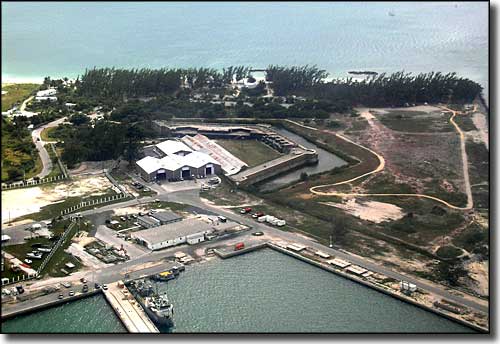 An aerial view of the park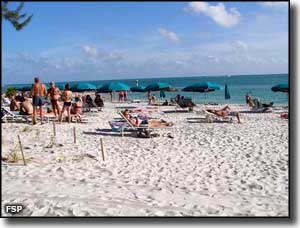 Construction of what became Fort Zachary Taylor was begun in 1845 and mostly completed by 1850. It was that year that President Zachary Taylor suddenly died in office and the fort was named after him. The fort was occupied by the Union Army early in the Civil War and used as a staging base to mount raids against the Confederate blockade runners. A few years later, part of the fort was demolished to make way for the emplacement of larger cannons. In the demolition, much of the Civil War armaments were left where they were and used as "fill" for the newer, larger construction. Fort Zachary Taylor saw more use during the Spanish-American War and World War I. Eventually, the Army decommissioned the fort and turned the property over to the Navy, who still retain part of the property and operate certain shore facilities there. The rest of the property, including the historic fort, was transferred to the State of Florida. Excavations revealed that hidden in the walls of the fort is the largest surviving collection of Civil War artillery and other armaments. Fort Zachary Taylor was listed on the National Register of Historic Places in 1973.
Today, in addition to tours of the historic fort, the park offers access to a beautiful sandy beach with nature trails and picnic areas at the southern end of Key West. The beach at Fort Zachary Taylor is consistently rated as the best beach in the Florida Keys because the water is clear, deep and flows back and forth here at the place where the Gulf of Mexico meets the Atlantic Ocean. Swimmers and snorkelers will usually find schools of tropical fish in the swimming areas.
The park offers several interpretive exhibits and there are interpretive plaques placed along both of the nature trails, one through a hardwood hammock and the other through a tropical hammock. This is an area where you might see birds that are found nowhere else in North America. The fishing is excellent, too. The park also offers several developed, shaded picnic facilities scattered along the beach area. Restrooms (with cold outdoor showers) are found near the beach and near the fort itself.
For day use only, the park is open from 8 am to sunset every day of the year. To get there: go to the end of Southard Street in the Truman Annex section of Key West.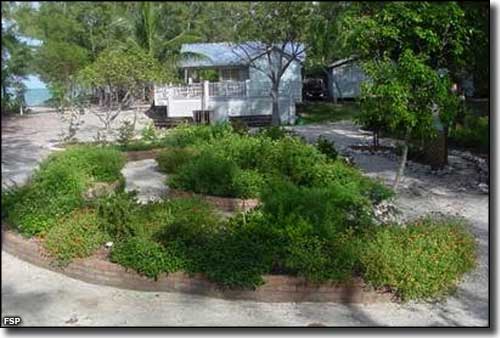 The Butterfly Garden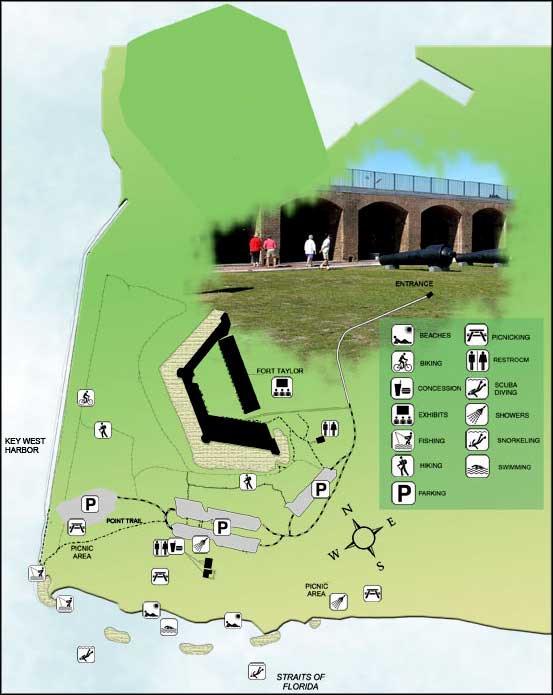 Fort Zachary Taylor Historic State Park
Upper photo is courtesy of Wikipedia userid Deror Avi
Other photos and map courtesy of Florida State Parks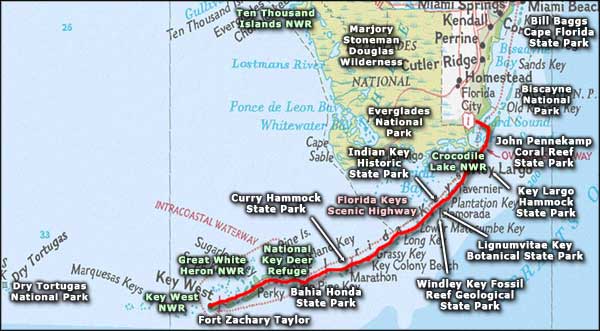 Related Pages
Area map courtesy of National Geographic Topo!