Dry Tortugas National Park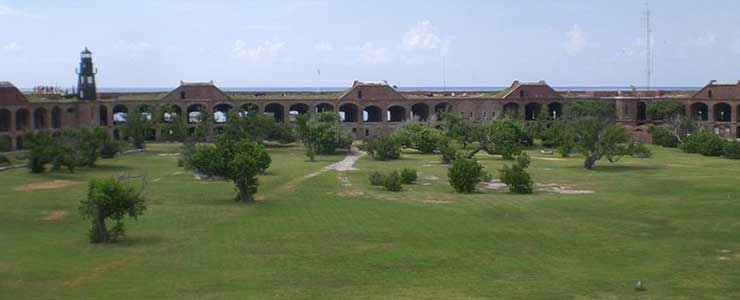 The courtyard at Fort Jefferson
Dry Tortugas National Park preserves and protects about 64,700 acres of land and water at the western end of the Florida Keys in the Gulf of Mexico. Key West is about 68 miles to the east.
Dry Tortugas is famous for its coral reefs, abundant sea life and the legends of sunken treasure and famous shipwrecks. But the centerpiece of the National Park is Fort Jefferson: the largest masonry structure in the Western Hemisphere. As big as Fort Jefferson is, construction was never completed.
Access to Dry Tortugas is by boat or seaplane only. There are ferries available at Key West. As most of Dry Tortugas National Park is water, you can guess that most folks who visit are into the snorkeling, scuba diving, fishing and birdwatching aspects of the area. The islands got their name from Ponce de Leon. He visited in 1513 and his men caught 160 sea turtles in the area. After that they referred to this area as the "Tortugas" Islands (tortugas is Spanish for turtle). The "Dry" comes from the fact there is no surface fresh water anywhere on the islands.
The US Navy began looking at the Dry Tortugas as a site for a naval fortress to combat Caribbean piracy in the 1820's. At first, the place was declared unfit for use but in 1829, Commodore John Rogers came by and thought the place with its inner and outer harbors was perfect. It took 17 years of planning but construction of Fort Jefferson on Garden Key was finally begun in 1846. From the beginning, the place was massively over-designed, and the island it sat on wasn't up to the job of carrying all that weight. But with the use of military convicts and a few slave laborers, construction was carried on. By 1863 there were enough prisoners on the site that the slaves were all let go. Most of the prisoners were Army deserters but there was a significant population of civilian prisoners, too, most of them doing time for robbery.
In July, 1865, Edmund Spangler, Michael O'Laughlen, Dr. Samuel Mudd and Samuel Arnold (all convicted of conspiracy in the assassination of President Abraham Lincoln) were brought to work on Fort Jefferson. In 1867, a yellow fever epidemic broke out at the fort, resulting in the presidential pardon of Dr. Samuel Mudd for his efforts at medical care during this time. By 1888, all military necessity for the fort was over and the place was turned over to the Marine Hospital Service for use as a quarantine station. Fort Jefferson had still not been completed and that's where all work stopped.
Franklin Delano Roosevelt designated this area as the Fort Jefferson National Monument on January 4, 1935. Dry Tortugas was listed on the National Register of Historic Places in 1970 and finally was designated as a National Park on October 26, 1992. About that same time, the shipwrecks in the area were extensively researched and mapped. In 2007, a 46-square-mile Research Natural Area was established in the Dry Tortugas, a "no-take, no-anchor" ecological sanctuary for endangered and threatened species of fish and sea-going mammals. There is also a National Park Service project on-going to stabilize the island and Fort Jefferson, because parts of the island and masonry wall are subsiding under the weight of those 16 million bricks.
Birdwatchers love the place because of the official bird list: 299 species. Only seven species are regulars but of the others, hundreds of species pass through on any single day during migration seasons.
While most of the park is open 24 hours a day, all year long, Fort Jefferson is only open during daylight hours. Middle, East and Loggerhead Keys are also only open during daylight hours. From February through September, Bush Key is completely closed to protect nesting Noddy and Sooty Terns. Long and Hospital Keys are always closed.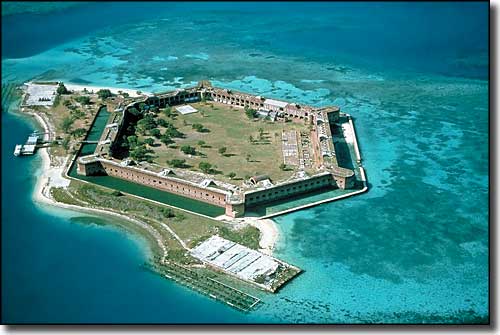 Fort Jefferson at Dry Tortugas National Park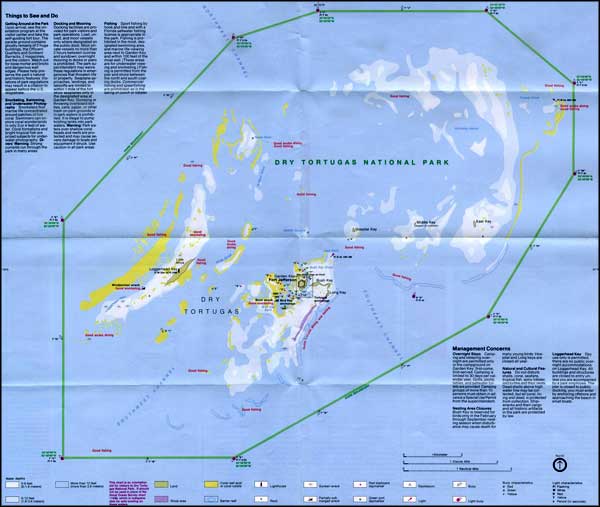 Click or tap on the map above for a much larger version
Dry Tortugas National Park
Aerial photo of Fort Jefferson courtesy of the National Park Service
Photo of the courtyard of Fort Jefferson courtesy of Marc Averette,
CCA-by-SA 3.0 License
Maps of Dry Tortugas National Park courtesy of the National Park Service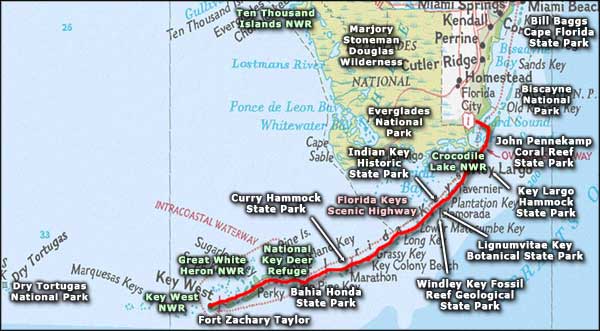 Related Pages
Area map courtesy of National Geographic Topo!