Curry Hammock State Park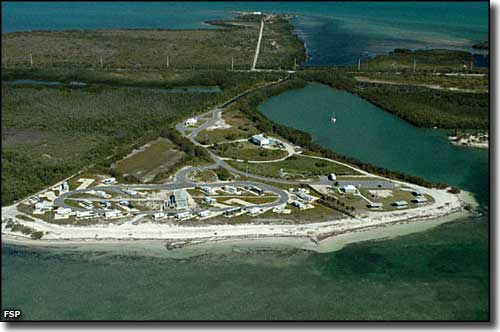 Aerial view of the campground at Curry Hammock State Park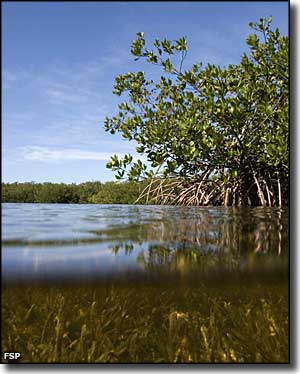 Curry Hammock State Park includes a small group of islands in the Middle Keys region of the Florida Keys. These islands are hardwood hammocks that contain one of the largest populations of thatch palms in the United States. The park provides critical seagrass beds, wetlands and mangrove swamps for tropical wildlife.
The beach at Curry Hammock State Park is only 1,600 feet long. It faces the Atlantic and has shallow water for some distance out. The bottom tends to be carpeted in thick beds of seagrass. Snorkelers who look get treated to a view teeming with fish and invertebrate creatures.
Bicycles are limited to using the Florida Keys Overseas Heritage Trail (a trail that eventually makes it to Marathon) and open park roads. Hikers have the option of walking the 1.5-mile nature trail through the hardwood hammock.
There is a playground in the picnic area at the southeast end of the park. There are single picnic tables spread along the waterfront but there are also four rentable/reservable pavilions (each with a cooking grill and four picnic tables - $53.75 (includes tax) for a full day, $32.25 (includes tax) for a half day - price does not include park entry fees). Pavilion #1 is universally accessible. The fully accessible restroom near the picnic area also offers a cold outdoor shower.
The campground offers 28 sites, each with a picnic table, grill, water and electric (20/30/50-amp service). Tents can be placed anywhere on the sites but there are certain sites designed for tents and include a sandy tent pad to work with. Site #1 is universally accessible. There are central restrooms and shower facilities. A central RV dump station is nearby.
The Key Vaca raccoon, a threatened subspecies, lives in the area of the park. Do not feed them anything as they easily get acclimated to people and human food is not good for them. Doing anything other than watching them can be eventually putting their lives at risk.
For day users, Curry Hammock State Park is open from 8 am until sunset, every day of the year. To get there: Curry Hammock State Park straddles US Highway 1 at Mile Marker 56.2 (about 11 miles west of Long Key on Little Crawl Key). The park entrance is on the ocean side of Highway 1.
Any fees quoted are subject to change.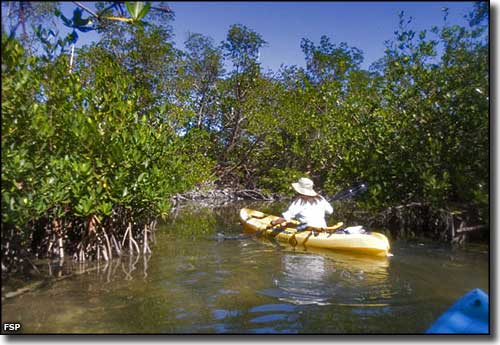 Kayaking in the backwaters of Curry Hammock State Park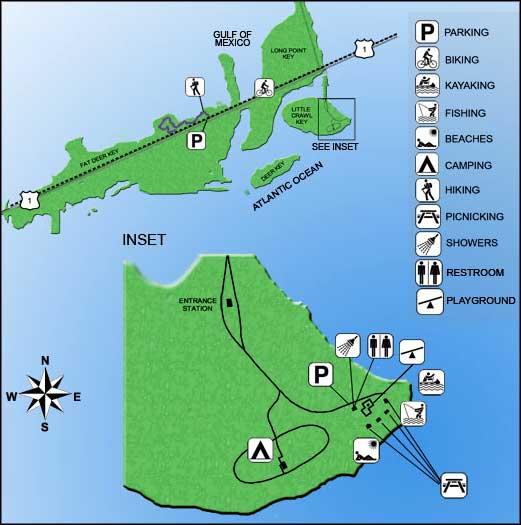 Photos and map courtesy of Florida State Parks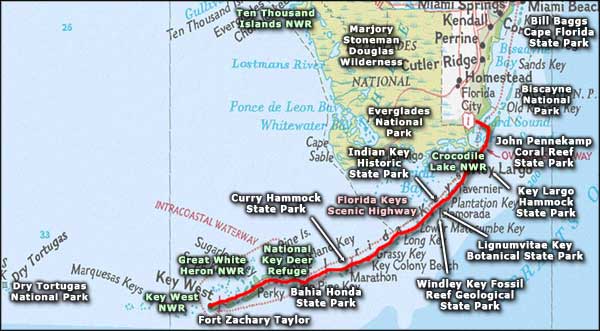 Related Pages
Area map courtesy of National Geographic Topo!