Wild Rivers Recreation Area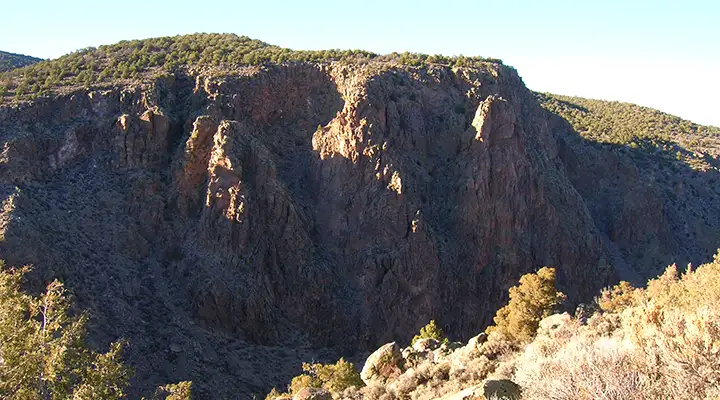 Near Chiflo Recreation Site in the Wild Rivers Recreation Area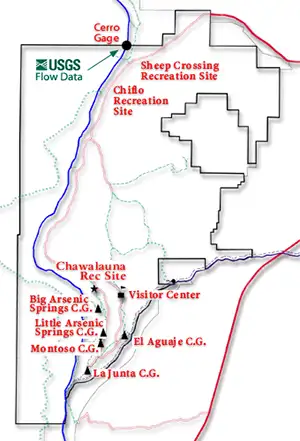 The Wild Rivers Recreation Area was established at the confluence of 2 of the first rivers to be designated Wild and Scenic: the Rio Grande and the Red River. Near the La Junta Campground is a dramatic, wheelchair accessible vista point overlooking the actual meeting of the rivers.
The river canyons themselves see intensive use from both fishermen and whitewater rafters, but less than 10% of the countryside has been developed in any way, the rest being left in its original natural state (understandable when you've got an 800' deep canyon with walls as steep as this one and made of the volcanic materials this one is made of).
The semi-arid climate here often sees thundershowers in July and August, and snowfall from November into March. The five developed campgrounds and one picnic area are open year round (but winter can be harsh). Another 22 designated campsites are along the Gorge Rim. There are also 16 designated primitive campsites along the river accessed by 4 trails originating in the Wild Rivers Recreation Area.
Because of swift currents and cold temperatures, swimming in the rivers is not recommended. Swimming is not allowed in any of the freshwater springs around. Boating in either of the rivers here requires superior whitewater skills and specialized equipment. Fishermen will find native brown and German brown trout and northern pike in the Rio Grande. They'll find well-fed rainbow trout in the Red River (courtesy of the Red River Fish Hatchery upstream from the Wild Rivers Recreation Area). To fish here you'll need a valid New Mexico fishing license and Habitat Improvement Stamp. The rivers in the Recreation Area are designated Special Trout Waters and the daily bag and possession limit is 4 fish per license holder.
For hikers, there are 22 miles of rim and river trails in the Wild Rivers Recreation Area. Most begin from those campgrounds that have day-use parking areas available. Any trail that drops below the Gorge Rim will have significant elevation drop (up to 800'), and you're going to have to come back up that hill to get back to your vehicle. Most trails have great views, some have river access, some pass by cold-water springs, some pass by areas of ancient petroglyphs. And then there's the Guadalupe Mountain Trail, a difficult rise of about 1,000' above the campgrounds in a 2 mile stretch along an old roadbed, but you get great views of the area while also getting up into the larger pines and cooler temperatures. All roads and trails on BLM lands are available for mountain biking unless signed otherwise.
To get there: from Questa go 3 miles north of the stoplight to NM 378. Go west on NM 378 and follow the signs for about 12 miles to the Wild Rivers National Recreation Area.
Special Rules:
> Anyone parking more than 30 minutes in one spot pays day-use fees.
> Anyone on the property between 10 PM and 6 AM pays camping fees.
> Campfires are only allowed in grills or firepans. No firewood collecting allowed. You're better off using a camp stove.
> Keep your pets under control and on a leash. No pets allowed in freshwater springs or on the Big Arsenic Trail.
> No fireworks allowed. No shooting of firearms within one mile of a recreation site. Hunting is allowed in season only in the Guadalupe Mountains area.
> Use trash and recycling bins properly. If you're in a primitive area: Pack it in, Pack it out!
> Do not remove any artifacts or other cultural resources from any prehistoric site within the Recreation Area.
The Wild Rivers Recreation Area was incorporated into the Rio Grande del Norte National Monument when that was designaed in 2013.
Maps: BLM - Taos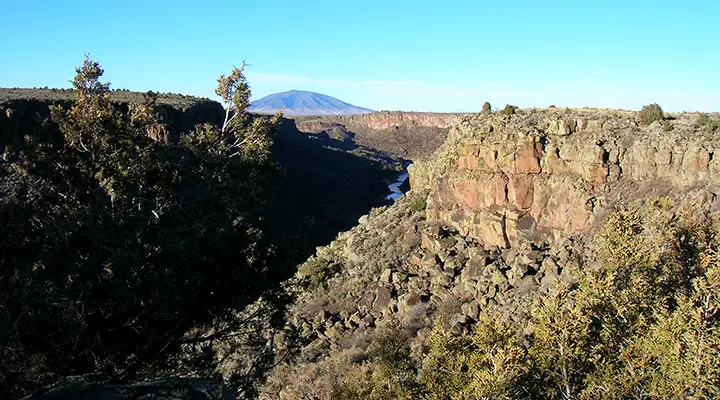 Looking north from near Chiflo Recreation Site, Ute Mountain the distance
Wild Rivers Recreation Area
Bureau of Land Management

- Taos Field Office
Photos courtesy of TheArmchairExplorer,
CCA-by-SA 4.0 License
Map of Wild Rivers Recreation Area courtesy of the Bureau of Land Management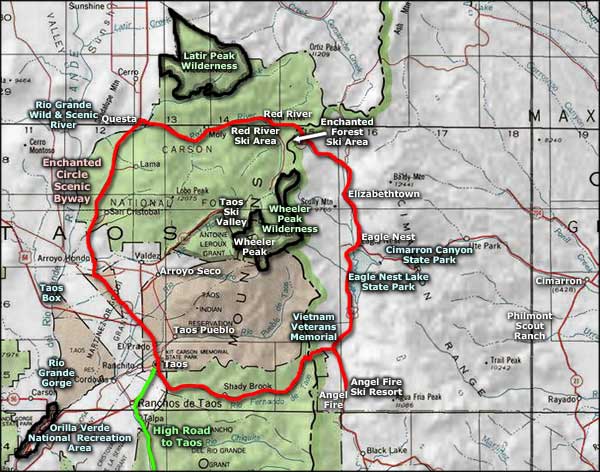 Related Pages
Map courtesy of National Geographic Topo!