Columbine-Hondo Wilderness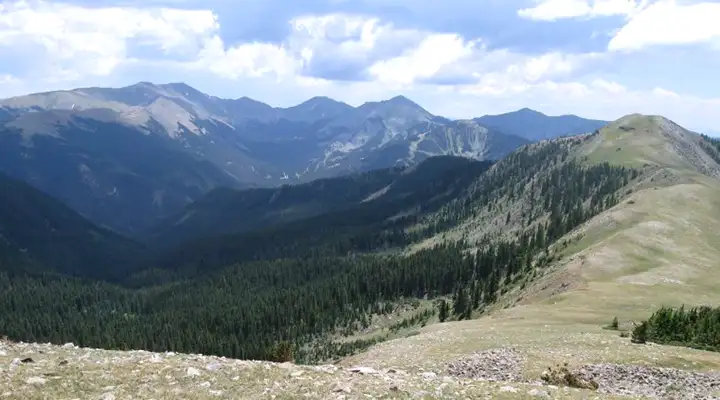 Columbine-Hondo Wilderness
Columbine-Hondo Wilderness is a 45,000-acre property high in the Sangre de Cristo Mountains of northern New Mexico. Contained in the wilderness area are the headwaters of the Red River and the Rio Hondo. The northern boundary of the wilderness runs along the Red River at the base of the Questa Caldera, a volcano that last erupted around 26 million years ago during the early stages of the upthrust that created the Sangre de Cristo Mountains.
This is an area of lush forests rising to alpine tundra with abundant wildlife. The largest herd of bighorn sheep in New Mexico lives on these slopes. This area is also home to many elk, mule deer, black bears and mountain lions. Most of the trails in the wilderness were blazed back in the days of the great New Mexico Gold Rush, a time when small strikes of gold were found all through the mountains. But these small finds petered out quickly, before major damage was done to the forest.
Columbine-Hondo was made a Wilderness Study Area in 1980 while the mineral and timber possibilities were being surveyed again and again and our elected legislators played pocket pool with industry. Then Congress finally signed off on the bill making the area a designated wilderness in December, 2014. How did the bill finally get passed? It somehow got attached to a "must pass" Defense spending bill...
Columbine-Hondo Wilderness
Upper photo courtesy of Matthew Van Buren
Map courtesy of columbinehondo.org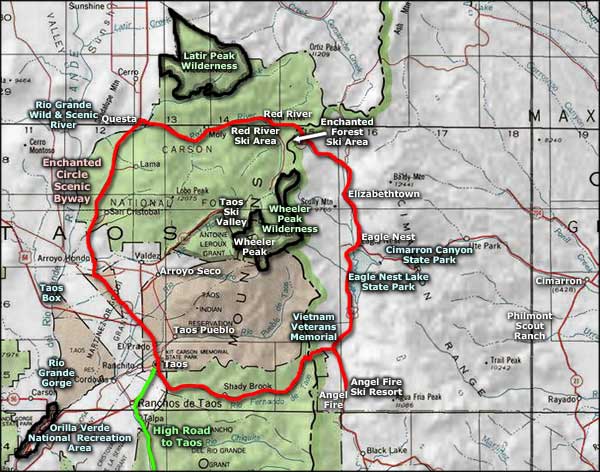 Related Pages
Map courtesy of National Geographic Topo!