Cimarron Canyon State Park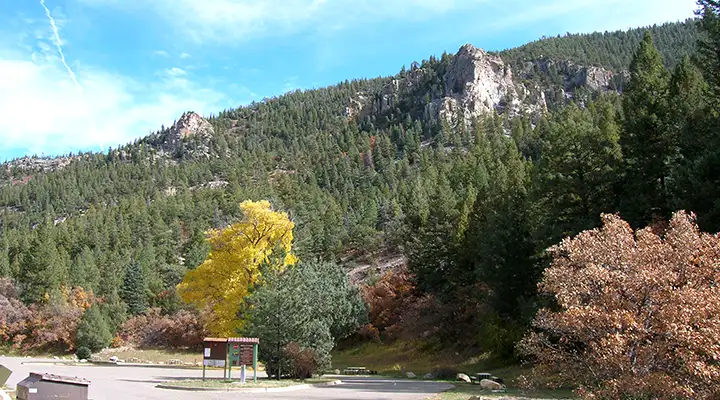 Cimarron Canyon State Park
In 1982, the New Mexico Department of Fish and Game electroshocked the river and found over 16,000 fish per mile, about 3,500 of which were catchable-sized trout.
Cimarron Canyon State Park extends for eight miles along Cimarron Canyon, between Tolby Creek and Ute Park. The Colin Neblett Wildlife Area encompasses the first one-and-a-half miles of the State Park below the confluence of Tolby Creek. The river in this area has been classified as "Special Trout Waters" because of the abundance of the trout fishery here. That classification means artificial lures and bait only, catch and release preferred.
This river is a fly fisherman's dream. Matching the hatch is the most successful method of fishing the stream but it isn't totally necessary because of the abundance of different insect hatches that continue throughout the warm months. Fishing in the winter is almost impossible because the water flow is nearly cut off at Eagle Nest Dam to store water for next year's irrigation.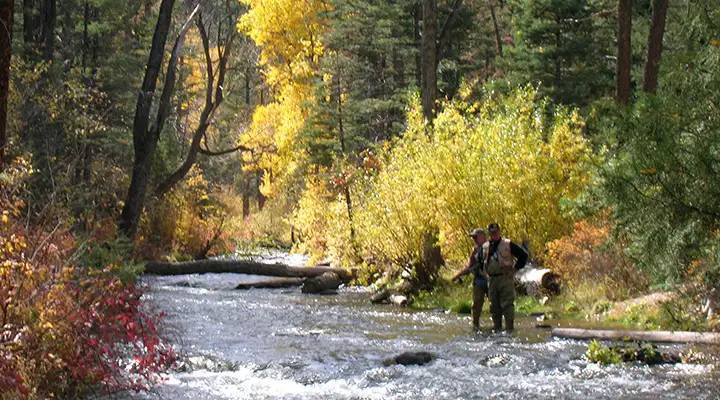 Fishing the Cimarron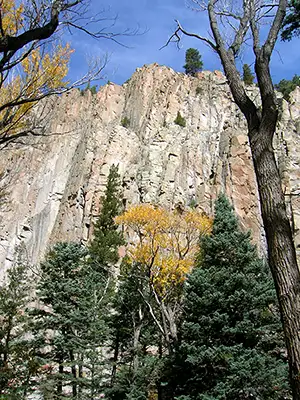 There are several state-operated pay campgrounds along the road. All of them offer excellent access to the river and/or the Gravel Pit Lakes. There are also several parking areas for day use along the road.
The state stocks the river from mid-spring to early fall. That's when the anglers are the most thick in the woods.
Cimarron Canyon was made famous back during the days of the Colfax County War when the "squatters" on the Maxwell Land Grant assassinated the Rev. Franklin Tolby here. There were hired guns running all over the place until they finally caught who they thought was the culprit, tortured him until he confessed (that he hired someone else to do the killing) and then they lynched him before anyone changed their minds. Then they took off after the other man implicated in the killing. This one actually made it to trial but he was shot and killed in the dark one evening as he was being taken back to the jail from the court.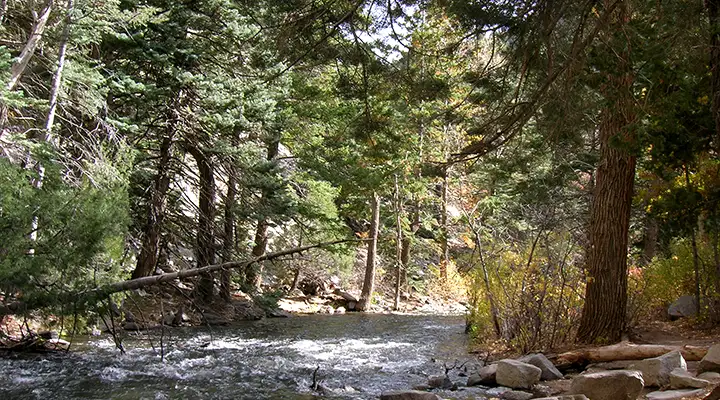 The Cimarron at the foot of the palisades
Cimarron Canyon State Park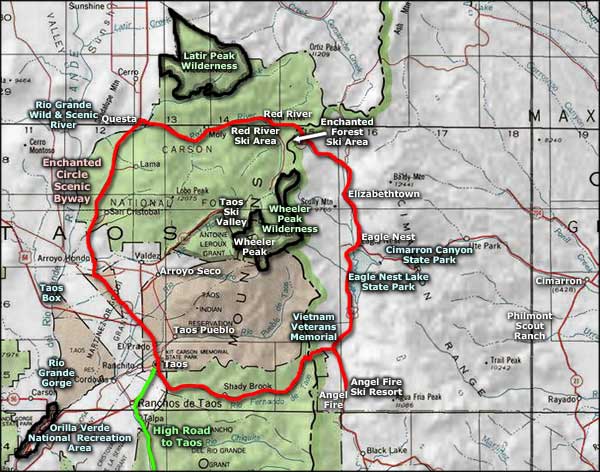 Related Pages
Map courtesy of National Geographic Topo!