Santa Fe National Forest Scenic Byway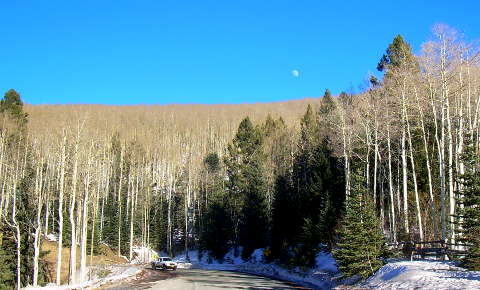 A view along the Santa Fe National Forest Scenic Byway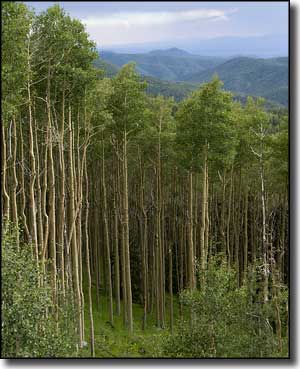 The Santa Fe National Forest Scenic Byway is a 16-mile route that climbs through Santa Fe National Forest on New Mexico Highway 475 above the City of Santa Fe to end in the parking area at Ski Santa Fe. The scenic byway begins at Santa Fe Plaza, next to the Palace of the Governors. About halfway between there and the ski area it crosses the heart of Hyde Memorial State Park.
As most of the route is within Santa Fe National Forest, you'll find campgrounds, hiking trails and picnic areas along the way. There are also several trailheads around the ski area, including a couple that lead over the top ridge and into Pecos Wilderness.
This is one of the few roads in a National Forest that stays open year round. The views are spectacular as you're driving through an evergreen and aspen wonderland, looking out over dry, brown desert with more mountains off in the distance. Some estimates say there's between 7,000 and 11,000 square miles of countryside in view...
When the leaves are changing in the fall, you can expect this road to be running bumper to bumper with folks out catching the colors.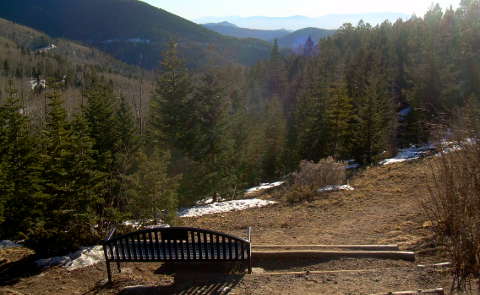 Another view from Santa Fe National Forest Scenic Byway
Upper and lower photos courtesy of TheArmchairExplorer,
CCA-by-SA 3.0 License
Upper left photo courtesy of Neil Li, © 2006, via Byways.org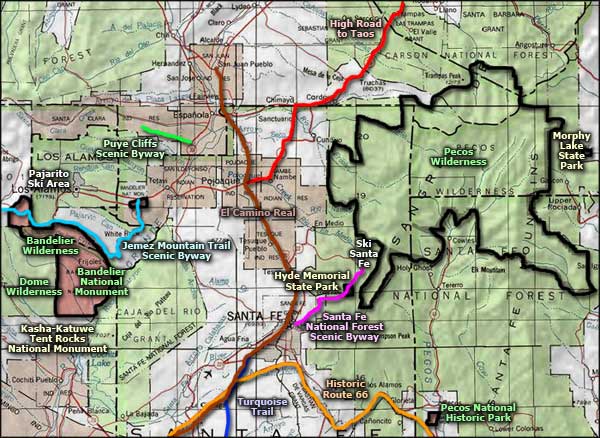 Related Pages
Map courtesy of National Geographic Topo!